Hey everyone!
Happy Valentine's Day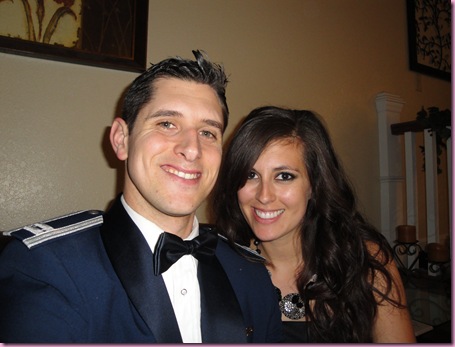 I had a blasty at the Dining Out with the pilot. He knows how to put together a fun soiree….and he looks pretty banging in mess dress

In an almond-shell, Air Force Dining Outs are get-togethers that the military has had forever.
From Wiki:
Dining Out is one of the many traditions held by the military today. The history dates back to when Roman soldiers would hold dinners in honor of an individual. Later, British naval officers held a "guest night" to relax with other military personal and honored guests. The Air Force Dining Out began in the 1930s and began to be more formalized. Dining Out includes spouses and guests of military officers. The purpose is to enjoy an evening of taking a break from the daily activities and enjoy the company. Military personnel wear their uniforms and follow other procedures. The night is formalized with calling the mess to order, adjourning the mess and a formal meal. The president who organizes the event presides over the mess. There is also usually a guest speaker.
I had debated forever on what to wear –it's exciting to have a reason to get dressed up!- and originally planned to wear this red Yigal Azrouel dress: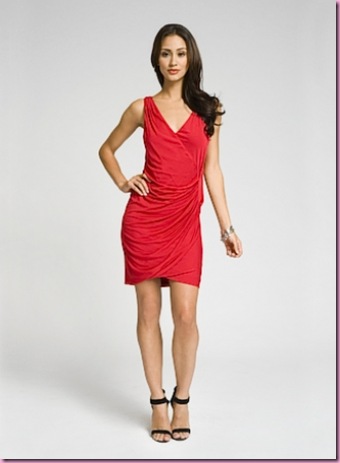 (Source)
But since Rent The Runway didn't have the backup size I wanted, I played it safe with a dress from White House Black Market that Jeni picked up for me (thank you, friend!):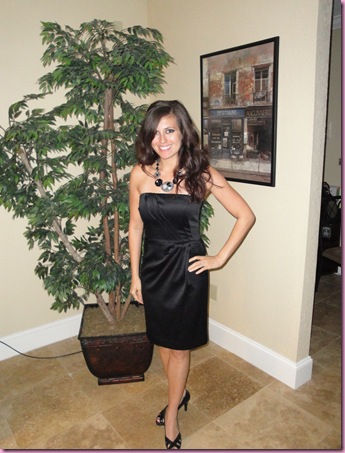 We got to the Dining Out, sat with our friends and had dinner.
The staff at the Country Club was so kind to have a variety of awesome food- including LOTS of veggies.
I had a salad: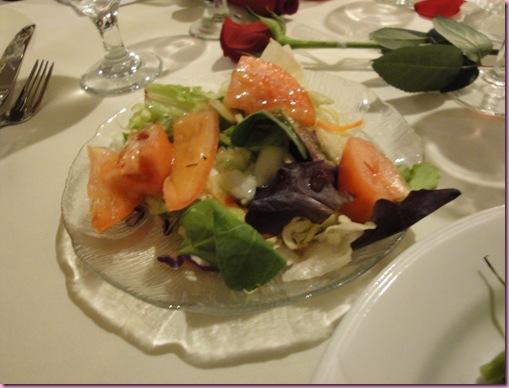 (I forgot how much I liked Italian dressing… high fructose corn syrup and all)
And a baked sweet potato, broccoli and carrots: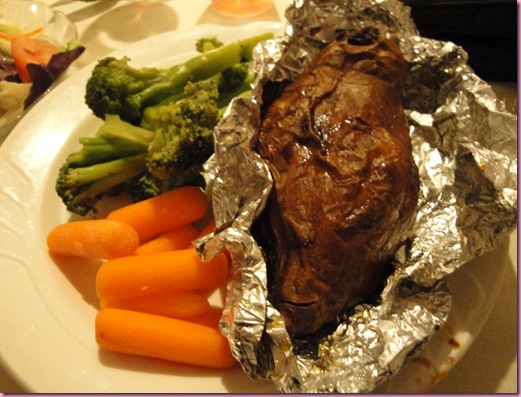 I also had a couple of bites off the pilot's dessert plate

Drinkies: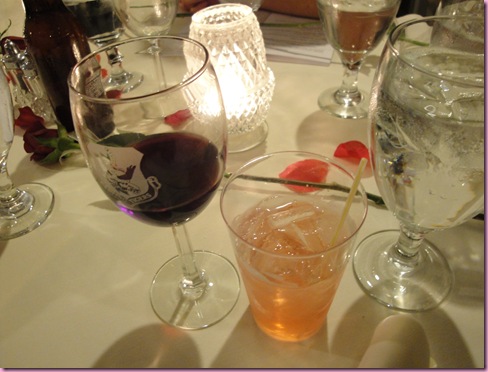 I drank of the wine and half of the fruity drink. 'Twas delicious.
So during the formal portion of a Dining Out, there are rules of the mess that everyone must follow.
Here they are: (from this website)
*Thou shalt arrive at least 10 minutes before the appointed hour for the "Call to Order." 
* Thou shalt not sit before the dinner bells are rung. 
* Thou shalt not place any drink on the table before dinner bells are rung. 
* Thou shalt make every effort to meet all guests. 
* Thou shalt move to the mess when thee hear the chimes and remain standing until seated by the President. 
* Thou shalt not leave the mess whilst convened. Military protocol overrides all calls of nature. 
* Thou shalt participate in all toasts unless thyself or thy group is honored with a toast. 
* Thou shalt ensure that thy glass is always charged when toasting. 
* Thou shalt keep toasts and comments within the limits of good taste and mutual respect. Degrading or insulting remarks will be frowned upon by the membership. However, good-natured needling is ENCOURAGED. 
* Thou shalt not murder the Queen's English. 
* Thou shalt not open the hangar doors. 
* Thou shalt consume thy meal in a manner becoming gentlepersons. 
* Thou shalt fall into disrepute with thy peers if thy cummerbund's pleats are not properly faced. 
* Thou shalt be painfully regarded if thy clip-on bow tie rides at an obvious list. Thou shalt be forgiven, however, if thee also ride at a comparable list. 
* Thou shalt not laugh at ridiculously funny comments unless the President first shows approval by laughing. 
* Thou shalt express thy approval by tapping thy spoon on the table. Clapping of thy hands will not be tolerated. 
* Thou shalt not question the decisions of the President. 
* Thy bar will be closed during dinner. 
* When the mess adjourns, thou shalt rise and wait for the President and guests to leave. 
* Thou shalt enjoy thyself to thy fullest.
If you violate any of the rules, you can be called up to the grog bowl to salute, make a toast, and turn the cup upside down on your head to prove you've drank the entire cupful.
Usually the grog bowl is an actual toilet, filled with nastiness (think dog food, fruit punch, gummi bears, hot sauce, whatever the commanders feel like adding in there) and alcohol. There's also a non-alcoholic grog bowl, which I've heard is more disgusting than the alcohol one.
Here's the pic I took from the last Dining Out we went to: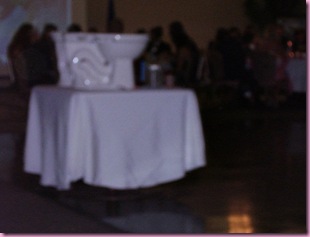 Since it was Valentine's Day weekend the guys were classy and used punch bowls for the grog instead of an actual toilet.
Aaaaaand the pilot got called up to take a drink. Twice.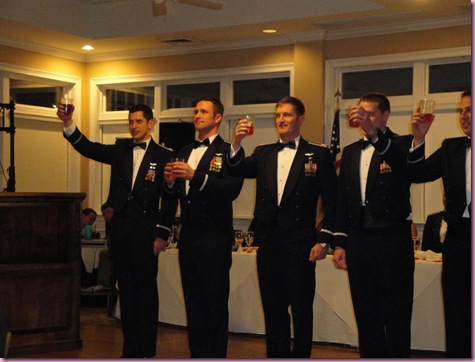 Once for having something on his uniform on incorrectly, and once for a typo that was in the programs he wrote

He drank from the non-alcoholic bowl –he drove last night- and his lips were red and borderline-chapped from all of the hot sauce in the grog. Nasty wasty.
We had a lot of fun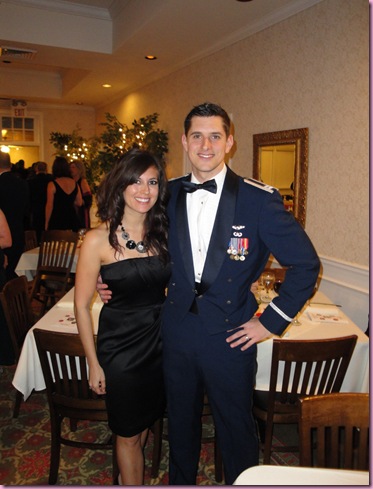 Well we're off to pack for J-ville and drop Bella off at funny quotes lady's house (she's watching Belly for us) and then hit the road.
See ya from Jax!
xoxo,
Gina
Preguntas y respuestas:
I'm loving all of the questions you guys are posting on Ask Me Anything! So far I've gotten a lot of hair questions, pilot questions and kid questions

I'll be posting answers on the actual site, as well as the bloggy. In the spirit of Valentine's Day, I thought it would be a good day to answer some pilot questions.
How did you and the Pilot meet?
The pilot and I met at Starbucks. He was there studying for a friend –and had just gotten to Tucson for one of his pilot training classes- and I had just gone there to study after dance with one of my friends. As soon as I walked in the door, I told my friend, "See that guy over there in the corner, in the blue shirt? That's my husband. Seriously, he's mine". Of course I was joking at the time, but funny how things turn out

I had no intention of talking to the pilot that night because my friend and I were sweaty from dance and in our dance clothes, but our boss from the dance studio saw our cars outside of Starbucks and came in to say hi. When I told her that we were scoping out two hotties (we had no idea they were pilots at the time), she walked over and told them they needed to come over and talk to us. (She was a very charming lady and got a kick out of it)
I was horrified. As I buried my head into my accounting book, my face was purple and I knew there was no way I'd ever end up talking to him. That is, until he pulled up a chair and asked us how the studying was going.
Since I was so embarrassed, I didn't say a word, but the pilot and my friend had a great conversation. At the end, he asked her for my number and if he could take me out to dinner

Our first dinner (which I almost ditched out on.. because he was a stranger and could technically be a creeper), was a PF Changs and lasted for four hours.
How did you know the pilot was "the one"? Had you had other serious boyfriends or potential hubs before you married him? How old/long have you been married?
This is pretty bizarre, but after our first dinner, I went over to see my friend who was babysitting for a dance kid. I told her all about the date (what he was wearing, the food, what we talked about) and when I walked out to my car, I was thinking that if it turned into a full-blown relationship, I hoped it wouldn't end up like the last relationship I had been in (which was no picnic, let me tell ya). As soon as I thought that, I saw a shooting star. I believe in *signs* and just had a feeling that it would be a little different

Before the pilot, I dated some guys but only had two serious relationships before I met him.
We have been married for 2.5 years

did you know that the pilot looks EXACTLY like the main guy on "the hangover"? seriously, i was like omg thats gina's bf and my boy thought i was nuts.
Edited to say: Wait, which guy are we talking about?? Guess I don't see it, haha