Howdy from the other side of the world!!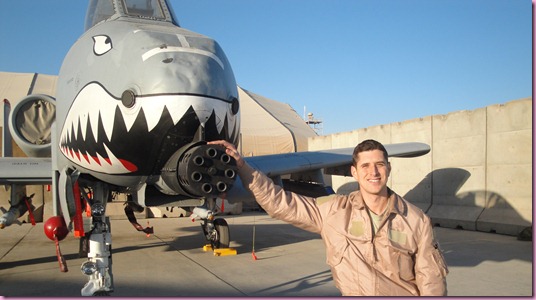 (The nose of the jet has a little "character" on it from some aggressive boomers while aerial refueling – ouch)
Hope you guys are doing well. I'm having some fun out here showing off the new winter fashions…I hear brown is in this season. I'm sitting in for Gina so she can recover from traveling. Did you all have a good Turkey Day break (or just a nice weekend if you don't happen to be in the US)? Unfortunately, I'm flying nights and missed the big meal, but I was happy to support some guys that probably don't get to eat anything but MREs (Meals Ready to Eat…or Meals Rejected by Everyone). So, I did the next best thing and stopped by our "boardwalk" for a little Gyro action on the way home.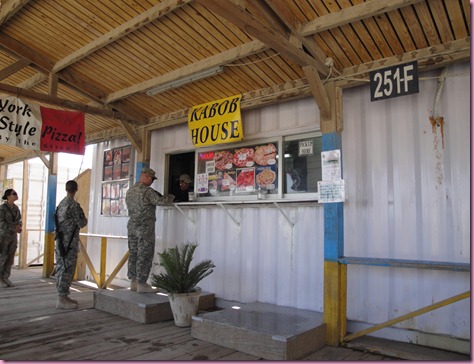 It's no turkey and stuffing but for 8,000 miles from home, I can't complain.
The boardwalk is surprisingly full of random businesses with jewelry shops, suit stores, coffee places, barber shop, etc.. It even has a sit down TGIF! Most of the food is NQR (not quite right). You military families that've been to Korea or otherwise abroad know what I'm talking about. Food taste pretty close to the American version but there's something that's just a liiiiiiittle off. Again, I'm not complaining…just sayin'. I know it's not the healthiest meal but it's Thanksgiving…you're supposed to splurge a little, right? 😉
Afterwards, I went back to the "mods" to crash out in my closet space (we share rooms w/ five other dudes) to catch some sleep for the next day and the rapidly approaching gym sesh.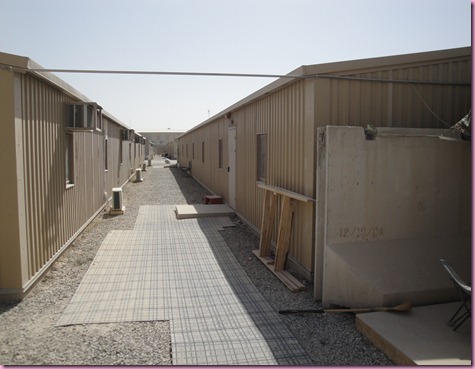 I workout 6 days a week with a buddy of mine here that's on my shift. We've been pretty good about sticking to our schedule:
Day 1 – Chest/Abs
Day 2 – Biceps/Back
Day 3 – Shoulders/Abs
Day 4 – Legs
Day 5 – Triceps/Abs
Day 6 – Cardio
Day 7 – The glorious day of rest
We warm up each day on the treadmill/elliptical/or rowing maching for 5 to 10 minutes then run through a variation of different exercises while concentrating on form and muscle confusion. I'm frankly amazed I manage to drag my butt out of bed each night but the partner system is huge motivation. By far the biggest problem, though, is nutrition. The dining facility's not within walking distance so to compensate, food is brought three times daily and usually consists of one of a different meats, random vegetable/salad and white rice…oh lord, the rice (oh, how I loathe thee). Sometimes, I miss one or two meals because of flying (well, I wouldn't saying I've been *missing* it, Bob). Protein shakes twice a day help somewhat and our lieutenants are pretty good about stocking our shelves with bagels, soup, etc. that they…acquire (if you're not familiar, LT's are pretty much the worker bees of a fighter squadron, doing everything from trash, snacks, selling patches/t-shirts for extra funds and basically anything else that involves the increase of morale). Don't feel too bad for them – they distribute their work evenly via the Lieutenant Protection Agency (LPA) which ensures no one LT is treated too unfairly

The job out here is, of course, very rewarding. I work with and overhead of some of the most incredible people in the world.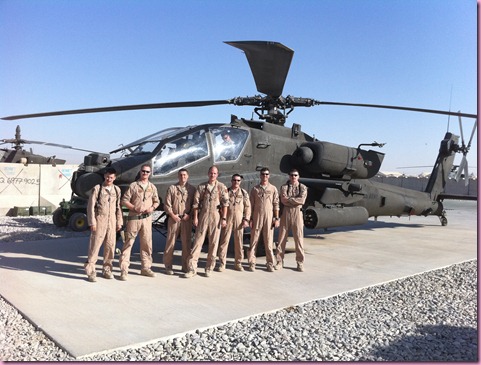 Our guys posing with one of our Apache brethren
Each one of us shares a passionate devotion to ensuring the safety of the guys on the ground, and I that brings me to what I'm thankful for this year. There's no better reminder of how wonderful a free and thriving society is than to live where tyranny still lurks the shadows. So, I'm thankful for great places to live and visit back home that have all the amenities that make life worth living. Why yes, I'm talking about beer, an incredible variety of delicious food from all over the world, and grass…I miss grass

I'm also thankful for good friends and family that I love dearly.
And there's no way I could do what I do here without the person I'm the most thankful to have in my life: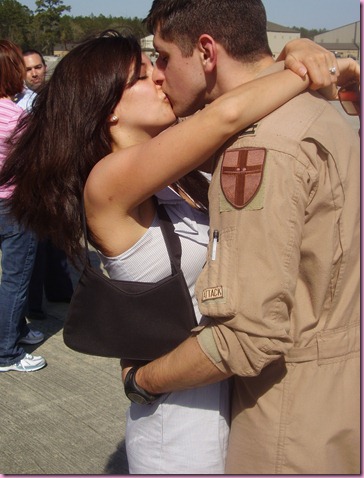 Now that's something worth fighting for 😉
That's it for me – thanks for the opportunity to say hi to all of you! Take care and good eats. I'll see you again soon.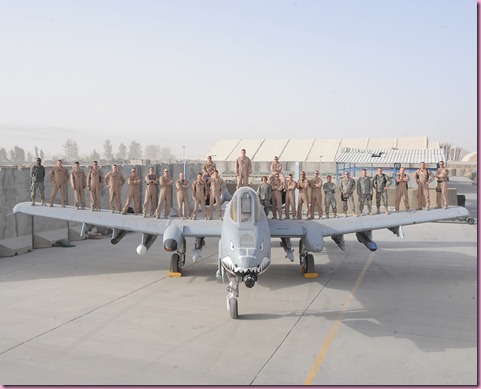 Attack!!