Hi friends! How was your Monday? Part of me isn't a big fan of Mondays, but the other part loves the productivity starting the week

Thanks for all of the wonderful compliments on our housewarming party! Our house definitely feels like it's been warmed <3
I started off the day with a bowl of protein blueberry chocolate oats: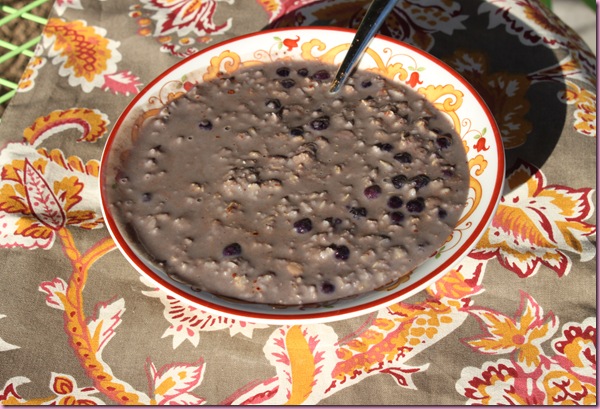 [Looks gross, tastes like foodgasms]
-1/2 C GF oats
-Sun Warrior
-almond milk
-cacao powder
-frozen organic blueberries
-cinnamon, sea salt and Stevia
and then I went to meet some of the squadron wives for breakfast. The Pilot is an instructor now, so it's kind of a fun coincidence because we're back at the base where he was in training to become an A-10 pilot (and I met him at Starbucks!). The breakfast this morning was for the student pilots' wives, because they're about to get their first base assignment. They asked some of the wives who have been at other bases to come chat with the students' spouses about the other bases, and tips like where to get your hair done, fun restaurants, etc.
It was so funny because all of the students' wives looked so little and young! And that was me, 5 years ago. Crazy.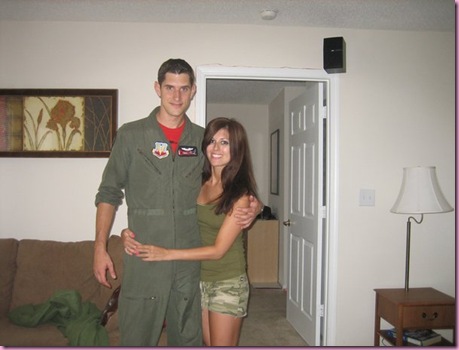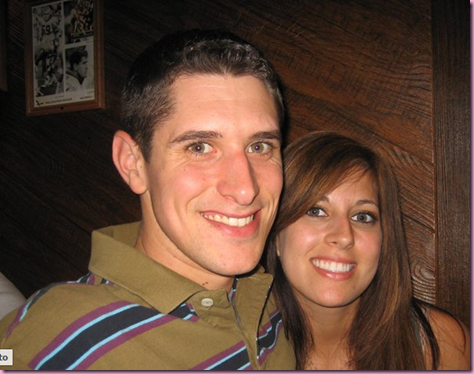 [Rocked grey contacts in college for a while]
I munched scrambled eggs, chatted with everyone and played "pass the baby." It was a lot of fun

Lunch was a leftover salad beast: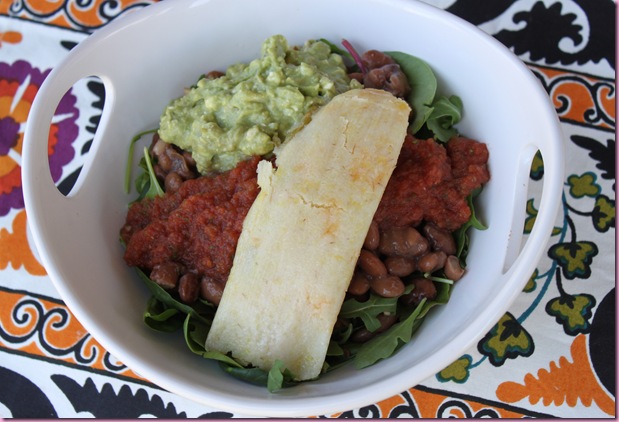 Greens, guacamole, beans, tamale and salsa. Even better the next day

+ a bowl of mango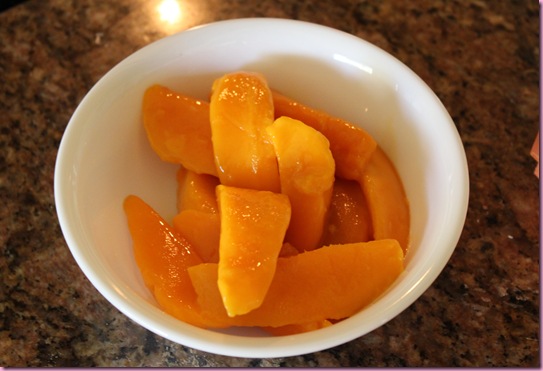 Definitely need to buy mango more often. 

It's the MIL's last night here, so last chance for some adventures before she leaves!
See ya in the morning <3
xoxo
Gina
Something to do:
Monday Ab Burner!
Add this beauty in after your next workout

[As always, check with a doc before making any fitness changes]
-Hanging leg raises – 20 (if you're not at the gym, try straight leg raises laying on your back)

-Oblique leg-up (15 each side)

-Crunches – 50

-Plank – 1  minute
Let me know what you think! xo