Hi, everyone. I'm helping Gina out on the family page while she enjoys some quality time with Olivia.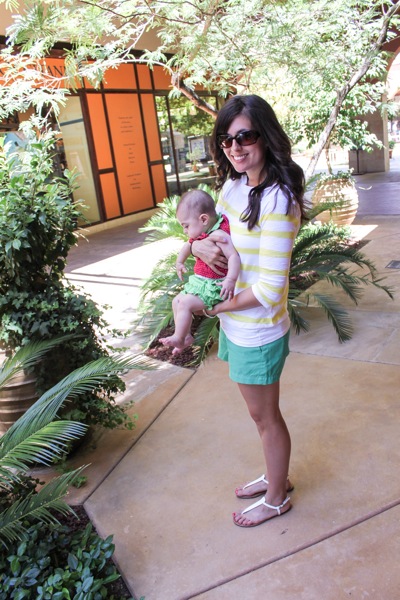 I hope your week's moving along quickly. Things have obviously been busy around our house – I can't believe that Livi's already almost 7 months old. It seems like just hours ago when I was changing diaper number 1 or, the more pleasant memory, when she fell asleep in my arms for the first time.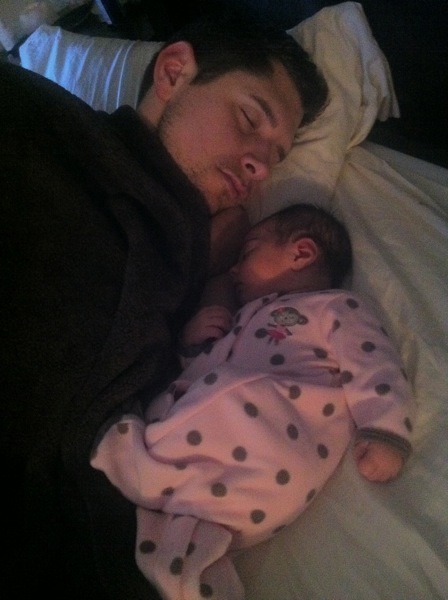 In the months before her birth, I thought a lot about how our lives would change as we adjusted to the daunting role of parenthood. I wondered if I would see work in a different light given the inherent risks associated with the job. My biggest concern; however, was and still is one that's probably shared by 99% of parents out there, "How do I raise a Livi the right way?"
Overall, I've gotta say that while taking care of the little "nuggette" has been a kick in the pants, we've adapted to it with, what I feel, is the highest level of comfort that I could've expected. Yes, I know I'm the dad saying that, and I'll be the first to admit the Gina has the lion's share of quality Olivia time (and therefore, feedings, diaper changes, etc.), but I try to help her out in everyway I think possible which has hopefully eased our transition from Pilot and Fitnessista to mom and dad. Establishing a routine and role for ourselves was key to managing what can be only be described, at times, as chaos. By the way, if you don't feel some truth in that description, then bottle up your parenting techniques, develop a means of getting it to the masses, then rake in the huge profits (or continue enjoying the gentle embrace of your state-issued straightjacket) because things can definitely get pretty hectic. I think that any advice for soon-to-be parents that accurately conveys the incredible, immeasurable happiness that comes with have a child should also include a polite warning about the potential of a red nightmare (we jokingly say) filled with near-sleepless weeks (well, maybe not in so many words). You get the idea. Do your friend a solid – my bros told me about the initial work and it helped…a little.
Of course, I found one of the other pieces of advice I received to be true as well, "Everyday gets better." Don't get me wrong, the first month or so was tough but it wasn't anything we or anybody else couldn't handle. We were blessed with a healthy baby and we couldn't be more thankful – even when she was wailing into my ear at 3:00 A.M

Everyday I love her more than the last. The little landmarks tug the heartstrings the most, like when she was first able to sit up on her own, and she just sat there making the "raspberry" noise with her lips. First, I couldn't believe she was sitting up, then I laughed because she scrunched her face in a serious attempt to make that hilarious noise. Anyway, we would've dealt with the 3 A.M. scream sessions for as long as it took, but I'm glad she moved on and that she's growing up (sometimes a little too quickly for my liking).
For the work stuff, I haven't changed my attitude towards any of that too much. Like every pilot I know, I always strive to fly safely, within the regulations that govern what we do, so making a conservative call during a peace-time mission is something that already happens. I would endeavor to do the same thing in combat, but there are times when we have to stick our necks out there a little more to keep guys (and gals) on the ground alive, and I couldn't face Livi if I was ever overly conservative to protect my life in a situation where a soldier didn't come home to their family. That's not how I do things, and I hope she's sees the principle behind that.
So, that brings me to the last part about which I could write volumes: raising her to be smart, confident, healthy, wise, kind etc. I'd like to think that I have a decent idea of what kind of world we live in. I've seen some pretty terrible acts of man, and some things that restore that faith back in humanity. I know it's not perfect out there, but I believe that if I can teach her to always search out knowledge and that the most important thing in this world is love, she'll have a solid chance of living a good life.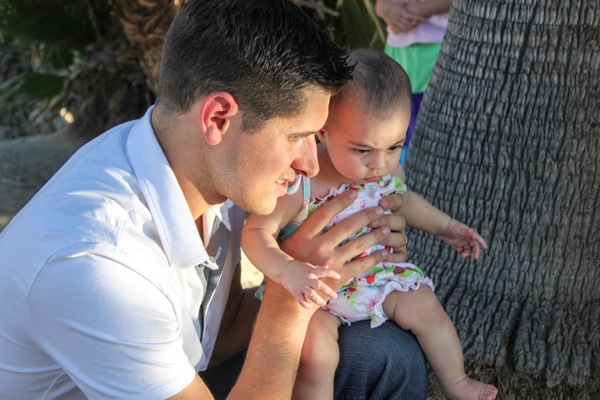 How hard can that be? Right, I'm pretty sure things'll be a tad more complicated. Fortunately, I have an incredible partner and amazing family to give Olivia all the love and support she can handle along the way. Thanks for taking your time to catch up on here.
Have a good rest of your day.
Cheers,
Tom
Last Pilot guest post: Pilot becomes dad- my side of the birth