I'm loving every second of October so far- hope you're having an outstanding month, too. I just feel like from here on out, until January, things just get more fun and exciting with lots to look forward to. The weather is so nice, we haven't really been paying much attention to the fact that our TV broke last week. It was doing a weird thing on Thursday and Friday where it would just switch on and off for an hour or so before actually staying on, so on Friday, I just turned it off (after the on/off rendezvous was driving me insane) and it's stayed that way for the remainder of the weekend.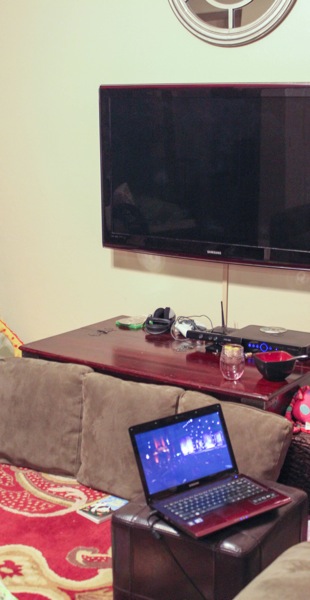 Last night, the Pilot and I settled down to watch a show while we ate dinner and realized the total silence in the house. We like watching a show together at night, so we were going to YouTube something when I remembered that Amazon Prime membership streams TV and videos. Skidoosh. We watched Brian Regan, and it was awesome.
With the cooler air, I'm doing the usual seasons-are-changing sniffles (I pride myself on being able to fight a cold like a NINJA), hence last night's soup. It's just what I was craving all day, and the Pilot and Liv love it, too. Bella just stands idly by, wishing for soup (or any non-dog food) of her own.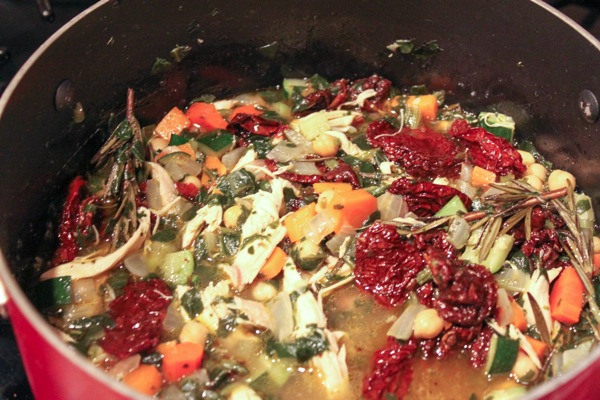 Thank you for all of your kind comments on the photo wall! It was a huge step because we usually move so often that it's not worth the effort to extravagantly decorate the walls – just more to take down, wrap and pack when we move. I eventually convinced myself that a home is a home as long as we're there, and we might as well take the steps to personalize it and enjoy it as much as possible. I'm really happy with what we've done with the house so far, and we still have lots of little fun projects we'd like to do.
The Pilot did an amazing job hanging everything up and even measured the distances between photos. I'm more of an "eyeball it" kinda girl, which works just fine for hanging up the usually art and decor, but my lack of patience would have shown with that project

We started it fairly low on the wall so that we can continue to add to it and include photos of everyone in the fam.
For today, I'm pretty excited to enjoy an off day from the gym (my legs are ready for it after yesterday's trail run!) and have friends over to paint pumpkins.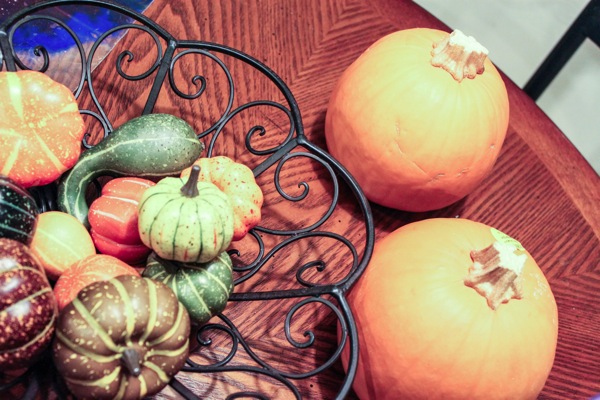 In the meantime, here's a little HallowLEAN Hill workout to put some pep in your Monday step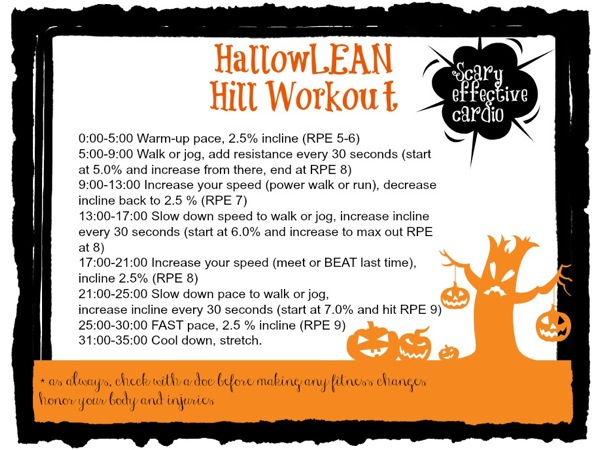 Feel free to modify as you like, and I'd love to see LOTS sweaty workout pics @fitnessista #HereComesHallowLEAN !
Some tips: as you walk on the treadmill, make sure to keep a TIGHT core, take deep breaths and take a look at your hands. Make sure they aren't clenched into fists. That's wasted energy you could be using on your legs, your breath, your heart- all of your major muscle groups. Keep your fingertips nice and loose. Also, avoid holding onto the hand rails- you'll burn 30% LESS calories if you cling to the dreadmill during your workout. Not worth it. Also, challenge yourself- before you know it, it will be OVER and you'll be sweaty and triumphant.
Have a happy Monday! See ya later on the Fashion page.
xoxo
Gina