Hi friends! I can't believe this is the last week of Summer Shape Up! You're all doing an amazing job- let's finish with a bang. Thank you so much to everyone for your hard work and participation — don't forget to send in your progress pics and stories this week. If you send yours along (fitnessista at gmail dot com, subject: SSU success!), please let me know if it would be ok to share your story/photo in Friday Faves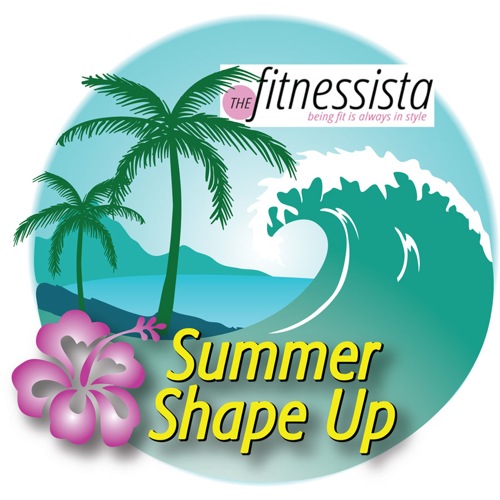 (If it's your first time hearing about Summer Shape Up, all of the workouts and info can be found in the intro post. I'll remove the passwords this week, so they will no longer be password-protected one week from today.)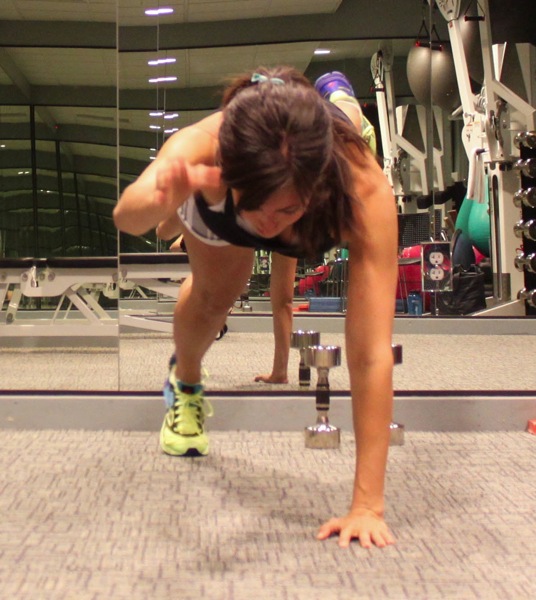 It was a fun and busy weekend in our house and the theme continues onto this week. Our family got in from Key West and are staying here until we help them move into their Tucson place tomorrow. I'm headed to Fitbloggin' in a couple of days to hang out with blog friends (shout out to Reebok for being my kind and wonderful sponsor), and last night, my friend Ashley and I went to a surprise party to say goodbye to our favorite yoga teacher.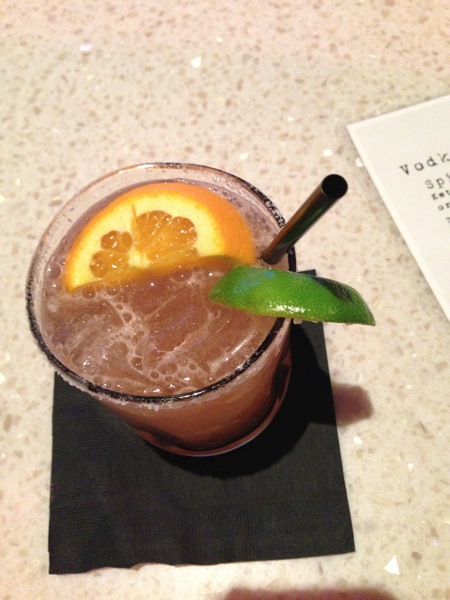 (A margarita with orange and rose… so aromatic and delicious)
I had a hard time finding a Tucson hot vinyasa fit for me -the power yoga studio is an hour away from anywhere in T-town- and, thanks to Kyle and Meg, found one I adore. We've had our weekly yoga date, and each week our group has grown. Last week it was myself, Ashley, one of our friends, Kyle and Meg, three of their friends, Trevor and Mik in a jam-packed class with 50+ mats: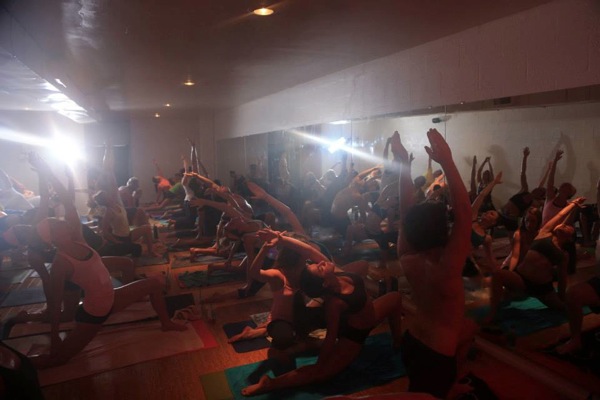 (Photo from Facebook. Not sure how my fellow classmates would feel about me creeping around during class snapping pics haha)
Now that I've found a teacher and class I love, I'm so very sad that she's moving. This particular teacher is basically everything I love about a yoga instructor: just the right mix of fun and kick-your-asana, with a sweet and approachable personality. Whenever I left her class, I felt more centered and peaceful, and also like I got an amazing workout. She's also a military wife, and moving around frequently is one of the simultaneously challenging and amazing parts about the lifestyle. One one hand, you get to see new places you might not otherwise visit, but on the other, once you put down temporary roots and make great friends, it's very hard to say goodbye. The good news is that it seems like our paths all cross at one point or another; many of my North Carolina and Valdosta friends have also been with us here in Tucson.
Even though yesterday (Sunday) would have been her last class to take before she moves, I couldn't do it. My body was wicked sore from Saturday's teaching and events -World Beat + Aqua Zumba- and we had an all-nighter with Liv. I think she was so excited her cousins are here that she stayed up all night to party, even though her cousins were fast asleep.

I had a feeling an intense yoga class probably wouldn't be the smartest move.
Sometimes when I'm sore, I know that a little movement will actually help the muscle soreness go away. Dancing or walking seem to make it feel better, but intense strength/cardio are usually best-saved for another day. It's a fine line to know when it would help, or just be miserable. Just like anything, the best thing to do is to listen to your gut: your intuition will give you a hint as to whether you should sweat it out or skip it.
When was the last time you were too sore to work out? What's your all-time favorite recovery activity? I love a short walk or nice stretch. The foam roller is also a great option…. even though I wouldn't really call it "relaxing"

Well, I hope you have a very happy Monday!
See ya later today with my new salad dressing obsession

xoxo
Gina
Just for kicks: 19 ways to trick people into thinking you work out