Hi friends! How's your week treating you so far? I apologize for the blog downtime this morning! Hopefully everything is back to normal around here. Thanks again to Ryan for helping out with the crashes.
Here's what we've been up to:
I went for a nice easy run,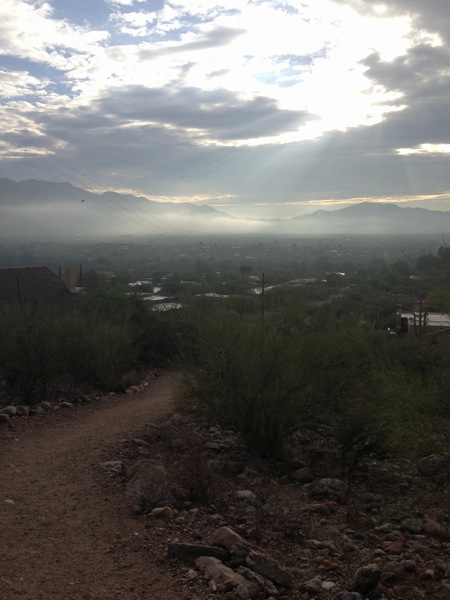 we've been playing outside with the sand and water table,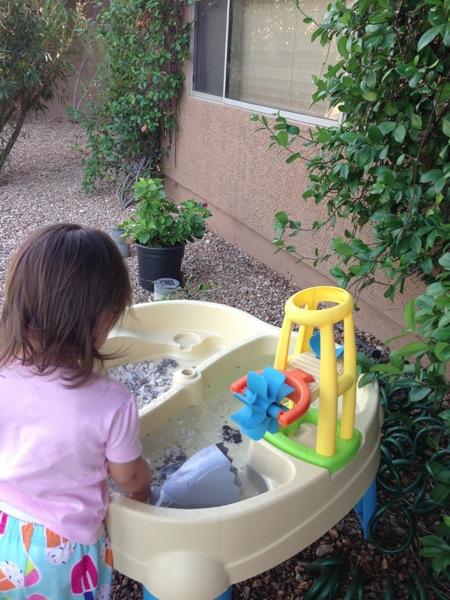 and this weekend, the Pilot and I had "the talk" about our fate.
Our moving destiny isn't in our hands, but it's nice to know we can put in a bit of preference

When you're set to PCS (change assignment locations), you can turn in a "dream sheet" with your top 5-6 choices. Since the Pilot and I have been married we've lived in Fayetteville, NC, Valdosta, GA, and now here in Tucson. I always told him that if we were assigned to Tucson, that was all I really wanted and I wouldn't care what happened next. I wanted the chance to be by family and we were even fortunate to have a baby here. We got really lucky with our assignment and the time has flown by. I've loved and savored every second and will continue to do so until we find out what's going on and we start to prepare for the next station.
It's weird, but as a military wife, you get the "itch" to move every couple of years because you're used to it. While there are some parts of military life that I don't love, for the most part, I really enjoy it. I've been able to visit places I'd never otherwise see, I've become more adaptable (3 deployments will do that), and am better at meeting people and making friends than I used to be (which can be tricky when you're an introvert). I'm fortunate to have girlfriends all over the country that we've been stationed with at one time or another, and the squadron provides fun events + a family vibe, especially when you're at an Ops squadron (we're at a training squadron now).
I try not to post too much about our military life/stuff because there are rules concerning that sort of thing, but at the same time, I like to give a little glimpse of what it's like. It's scary, challenging, exciting and wonderful all at the same time. There's an article that was recently posted that explains some military wife life emotions especially well. (A notable quote: "There are romantic moments about military life that rival only the most dramatic movies. We've been spun around by a man in uniform after he hasn't seen us in months. We've seen our children run toward their daddy with pure glee and excitement.")
I'm nervous, of course, but excited to hear what we'll be doing a year from now so we can kinda plan (you can never really have a "plan").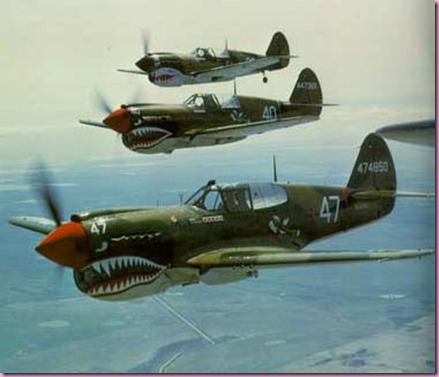 I've also been a meal-prepping machine this week!
Naptime is when I do most of the cooking, and almost always prep dinner during this time, too. This way, I can make sure dinner is going to happen (unless it happens to be hot bar night), and can play with Livi while she's awake. We also like to be out and about at friends' houses, play dates, or fun adventures with the fam, so I don't have to worry about coming home to cook since dinner is already prepped in the fridge.
It's been a while since I've made protein fudge, and it's such a great snack: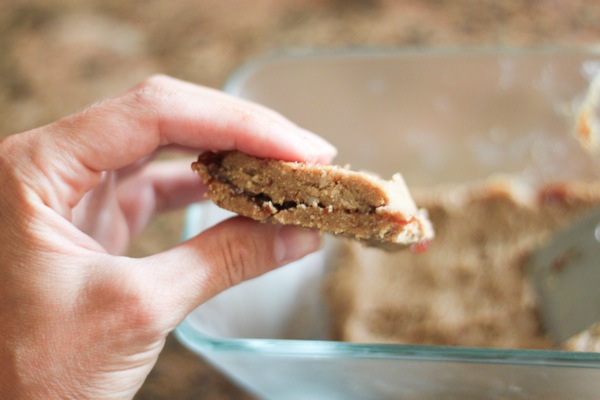 (Fig jam in the middle!)
Hope you're enjoying the day <3
xoxo
Gina