Hi friends! Happy humpday! The weekend is in sight. 🙂 How's the day going? It's been a little crazy over here -I had to get blood drawn which took 18 years and our shower broke in the "on" position- but I had some time to pop in and say "hey" before heading out to teach barre.
Caro was jeal that I Instagrammed a picture of only Bella, so here she is.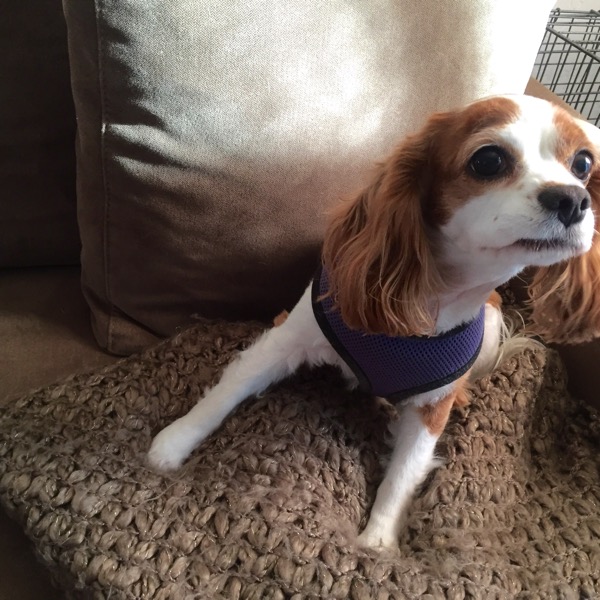 After my lab work this am, we decided to hit up Snooze for brunch. I've heard amazing things about Snooze since we moved here, but we were intimidated by the long line, even though long lines are always a clear indicator that it's an awesome spot! Finally, we got to give it a try and it did not disappoint.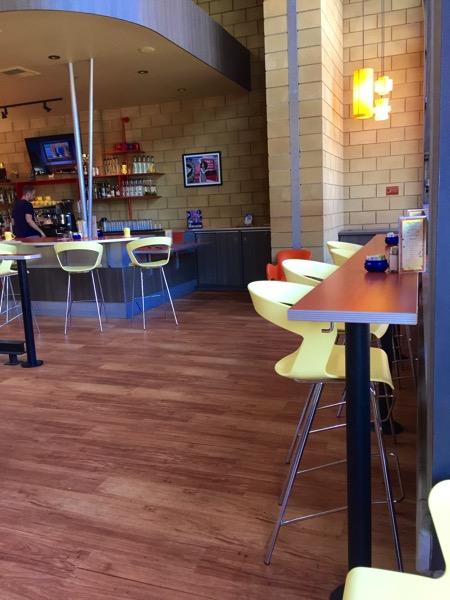 We LIVE for breakfast, and it claimed my #1 San Diego breakfast spot within about 10 minutes. (Current favorite breakfast restaurants, in order: Snooze, The Cottage, Great Maple, Naked Cafe.)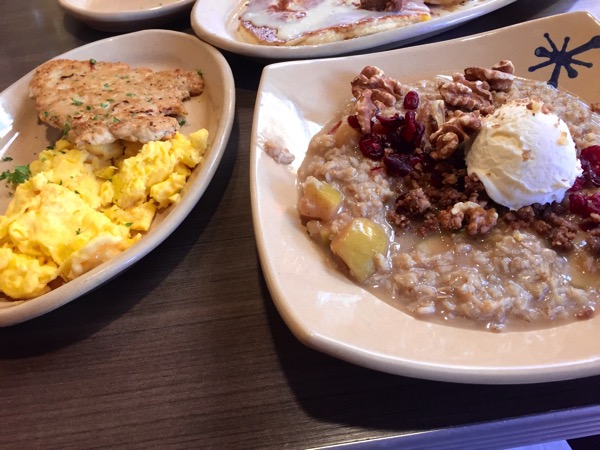 The menu is out of control. We wanted everything, and they had tons of healthy options, sourced from local farmers.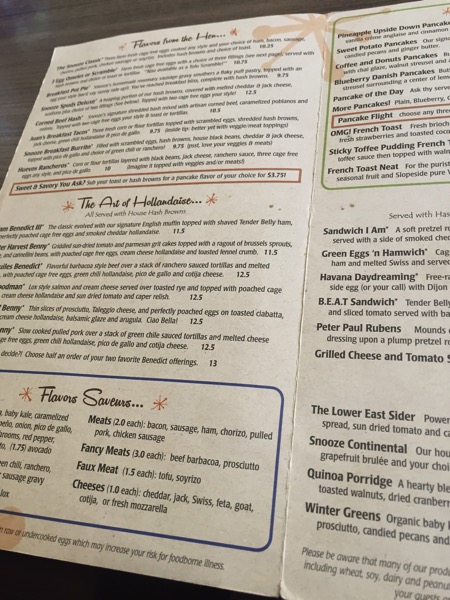 After some deliberation, I decided to try the quinoa porridge (which had walnuts, apples, oats, and a chai topping), scrambled eggs and chicken sausage.
Madre ordered the pancake flight (with sweet potato, upside-down pineapple, and blueberry) for us to sample along with her eggs.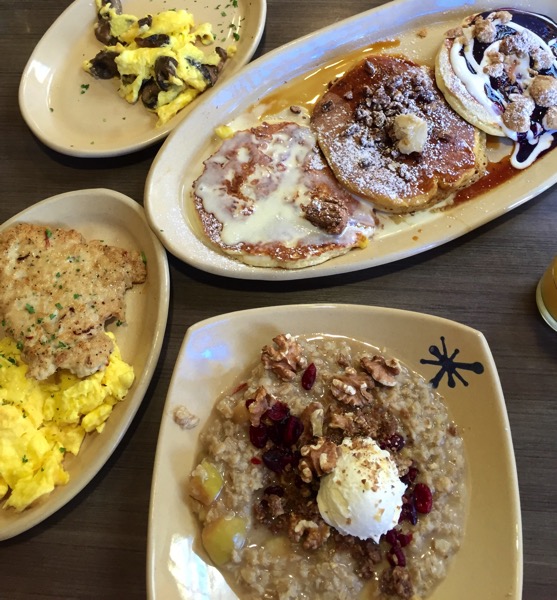 They were fluffy, not-too-sweet, and absolutely decadent.
And then we got pedicures to go along with our food coma. Not too shabby. 😉
This afternoon, I also dropped off a ton of baby stuff at the Just Between Friends sale. For all of my local mama friends, Just Between Friends is an enormous baby/kids/maternity consignment sale. I went to one in Vegas with my friend Jeni, and while I left with a legendary headache -treasure hunting is not for the faint of heart haha- it was worth it. I've donated a ton of baby stuff over the past couple of months, but wanted to try to sell the more expensive pieces before donating. The sale is this weekend, if you'd like to check it out! I already snooped around while I was there, and can already tell there's going to a huge assortment of quality goodies.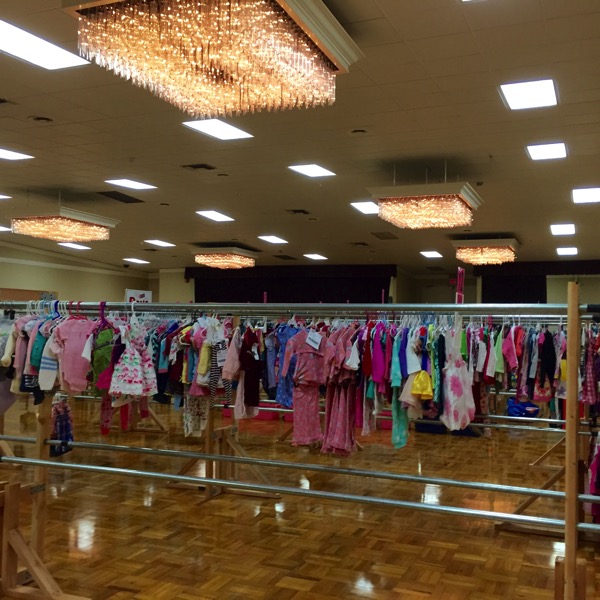 So today, I thought it would be fun to talk about starting a fitness plan from scratch. It's one of the common requests I received on the annual blog survey, and it's something that was very overwhelming to me when I was just getting started in my own fitness journey. When I walked into the gym, I did cardio, then arms and abs because those are the areas I wanted to "tone." Little did I know at the time: that's not exactly how it works. It wasn't until I incorporated different types of cardio and a balanced muscle training split that I started to gain momentum towards my goals.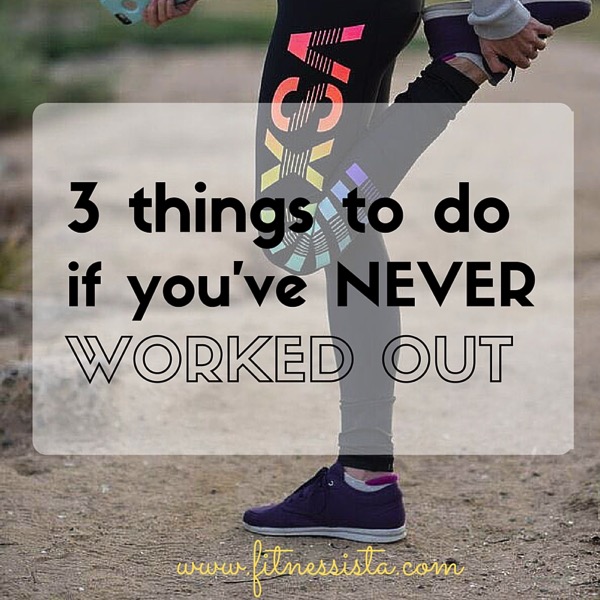 Here are some tips if you're in the very beginning of starting a workout routine:
(Please keep in mind that these are general recommendations. Always talk to a doctor before making any fitness changes and honor your body)
1) Build up your cardio base first. Before strength training, I recommend making sure that you can get in 30 minutes of moderate steady state cardio, most days of the week. You may not be able to start with 30 solid minutes out the gate, and that's ok!! Start off in small pieces and build up from there. For example, try to walk for 10 minutes most days of the week. The following week, add in a couple of minutes. Continuing adding until you get up to 30, working at a moderate intensity. (This means that you are at the happy medium between sprinting your heart out, and taking a nap. You should feel like you're working, but that you have more to give.)
2) After you build up your cardio base, you can start to incorporate gentle intervals (working at a faster pace for short bouts, followed by recovery), hills, and strength training. For strength training, always start with LIGHT weights, especially if it's your first time ever. I highly recommend this weights 101 post! Also, meet up with a certified personal trainer to make sure you are set up with good form. Even if you just meet with them one time, it's worth the cost to prevent injuries.
3) Change something every 4-6 weeks. Assess your training plan every 4-6 and see what changes can be made. Not only will this keep boredom from kicking in, but it will also help to prevent plateaus. If you're body is constantly responding to stressors, change will result. Here are some ideas to change up your cardio, and your strength training.
If you guys like, I'd be happy to set up a beginners fitness plan post for after your cardio base is there! Lemme know.
When you were fitness starting your fitness journey, what did you do? Was there any information you wish you would have known, or had to learn the hard way?
Have a wonderful night and I'll see ya in the morning! <3
xoxo
Gina
More: How to create a workout plan
An intro strength training plan