Hi friends! Hope you've had a wonderful day so far <3 We've been laying low after yesterday's birthday events. It's been nice to enjoy the cloudy day, playing and relaxing. I love the little tradition we've started with having a low-key pizza night at our house the night of her actual birthday, and her official party with all of our family + friends later in the month. It gives us some time to recover from Christmas (especially for our friends who travel during the holidays) and I'm glad we'll get to have another party since we're moving so soon. (<– just typing that elevates my heart rate)
Speaking of heart rates (lamest transition ever haha), today we have an all-new workout video: Tabata intervals alternating with strength. This is a killer combination, especially if you don't have a ton of time to work out.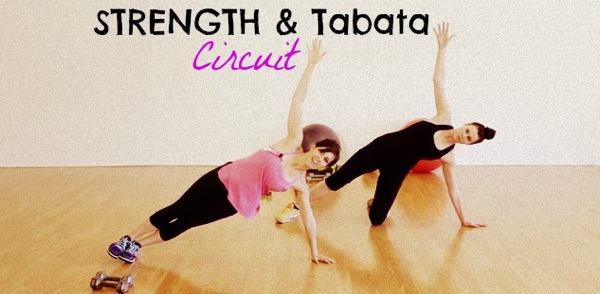 Some tips:
-Tabata intervals are not for beginners. They're very intense, and I recommend a solid cardio base of at least 30 minutes (continuous, easy to moderate effort) before attempting any type of interval training. Of course, check with your doc before making any fitness changes. (For more info on Tabata training, check out this post.)
-In the video, Sasha leads the Tabata intervals and I lead the strength. This means when Sash is going crazy on the cardio intervals, I'm providing some modifications (sans medicine ball) and vise versa. Of course, honor your body and any injuries, and be sure to modify as necessary.
-This video can be repeated to make a full 30-minute workout. (Hopefully you won't need to! It's a tough one)
Here's the video:
Hope you enjoy it! Please let me know what you think.
If you're looking for more workout ideas, here's another Tabata circuit that we did a while ago 🙂
See ya in the morning!
xoxo
Gina
When was your last really challenging workout? Mine was the other day, when I went to work out on base in crooked glasses -the lady adjusted them a little off- and the weight room full of military tough dudes. I still KILLED it and my arms are a liiiiiitle sore 🙂
New post from Meg on the Fashion page!