Sick of oatmeal for breakfast? This is a great way to change it up! Bonus: it's gluten-free, high in protein, nutrients, smart carbs, and customizable.
I've been a little bit breakfast bored lately.
It's my favorite meal of the day, but it's also the most frantic. I'm usually trying to feed Liv and P at the same time, chugging coffee, and scrambling around afterwards getting everyone dressed. For this reason, I usually don't have a *real* breakfast until later in the morning, after the girls are playing happily after breakfast (or if it's a camp or preschool day: after drop-off) or when P takes her first nap.
Then I can settle in, make some food and enjoy.
I usually stick to the same staples: overnight oats, egg burritos, egg with oats, breakfast cookies, or cookie dough cereal.
My friend Jen posted a breakfast on Snapcat, and I knew I needed to try it immediately to switch up the rotation:
Sweet potato breakfast bowl.
WHY DIDN'T I THINK OF THIS?!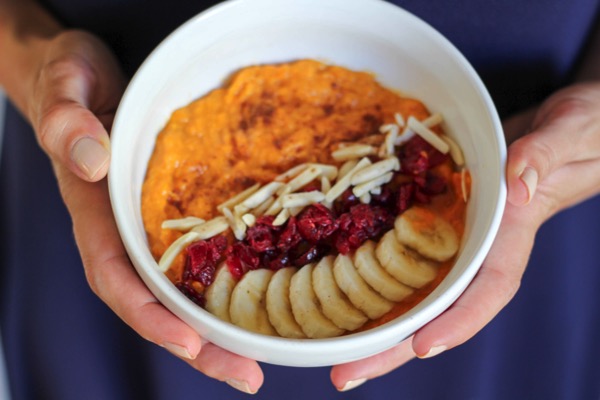 I've been known to eat a cold sweet potato out of the fridge, skin and all, but to actually put it into a bowl, heat it up with delicious toppings….
we must make up for lost time here.