This post is sponsored by Blue Diamond Almond Breeze Almondmilk, my all-time fave and a staple in our house.
Hi friends! Sorry to disappear on you yesterday afternoon. My allergies have been off the charts, and I woke up with a neon red, watery eye. It was a fun afternoon with a doc appointment, picking up eye drops, and glasses destiny for a few days until things clear up. They fogged up while I was teaching barre hahah and my goal is to keep them from falling off my face when I teach BODYPUMP tonight.
I'm so happy to hear that many of you share in my excitement for Post Baby Bod! It will be a lot of fun to release it, and also follow along myself after the little one is here.
So this morning, I have a recipe that's like a vacation in a glass… or bowl.. or out of the container with a spoon, standing in front of the fridge.
During the past week, when things have felt extra crazy (like when our dishwasher and clothes washer stopped working simultaneously post-vacay, and our washer in Tucson also broke for our tenants… What is happening?), I've closed my eyes for a second to think about Hawaii. Instantly the calm rushes over me, and I feel that fresh, tropical air, and hear the waves crashing gently against the shore. It was such a beautiful vacation, and something I'll remember for a long time. It was a rare opportunity for us to slow down and enjoy each other (especially with the Pilot's hectic work schedule) and spend time as a little family of three before little lady joins us in the fall.
Something else I will never forget about Hawaii: the food. It was so fresh and delicious, with a bounty of tropical produce and island flavors infused into each meal. Fruit-wise, before our trip, I was more into berries and apples; now I feel like I can't get enough pineapple, mango and coconut.
I decided to use this inspiration in a vegan rice pudding, using fragrant jasmine rice, chopped tropical fruits, Almond Breeze for a creamy texture,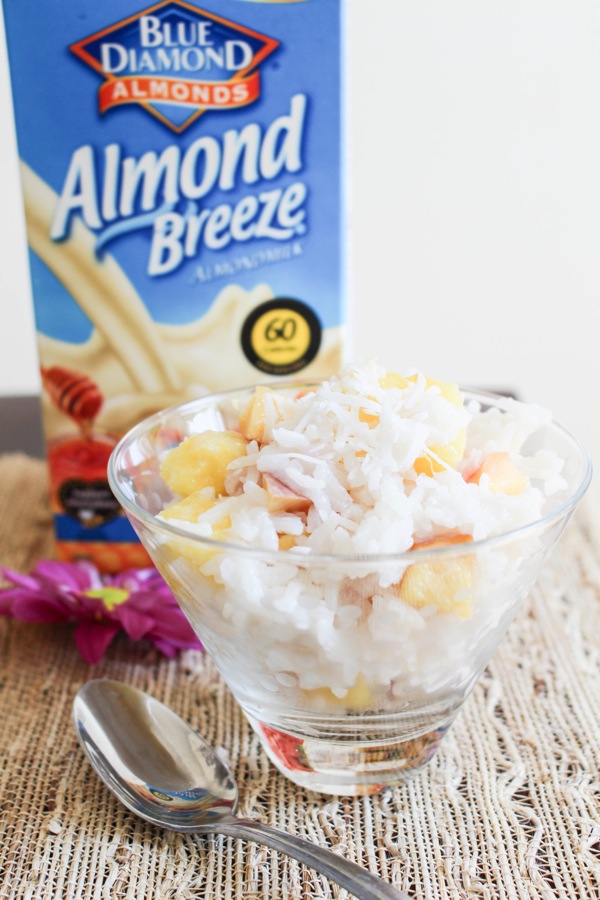 and edible flowers, because they were so beautiful I couldn't stop myself. 😉