While I was at the IDEA conference, it was kind of my heaven: new fitness gadget and education OVERLOAD. I read in the last IDEA Journal that during the conference, you learn and see too much to even begin to use or absorb, which I totally believe. There were some jewels that I'll keep with me for the rest of my teaching and training life, and there are a lot of other things I can't help but drive myself crazy wondering "What did we do and how did we do that again?!"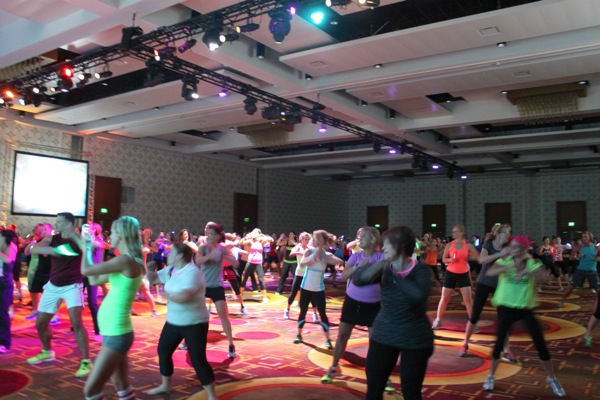 There were a lot of new classes I barely got to know; before we could become good friends, it was on to the next. Like Buti (pronounced like "booty")
Edited to say: The video below is SFW, but maybe will get some high eyebrows from coworkers strolling by. The dance moves are kind of suggestive, so just a heads up.
I got a small glimpse of Buti while I was at IDEA, and intrigued would be an understatement. As a huge fan of dance and yoga, I loved how the presenters gracefully moved form pose to pose, while adding in movement and hip swings. The energy was contagious, and it was a fun surprise to see the combo of strength components and dance. Even though I didn't get the chance to take a class, it looks like something I'd absolutely love.
What is it?
Buti is a workout that combines elements from yoga, tribal dance and plyometrics. This empowering fitness craze focuses on transforming lives with movement, nutrition and overall wellness. Buti was created by LA-based trainer Bizzie Gold, and includes Buti, Buti Sculpt and Hot Buti (all trademarked).
From the website:
"In Buti classes, we focus on spiraling movements aimed at unlocking the Shakti Spiral as well as releasing the hips to help energy flow freely in the 1st and 2nd chakras. Buti combines various styles of Hatha yoga with tribal-influenced dance sequences to keep the heart rate up, free the female spirit and help women form a tribe or sisterhood."