Hi friends! How's the day going?? Thank you so much for all of your heartfelt comments and emails after yesterday's family post. I started a giant checklist with your tips and suggestions and am going to start cranking through and researching while we get a referral to a pediatric GI specialist. Even though it breaks my heart that many of you have experienced something similar, it's also comforting to hear that I'm not alone. Sending giant virtual hugs and gratitude to all of you. <3
With everything going on, it made me even more thankful that I did some planning before P's birth and pre-wrote a bunch of posts. I wrote 18 posts + snippets of others, which has been a majority of the blog for the past 4 weeks. I still have some left for a crazy/rainy/writer's block kinda day, but it gave me the chance to take a break and also provide you guys with solid content while I was away. I've been easing back into writing and I feel refreshed to be back, especially with the exciting blog events coming up, like Favorite Things giveaways (start next week!), Post Baby Bod (12-week postpartum fitness plan) and Winter Shape Up (January 25).
Yesterday afternoon, Livi and I tried a new "cupcake" recipe. I put cupcake in quotations because you can't really call them that. Since I'm dairy free for now to see if it helps with P's reflux, I've been scouring dessert options because my sweet tooth is out of control and it turns out everything has milk or butter in it. I am so thankful for the co-op and their selection of lovely baked vegan treats. To quell the beast yesterday afternoon, I found a recipe on Pinterest for Paleo Pumpkin Cupcakes. It was basically pureed bananas, pumpkin and spices, and while I was skeptical, the photos looked appetizing.
It tasted like baked baby food.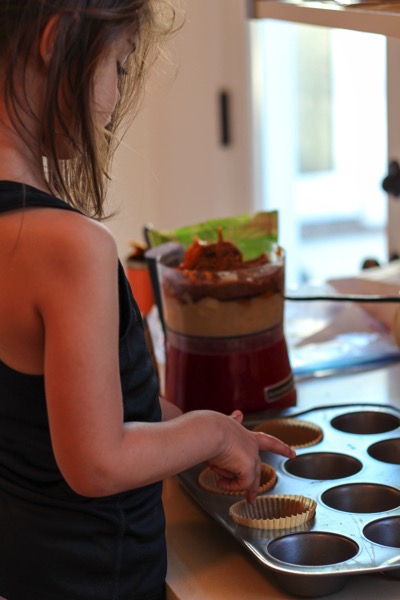 The only good part: Liv and I sang Christmas carols while we baked, and she thought they were delicious, so that's all that matters.
So instead of talking about Paleo baking fails, let's focus on some wins, like this beloved granola.