This post is sponsored by General Mills Big G cereals with a delicious and portable snack recipe.
Hi friends! Hope you're having a wonderful day. <3 Our mornings and afternoons have become a lot more hectic, and I always love the energy of fall and the excitement for the upcoming holiday season. Since we're always off to meet up with friends, taking Liv to music or ballet, and playing at the park before I teach fitness classes, I'm always on a mission for healthy and satisfying snacks that we can take with us on our many adventures.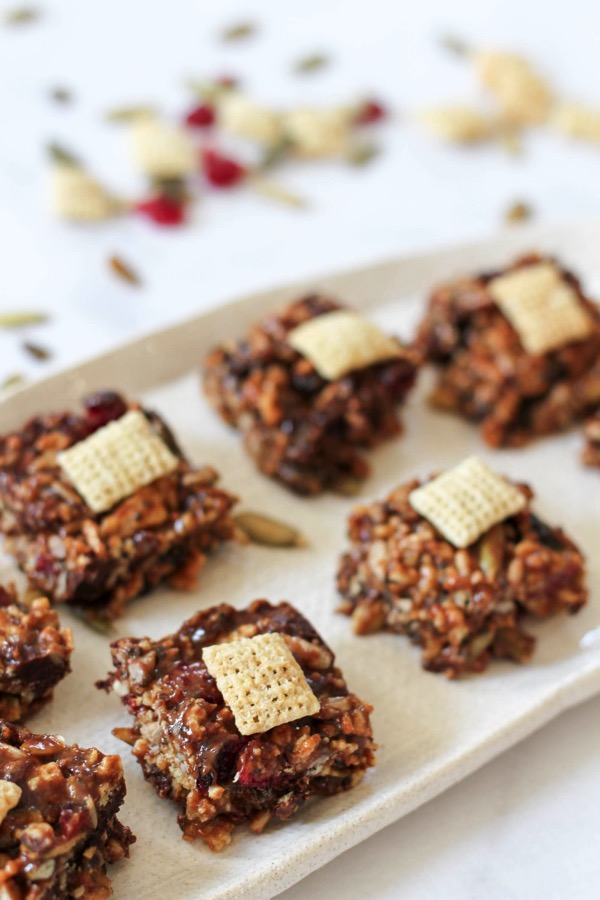 Here is a trail mix bite I created, with a sweet hint of honey, creamy peanut butter, and crunchy Rice Chex bits mixed throughout. Liv and I went crazy for them, and even though I'd originally made these bites to last as portable snack options for the week, I had to make another batch because they were gone before the week officially began. These are easy to customize according to dried fruits and seeds you enjoy, and you can easily make them nut-free if needed.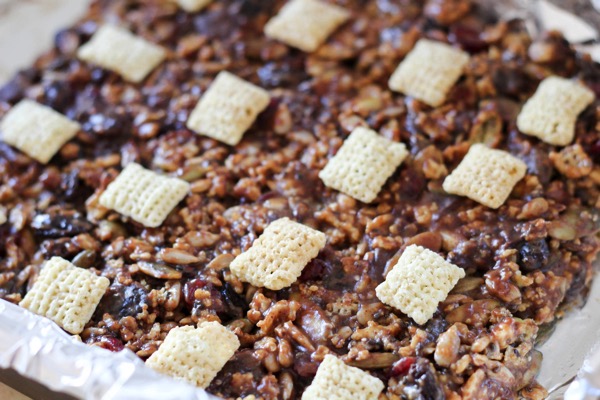 Here's the recipe if you'd like to give them a try!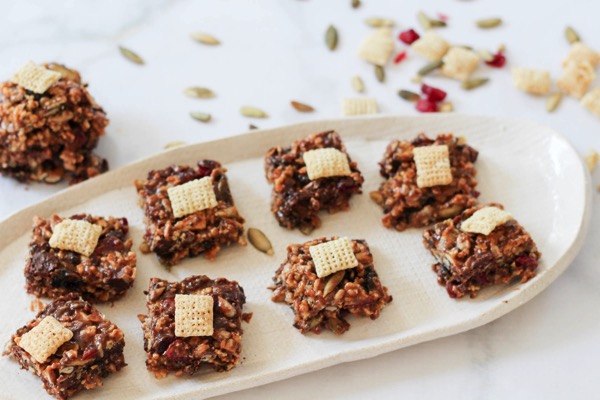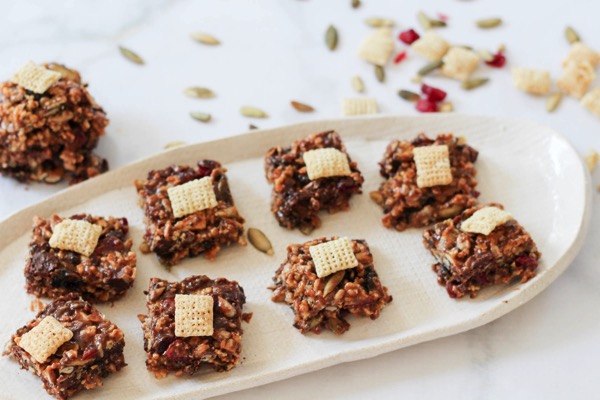 Trail Mix Chex Bites
2016-09-04 21:09:38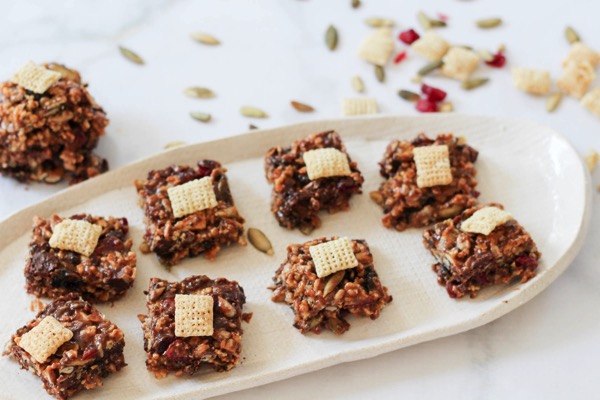 Serves 16
A delicious and healthy portable snack option with satisfying whole grains and healthy fats
Ingredients
1 1/2 cups Rice Chex cereal, ground into small pieces
1/4 cup raisins
1/4 cup dried cranberries
1/4 cup chocolate chips
1/4 cup unsalted pumpkin seeds
1/4 cup raw unsalted sunflower seeds
1 tablespoon chia seeds
1 teaspoon cinnamon
1/8 teaspoon salt
1/3 cup honey
3 tablespoons creamy unsalted peanut butter (or nut/seed butter of choice)
1 teaspoon vanilla
1/2 tablespoon coconut oil
Instructions
Line an 8x8-inch baking dish with foil, and make sure the ends of the foil go over the top of the dish. (It makes it easier to lift up!)
In a large bowl, combine the ground Rice Chex, dried fruits, seeds, cinnamon, salt and chocolate chips.
In a small microwave-safe bowl, heat the peanut butter, honey, vanilla and coconut oil for about 20-30 seconds. Stir until creamy, and set aside to cool slightly.
Stir the wet mixture into the Chex mixture until combined. Spread the mixture into the baking dish in an even layer. Add extra whole Chex pieces on top.5. Allow to set in the fridge for at least 1 hour until hardened slightly. Lift up the foil to remove from the baking dish, and using a serrated knife, carefully cut into bite-sized squares. Store covered in the fridge.
Notes
These tend to soften at room temperature, so keep cool until you plan to eat.
The Fitnessista http://fitnessista.com/
I love that they're sweet and crunchy, but also packed with healthy fats, nutrients from dried fruits, and the filling power of whole grain. September is Whole Grain Month, and I usually have whole grains in the morning to give me sustained energy throughout the day. Whether it's a brown rice tortilla, bowl of oats, or little baked treats such as these to go along with my morning eggs, I find that I'm satisfied longer and have more energy in the morning when I include some smart grains in my diet.
I photographed the Chex bites on the beautiful Mud and Stone platter we received during our blogger trip to Winnipeg, Manitoba, to explore the oat farms and learn more about General Mills' supply chain.
A few pictures from our trip: