It was the perfect weather yesterday afternoon for a little patio picnic.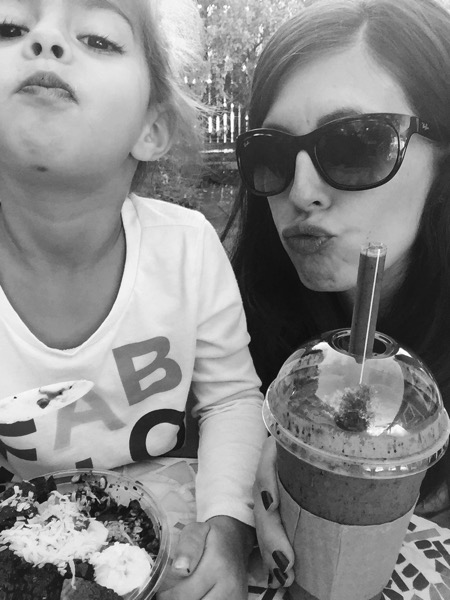 (Liv chose the face we made haha)
Liv, P and I made a little Tiki Port stop and enjoyed it outside before heading on the daily scooter walk.
Acai bowl for the little lady, peanut butter supreme smoothie + berries for me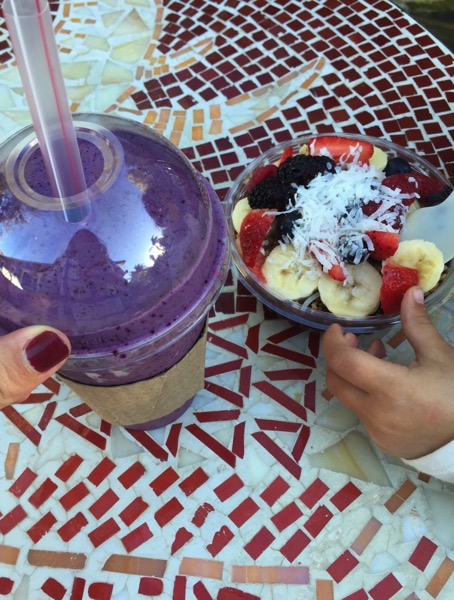 (with almond milk, chia, peanut butter, banana, cinnamon and honey)
I've been trying to ask Liv what she wants for Christmas, and she rarely asks for toys, so it's been interesting to figure out what she might like. (I'm a big fan of the "something they want, something they need, something to wear and something to read" mentality for Xmas.)
"Hey Liv, is there anything you'd like for Christmas?"
"An ornament."
This is after her Rapunzel ornament was broken.
"Livi have you thought about what you'd like Santa to bring?"
"Hmmm. This book."
This book = the one that she's holding in her hands, that she already owns.
I know I should just appreciate the fact that she isn't asking for a thousand things like my brothers and I used to do. I was thinking about a bike since she loves her scooter so much, but I think she may be too old for a balance bike? Do I go to a regular one with training wheels? Halp me. It's going to be here before I know it, and despite the fact that I've been curating gift guides on the blog, I've been a fail with our personal shopping this year. I really just want to spend the holidays with family, so if we can go home for Christmas, it will be the best gift all around. Even if we end up staying here, it will be another new tradition and I'm sure it will be wonderful. If that's the case, I need to actually plan and ship things so there ya go.
What we've been up to lately: