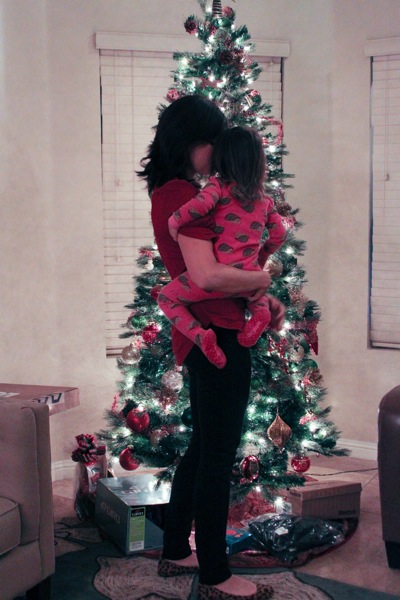 Making : a tentative plan for the next few months. There's a lot going on with the holidays, Livi's birthday, Winter Shape Up and the move! Before I know it, it will be spring, we'll be settled in San Diego and surrounded by gorgeous ocean. It's going to be glorious.
Cooking : Grilled chicken salads with manchego, balsamic dressing, beets, pasta, and sautéed veggies.
Drinking : Cupcake Red Velvet wine. Just as awesome as it sounds.
Reading : always some fluff and substance. Current substance is "Jab, Jab, Jab, Right Hook" with lots of awesome tips for social media. My fluff is "Morning Glory" by Sarah Jio and I'm already trying to savor it. Just like all of Sarah Jio's novels, I don't want it to be over!
Wanting : to be able to run again. My MRI is tomorrow… finally. Gotta love military medical insurance. It's been amazing to us so far -especially with Livi's birth and prenatal care- but since it's free, sometimes you get what you pay for. Edited to say that I want to reiterate that I am not ungrateful for our care. However, I've gone through a runaround (which is harder when you have a little one to take care of and they don't allow children at the clinic), and it's been 10 weeks now.
Looking: for a place to live when we move and feeling a little overwhelmed. Everything seems to be half the size and twice as expensive as our current house. There are also 1,400 preschools. Halp meeeeee….
Wasting: paper towels. I'd been so great at using cloth lately, but my ways have faltered.
Sewing: Uhmmm….not since this little project. I have a dress for Friday night's Christmas party that needs to be hemmed, but since that's in two days there's a 99.97% chance I'll be wearing a dress that's too long for me.
Wishing: that I'm not imposing all of my doubts and insecurities on Livi. I put a lot of pressure on myself to set a good example and just want her to grow up feeling safe, happy and confident. Being a mama is a tough job, and I always hope I'm doing a good one.
Enjoying: every second of right now. She's so much fun, and I feel like the Pilot and I have been able to hang out a lot lately, too. It's been a perfect mix of mama and Livi time, family time, and alone time with the Pilot before bed. It took a while to find that balance -and sometimes things need to be more give or take- but I feel like we're in a good place right now.
Waiting: to see where I'll be teaching until we move. I've had a couple of offers and one more audition this week. I'm excited to Zumba again

Liking: Nutella on a graham cracker. If you haven't tried it, you're missing out.

Wondering: who Livi will be when she grows up. She's already such an amazing little lady, and I can't help but wonder what she'll dream and accomplish in the future.
Loving: anything by Bastille. I'm obsessed.
Hoping: that we'll be back in Tucson again in the future!
Marveling: at how Caroline can sleep on her back, legs and arms wide open, and snore from the depths of her belly. As nana kindly said, "I love your little dog, but I think she has sleep apnea."
Needing: pajamas. I Goodwilled everything I wore after pregnancy and kind of never replaced any of it. I rotate between the same couple sets, and "borrow" the Pilot's shirts to sleep in.
Smelling: a mix of Pumpkin Cupcake and Fresh Balsam candles burning.
Wearing: Wunder Unders that are too long on me and tucked over the outside of my heels, moccasin slippers, and a Funky Yoga tee.
Following: the NCAA basketball polls. ARIZONA IS #1!!!!!!! I'm so stoked for March Madness I can hardly stand it.
Noticing: how peaceful Livi looks sleeping on the baby monitor. I wish I could go snuggle with her.
Knowing: that I'm very thankful <3
Thinking: that I 'm ready for baby #2, but we're waiting another year.
Feeling: excited for a yoga this weekend. It's been awesome to regularly practice again

Bookmarking: pages about HIIT research.
Opening: packages that arrived today. All Christmas presents, ready to be wrapped!
Giggling: while chasing Livi around the house. Each wearing pajamas and beanies because she insisted.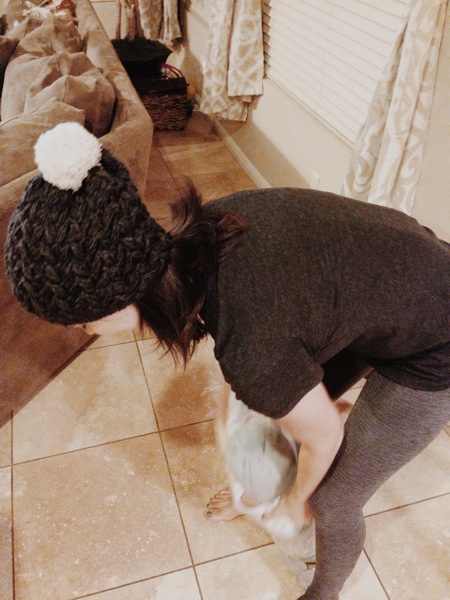 (she's a blur, swinging with her beanie on too)
Feeling: like a little dessert to go with my wine

Pick 3- I'd love to hear your answers <3
xoxo