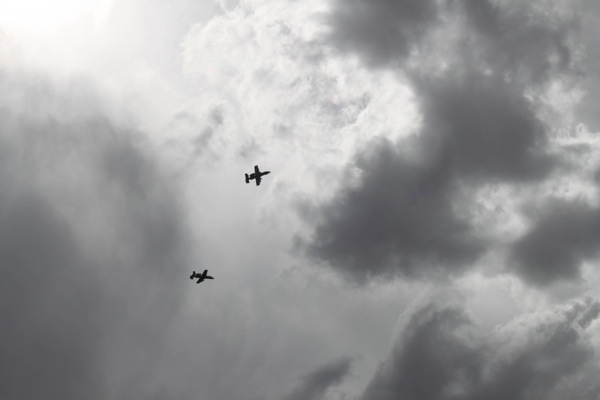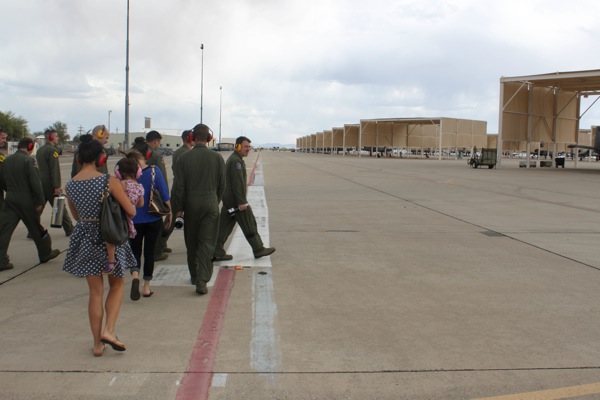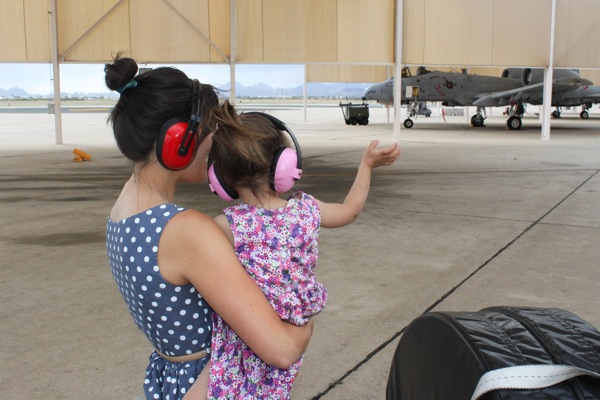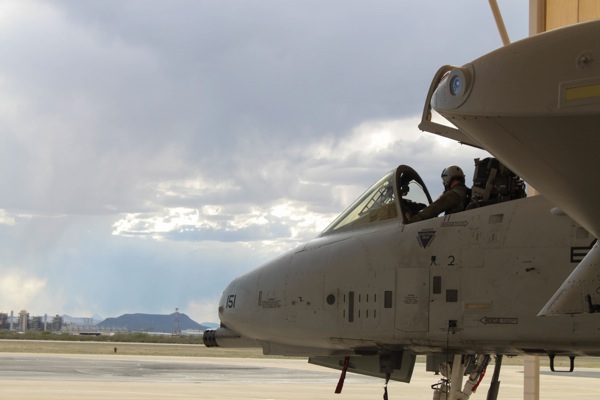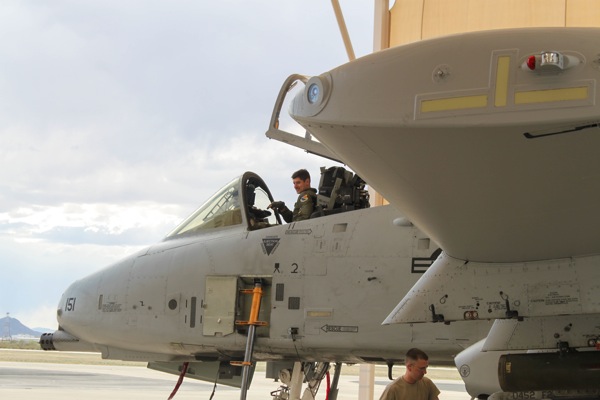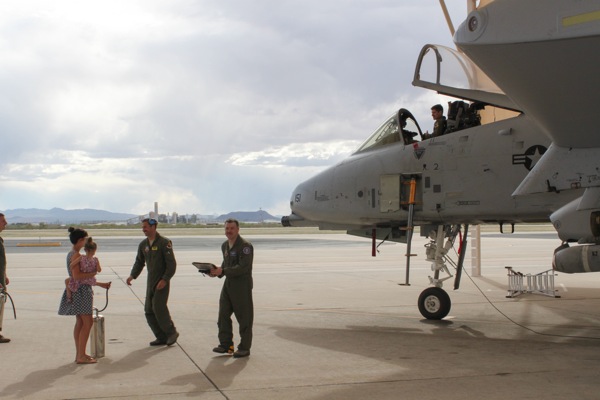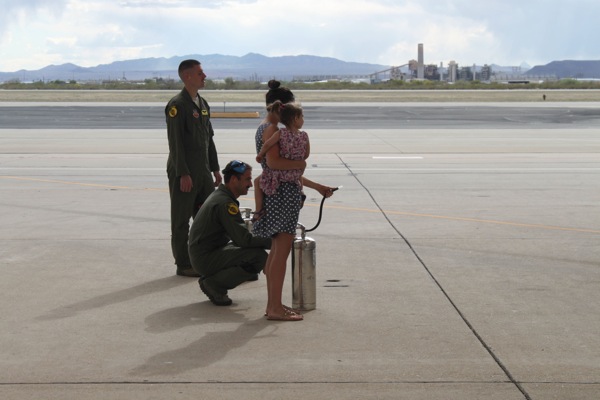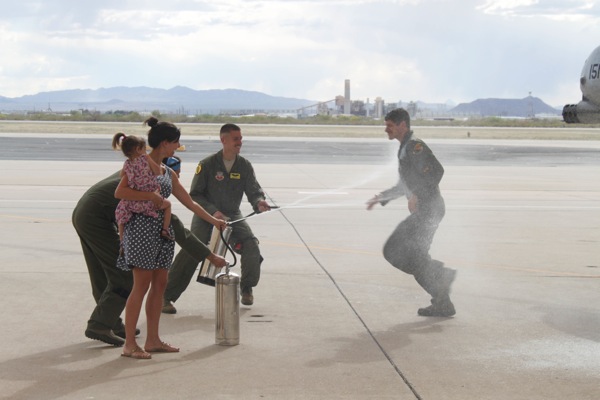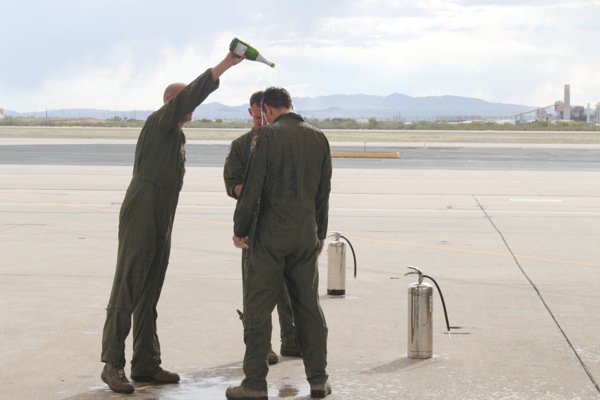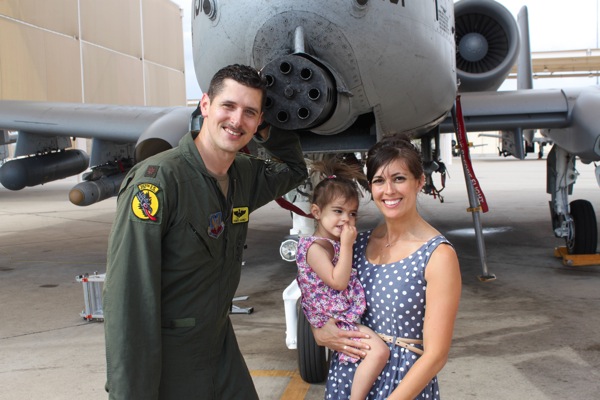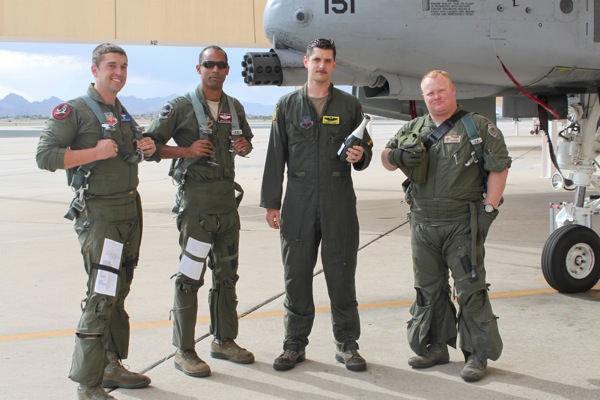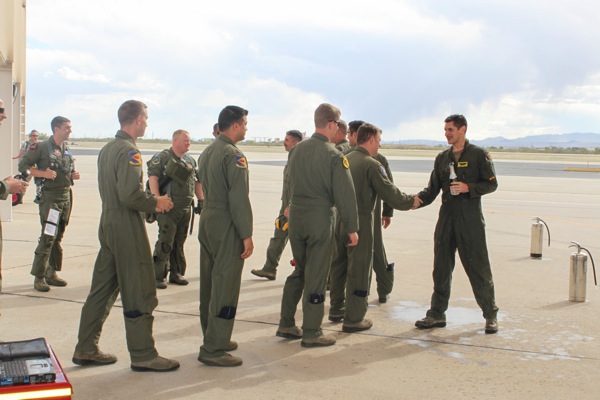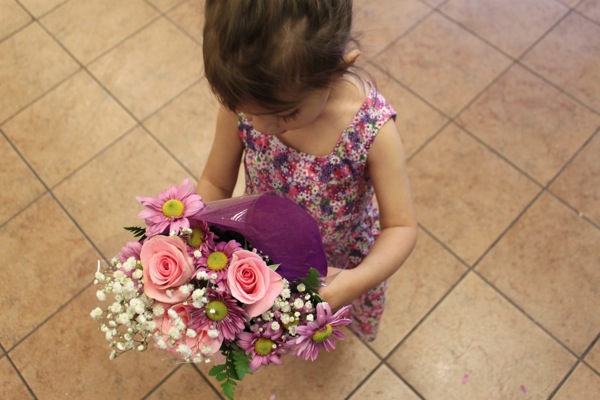 Today was the Pilot's fini flight (his last flight with the squadron) here in Tucson. It's hard to believe that he's been flying for so long that this was his first actual fini flight! Of course, the usual shenanigans occurred: Livi and I got to spray him with water, some of the guys shot champagne at him as he got off the plane, and they gave him an award while we all enjoyed some delicious Mexican food. The squadron commander made an amazing speech about the Pilot's accomplishments, Livi and I got flowers, and a lieutenant (traditionally the youngest pilot in the squadron) dipped me and *tried* to kiss me on the mouth. My face turned magenta. You know, the usual.
It's sad to say goodbye to an amazing squadron and the A-10 community since we're not sure when or if he'll fly the A-10 again. At this time, the plan is to phase out the A-10 to be replaced with the F-35. It will be exciting to see what will happen with his career when we leave San Diego, because as of now, we have no idea what the future holds.
When I married the Pilot, I didn't know what to expect as far as military life goes. I had an idea about the constant relocation and deployments, but wasn't sure exactly what it would be like until I was there. Something that has always blown me away: the sense of community and support from our A-10 friends. It's a tight-knit group, and many of the wives and pilots have become lifelong friends. Like family.
Some of the things I'll never forget:
-Our first "dining out" and my initial shock that they did indeed consume alcohol from an (unused <– important to clarify) toilet.
-Boat days in Carolina Lakes when only the "old" people in the squadron had kids. (Note: we're all the "old" ones now.)
-When the wives became my closest friends in Valdosta. All of our husbands were deployed, we were all far away from our own families, and we kept each other busy with girls' nights, road trips, movies and shopping

They were also a shoulder to cry on when the missing was too much, and when Murphy's law inevitably kicked in (why does EVERYTHING go wrong during deployments?). Even though we've all been stationed in different spots, we all seem to see each other again or be stationed together at some time or another.
-When wives I'd never met brought baby meals to our house when Livi was born. Their kindness never ceased to amaze me.
-The tears I felt in my eyes when I thought about the people I was surrounded with today at the fini flight: wives that I've known for years, wives I'd just met who came to support us, my family (some of them were able to come!), and the pilots themselves. They have a "tough guy" (and currently mustached) exterior, but in the end, they're big softies. Their main goal is to make sure the guys (and girls) fighting on the ground can come home to their own families safely <3
It was a bittersweet day, and worth noting that I'm proud of my husband beyond words. It's hard for me to fathom his accomplishments away from home (when usually I'm just bugging him to take the trash out), but he works extremely hard, puts on his "dad hat" the second he walks in the door, and I'm a lucky girl to have him. This whole military thing is tough and sneaky, but I wouldn't have it any other way.
xoxo