Hi friends! How has your Monday been?
Livi and I ventured to Whole Foods for juices,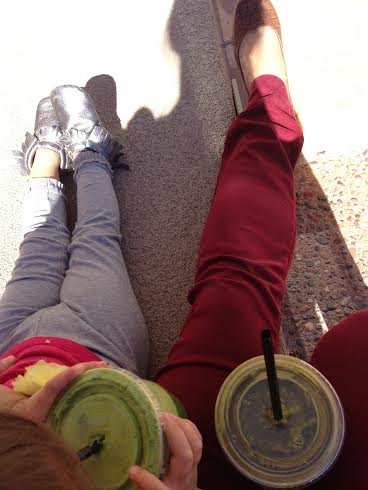 and then to the eye doctor to get my eyelash situation figured out. The verdict? Small cut on my eye, likely from the eye pad. Drops for 5 days, which means glasses for 5 days. Womp wooooomp.
I actually don't mind wearing my glasses -it's kind of fun to switch things up- but man, do they cramp my workout style. Also, I'm like a bat in the sun and need sunnies the second I walk outside, so if I'm wearing my glasses outside, it's usually a sunglasses and glasses sandwich on my face. The bonus about seeing a doctor: they fixed my glasses so at least they stay on my head without the handy rubberband.
One workout I don't mind with glasses: spinning. When we first got the spin bike, I was hoping it wouldn't be a "forgotten piece of cardio equipment" since it lives in the garage. I've been using it a ton! It's been perfect for naptime cardio, at night after Livi is asleep, and is especially lovely for propping the iPad to watch Scandal. I also like to put on a killer playlist and have my own spin class : (<– I'd LOVE to make some podcasts but have no idea how to do it or what to do with music/copyright issues. Any tips?!)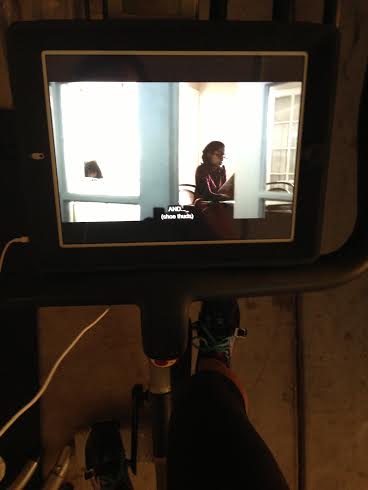 While revamping my playlists, I was thinking about how much I like to listen to alternative music when I lift weights. For cardio, I'll go for more upbeat tracks, but when it comes to strength training, I much prefer Metallica over Lady Gaga. Something about a guitar riff and someone yelling inspires me to lift heavy things.

Some of favorite weight lifting songs (old and new!):