Hi friends! Hope you're enjoying a lovely 2014. Don't forget to send in your inspiration boards!

Remember when I wrote this post about "what to do when your significant other isn't into fitness?" Welp, the Pilot's kind F-U was to turn around and run a marathon. I tip my hat to you, sir.
Check out his recap below!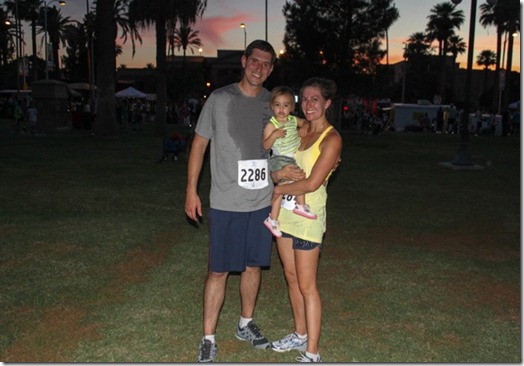 (Pic from our first family 5k)
Hey, folks – Pilot here. I hope your Holidays have been good. Gina mentioned that a few commenters were interested in post about my marathon. Fortunately, there are plenty of commercials during the Rose Bowl, so here we go.
This marathon was interesting in that I hadn't been on a consistent running routine prior to beginning the training plan. It's amazing how life changes in the 10 years after college. Growing up, I competed in running sports from the beginning of junior high through high school (track, soccer, etc.). I also ran fairly often while at Bama thanks to like-minded friends in AFROTC. In fact, I ran my first long-distance races in college. I was averaging 12-minutes on my 2- mile runs, but I wanted to push it up from there. We started doing mud run-type races, 5 and 10ks on campus, and finally, a few marathons.
One of the two that stood out was the Bataan Memorial Death March Marathon. If you're not familiar with the forced march by US prisoners of war under the Japanese during WWII, read up. You'll take every bit of pride from any race you've run and trash it. The starving POWs covered approximately 80 miles and along the way, there was a little more adversity than not having their favorite Gatorade at the water stations. Our five-man team ran (read: shuffled) in full military clothing (minus the outer which we could remove) with 35lbs packs (not including water). We trained for months in locations all over central Alabama. While ensuring the five of us finished at the same time, we took just over 10 hours to complete the 26.2 miles. The most memorable part of the race was running the steep hill into the mountains near White Sands, NM. Actual survivors of the march from WWII were there to cheer us on. Other than to shake their hands, no participants dared to slow down while shuffling past the veterans.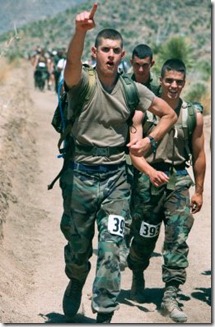 I saw a camera guy and this happened. I don't know.