This post is sponsored through my partnership with Bitsy's Brainfood.
This is such a fun, magical and lovely season. I've always been obsessed with the holidays, and find that it's even more enjoyable now that we can share it with little ones. Now that Liv really *gets* it, each passing year seems to be much more fun. I love the opportunity to create memories and traditions with our little family, and also teach them that during a time that consists of giving and receiving, it's important to remain thankful for our blessings throughout the year.
There are a lot of things I want to teach our kiddos. Most of all, I want to teach them to be kind, polite, and responsible, and the value of giving to others who need it. With Liv, we started to teach her about giving to others when she was really young, even when she didn't really know what's going on. Now, she knows that on her half birthday, we pack up toys she no longer plays with to donate to other kids who don't have as many toys. She's with us when we drive packed-up leftovers to drop off to someone at the beach. And during this holiday season, I feel like she understands the ability to pack up nonperishable food and take it over to the food bank.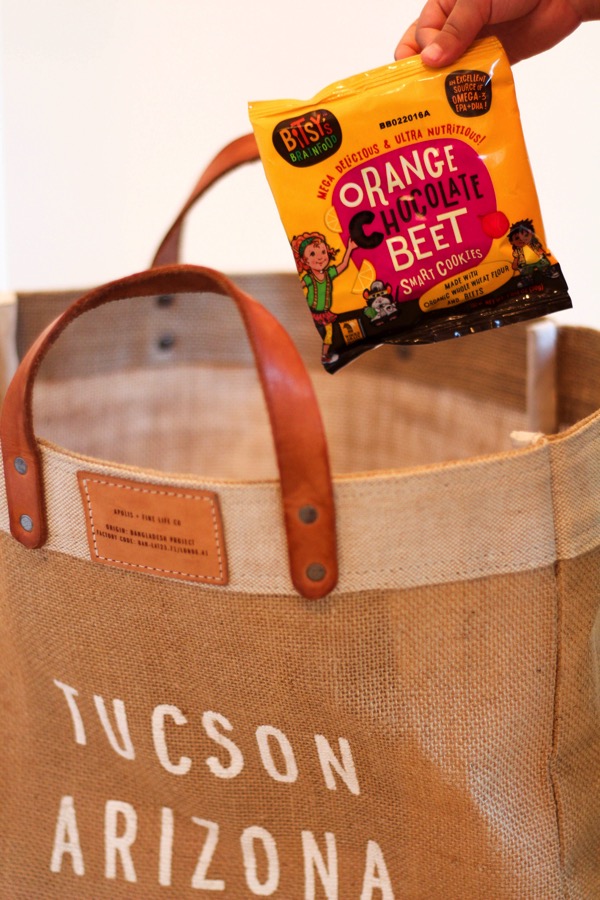 When Bitsy's Brainfood sent us a case of snacks to share with our favorite organization, I knew I wanted to take it over to Feeding America, along with some bags of nonperishable foods. Liv and I packed up cans of tuna, jars of peanut butter, and soup, along with the case of Bitsy's Brainfood to donate. While we packed it up, we talked about how we're fortunate to have access to healthy foods when we're hungry, and the importance of sharing food with others who need it.