Hi! I'm so glad you guys are loving the 10 days of giveaways! Apologies for the blog crashing last night, too. Turns out she was just excited about some Stitch Fix clothes. I wish I could do giveaways like this all the time- it's been so much fun. The good news is that we'll have some more fun prizes on the way in January with Winter Shape Up.
I have some exciting news about WSU this year: I've teamed up with my good friend Anne to provide the meal ideas and grocery lists. I've been wanting to get the help of a Registered Dietician for some time -as I don't feel totally comfortable giving out whole meal plans, as I'm only a certified personal trainer- and she'll help create satisfying combos for fitness performance and fat loss, if that's your goal. I'm really excited about it!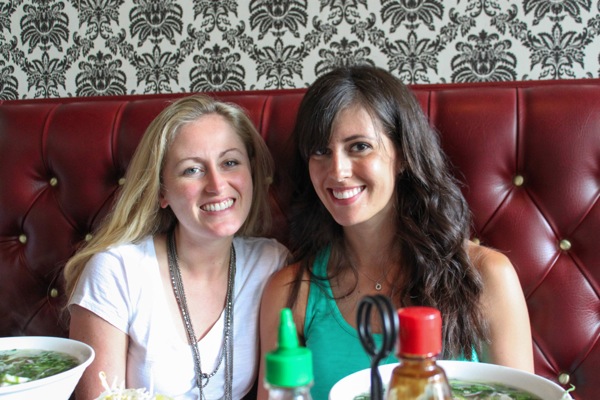 (she was there for my first pho ever. It was a big deal)
At the gym where I'll most likely be teaching Zumba, they gave me a free 2-week pass to check out the facilities and classes. Last night, I decided to venture out for some cardio and weights and.. I forgot how it felt to be the only girl in a room full of muscle dudes. It was PACKED in there, bench space was limited, and I had to grab the weights I needed for a tiny pod of space to strength train. I got pretty comfy working out at work, and late at night, I often had the entire gym to myself. Not the case anymore!
Here are some of the things that have helped me with the intimidation factor in the past:
1) Have a plan. I know what I'm doing for training now, and walk in the gym with a solid plan, but even back in the day -when I did arm and ab exercises everyday. Fail- I still pretended like I knew what I was doing. Keep moving, keep working, and get it over with.
2) Focus on your own workout. Everyone is usually too busy to worry about their own workout to care what you're doing. Even if they're not, see #3
3) Wear headphones. You pretend you don't hear anything and are super into your playlist/workout.
4) Laugh in your brain when you grab a heavier barbell than one of said muscle dudes.
Dinner was a classic fave, using some wild rockfish I got on sale at Whole Foods. (Usually fish, on sale, in Arizona, is a scary concept but it looked fresh and beautiful.)
Grilled in foil packs with garlic, lemon, salt, pepper, butter and capers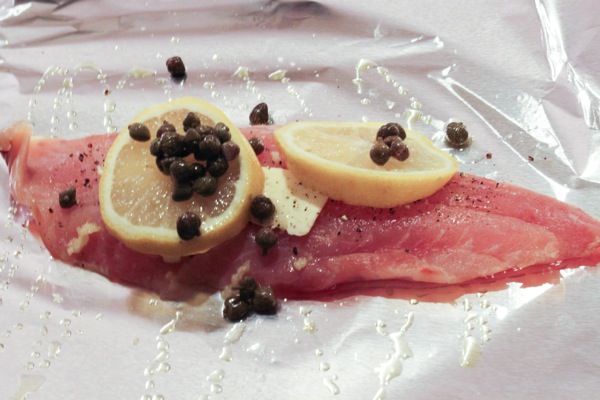 along with some multicolored carrots and spinach.