Hi friends! How's the day going? Ready for the weekend? I'm heading to LA for an event, we have an afternoon of SUP planned with friends, and we're taking Liv to see Inside Out. (Confession: I think I want to see it just as much as she does.) If you're over the Hawaii recaps (our adventures/hotel are here and the delightful food is here!), this is the final one: the Old Lahaina Luau.
We knew that we wanted to attend at least one luau for the full Hawaii experience, and to enjoy some traditional dance, music and food during our stay. When I put the call out for Maui recommendations, the Old Lahaina Luau was the most frequent luau suggestion, as many of you have visited and claimed that it was the best. I checked out a LOT of reviews online and immediately decided that this would be the one; it has a reputation for being the most authentic luau, with the best food and entertainment. Needless to say, we were thrilled when Old Lahaina offered to host our luau experience since we were planning on attending anyway.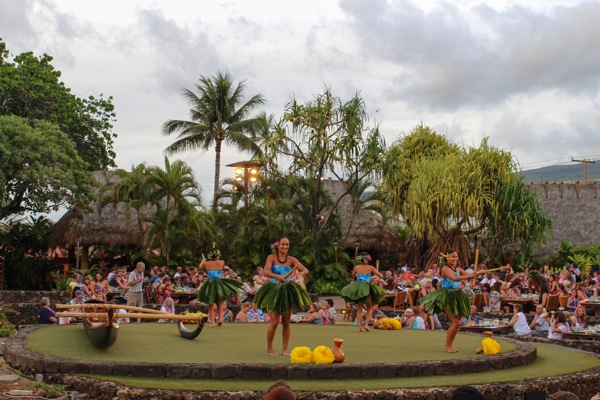 We arrived at the venue, where we were immediately greeted with fresh flower leis and drinks. (I got a virgin Mai Tai, the Pilot got the real deal. Drinks were bottomless all night, and they had a full drink menu. All of the beverages could be made without alcohol, so Livi and I shared a couple of virgin Lava Flows <— dessert in liquid form.)
Right away, I was surprised by the vast property. We had a luau at our hotel, which is also supposed to be very good, but it was in a much smaller space (a stage with surrounding dinner tables). At Old Lahaina Luau, the property includes sprawling areas of lush greens with the ocean and exquisite sunset in the background.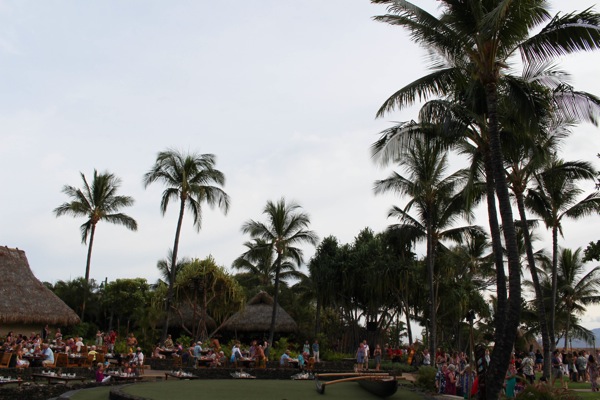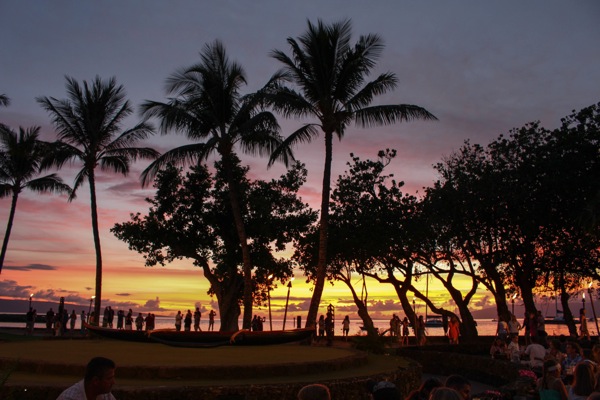 They have two seating options: dining tables (8 to a table, so you may be sitting by people you don't know), and traditional-style seating with low tables and pillow seats on the ground. We had a front dining table with a perfect view of the entertainment. Immediately the mood was set with live musicians,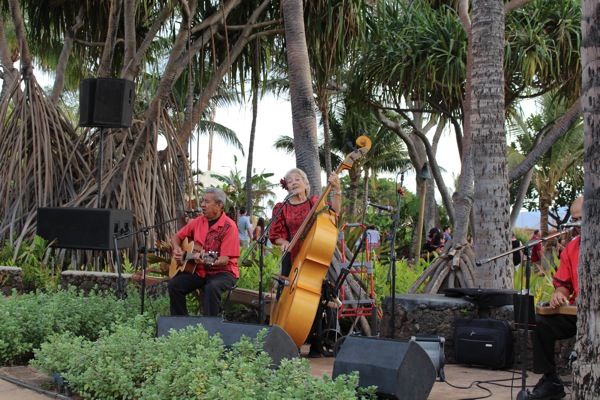 traditional dancers,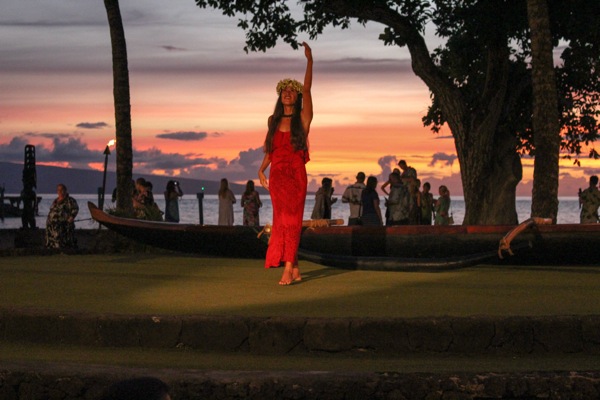 and stations throughout the property for photo ops (they had photographers on site) and to check out traditional crafts.