Hey hey. How's the day treating ya? Thank you SO MUCH for all of your amazing discussion comments yesterday, and for making this space the fun, inviting, interesting party that it is. I've been doing the usual teaching thing this week (had barre on Tuesday and Spin last night), and also took miss P to her upper GI testing. I'll post an update on the Family page this afternoon (spoiler: it wasn't a picnic, but we're glad it's over).
Today, I have a workout for you! This is a quick and dirty one, and was modeled after some of my favorite CrossFit workouts. When I first took a CrossFit class, I thought EMOM (Every Minute on the Minute) workouts were sneaky little beasts. Do you take your time, knowing that you'll get a shorter rest in between sets? Or do you crush through it quickly, blasting your heart rate up, but knowing you'll get more time before starting the next round? Tricky, tricky, CrossFit.
Here's the idea of EMOM:
-Set a timer.
-When a minute begins, you'll work through a short list of exercises. When the next minute starts, you'll do it again. This means if you get through your exercises quickly, you'll have some time to rest before your next round. If you move slowly, you're working pretty much the entire time.
-Most EMOM workouts are in time blocks, so an example would be EMOM 5: 10 burpees. This means every minute for 5 minutes, you would do 10 burpees (= 50 burpees). So let's say you finish your first set of 10 burpees in 40 seconds. You have 20 seconds to rest before starting your next set of 10 burpees.
Here is today's workout: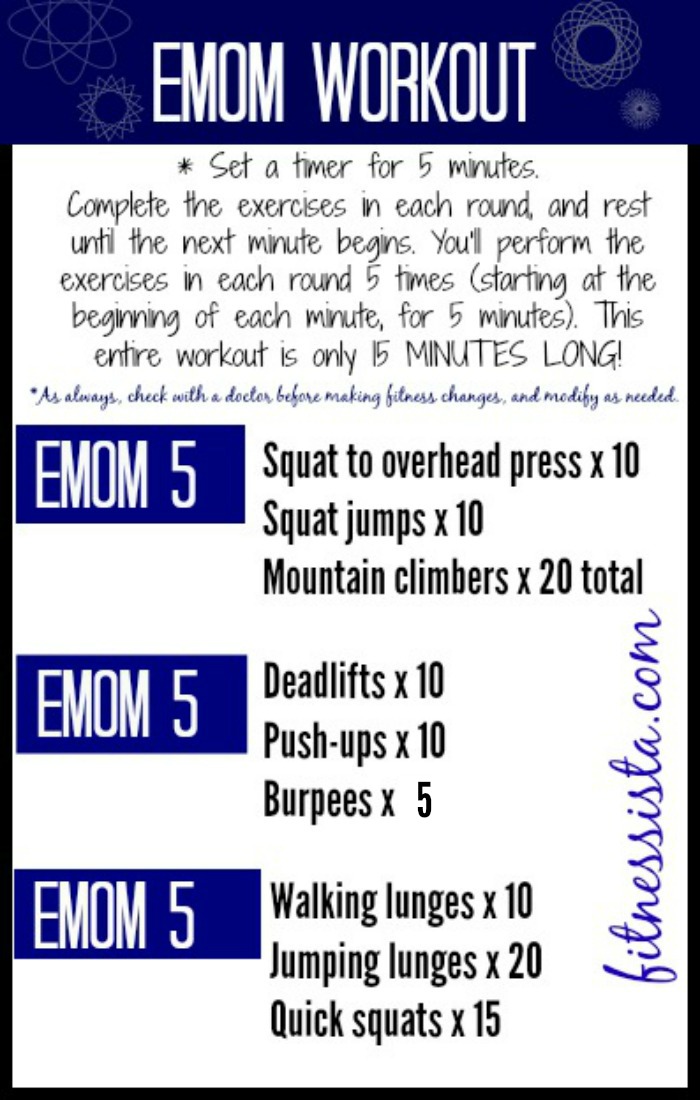 EMOM 5:
Squat (touch the floor with dumbbells and keep your chest high) to overhead press x 10
Squat jumps x 10
Mountain climbers x 20 total
EMOM 5:
Deadlift x 10
Push-ups x 10
Burpees x 10
EMOM 5:
Walking lunges x 10
Jumping lunges x 20
Quick squats x 15
The exercises and form cues: