Oh friends, I have a fun workout for you today! It's only 10 minutes, so it's perfect for squeezing in during this busy holiday season, and all you need is your own body weight.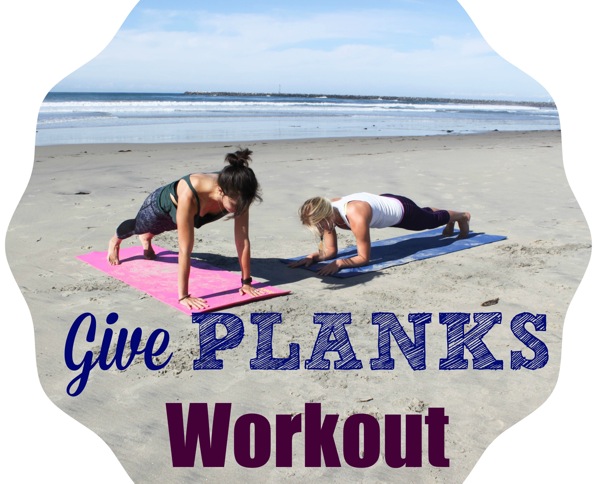 Here's how it goes:
Intervals of 45 seconds on, 15 seconds off
3 high intensity intervals
1 plank
3 high intensity intervals
1 plank
3 high intensity intervals
1 plank
Sounds fun, right? 😉
Tips and Form Cues for HIIT and Planks
Tips: incorporate interval training into your routine when you have a solid cardio fitness base, meaning you can complete 30 minutes of moderate steady cardio most days of the week. As always, modify as needed and check with a doc before making any fitness changes. Just because we're going for intensity, that doesn't mean that it needs to be high impact. Feel free to use any of the low-impact modifications we provide, or substitute with your own favorite high-intensity moves.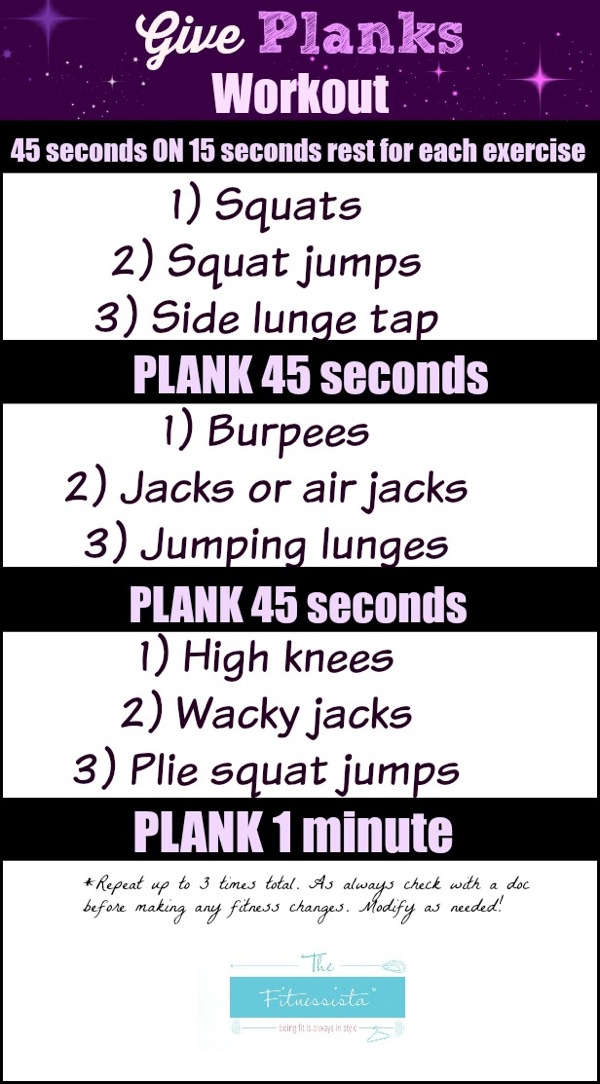 Round 1
1) Bodyweight squats: sit your hips back and down, keeping a tight core and lifted chest. Make sure to keep your weight in your heels and focus on quality instead of quantity.
2) Squat jumps: you can stay with regular bodyweight squats or take it to the next level with jump squats. Be sure to land with a soft knee and spring up towards the ceiling (or sky).
3) Side lunge tap and switch. As you come into your side lunge, sit your hips back and take a look at your front knee. Make sure it stays stacked over your front ankle. Tap the floor, come back to center, and repeat on the opposite side.
PLANK: 45 seconds. Use any plank variation you like! You can also modify by bringing your knees to the floor, but keep your hips down in line with your body.
Round 2
1) Burpees: sit into your squat and bring both hands to the floor, firmly planting your entire hand. Walk or hop back to a plank position, walk or hop your feet back to your hands, and jump vertically, raising your arms overhead.
2) Jumping jacks or air jacks: regular jumping jacks are great, or you can try air jacks, only tapping your feet together in the center.
3) Jumping lunges: if this is too much for your knees, try fast walking lunges instead. As you sink into your lunge, keep your chest up and core tight, and endeavor to create a 90 degree angle with your front leg. Jump to switch, lowering the back knee towards (but not touching) the floor.
PLANK
Round 3
1) High knees: can also do marching in place. Use your core to quickly lift your knees.
2) Wacky jacks. These are fun and goofy 😉 This is just like high knees, but your knees are out to the sides. Hold your hands behind your head, and slightly crunch to each side as you hop. This is a great cardio and oblique exercise.
3) Plie squat jumps. Step your feet out at least shoulder-width and sink your hips down into a squat. Try to get your thighs parallel to the floor, and touch the floor. Exhale to jump up, and land in a soft squat.
PLANK: 1 minute
Here's a little video that I filmed with my friend Sara.
(Warning: it was windy that day, and you can hear it. I'd watch it once to get a hang of the movements, modifications and flow, and then turn on your own music and do it with us. Please let me know if you have any mic recommendations for outdoor filming!)
(You can repeat this up to three times total. Another great combo is the above video + this barre strength + this barre HIIT.)
Grab a friend and go for it! Let me know how it goes in the comments section.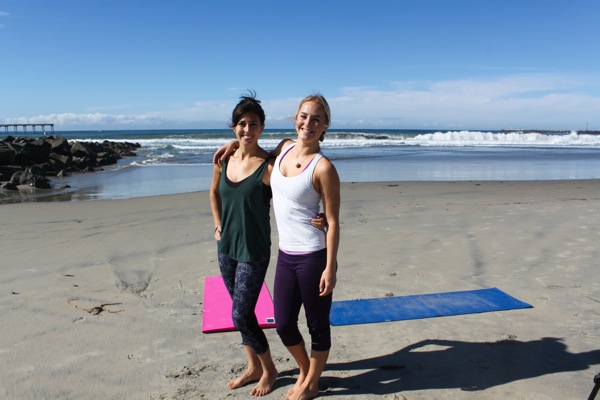 What's your go-to workout or plan of attack when you don't have a lot of time?
Hope you have a wonderful morning <3
xoxo
Gina