and her stroller,
and basically any occasion when she isn't able to move around freely on her own.
Usually, it's NBD because I'd rather hold her hand and let her walk around. She wants to move and explore instead of being strapped down, and I get that.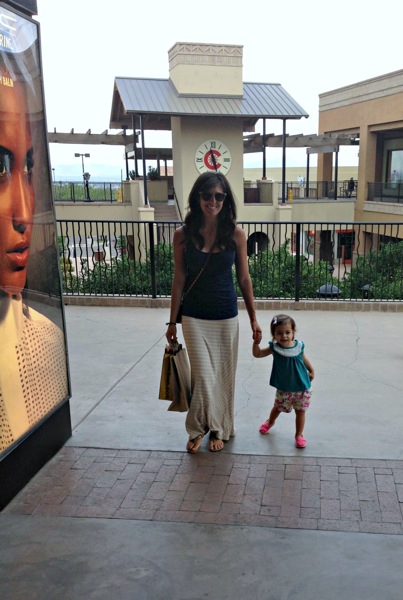 However, there are some times when she needs to sit still -like to eat at a restaurant- and it's been a little more challenging lately.
Just starting a couple of weeks ago, at home I'd go to sit her in the high chair and she'd shriek like she was on fire. Instead of the high chair, I asked her if she wanted to sit at the table in her elephant chair. (The elephant chair was a gift when Livi was born, and has been amazing for play dates and toddler dinner guests.)
"Yes! Elephant chair!"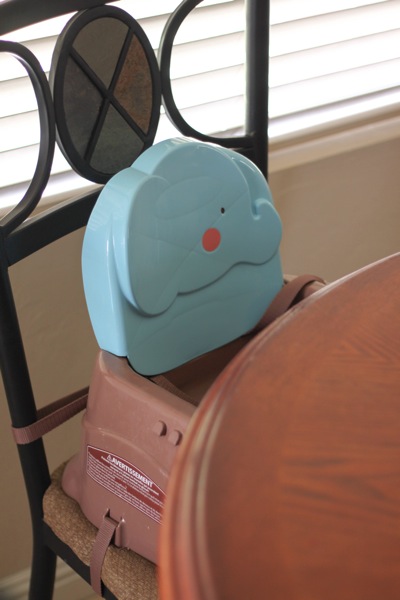 She sat happily in the booster seat to eat her meal, and it's been the elephant chair ever since. Looks like the high chair will be getting cleaned and stored in the garage for kiddo #2.
While we have it figured out at home, I have no idea what to do when we're out and about. She doesn't want to sit in a high chair, or a booster chair, and we like going out to eat. I was thinking of getting an extra elephant booster seat and toting it in the car with us? Also, I need to start packing up a little bag of fun toys/puzzles to see if that will distract her enough to sit at the table and forget what kind of seat she's in.
Recently, we grabbed food from a restaurant but she wouldn't sit in the high chair or the booster seat, so we packed the food up and came home to eat dinner here. I don't really want this to become a habit, but I'm not going to make her scream by sitting in something that she hates. Maybe an extra elephant seat is the way to go. Any moms facing a similar situation? Of course, another "problem that's not really a problem" but I always love to hear what's worked for fellow mamas. You've given me some of the best tips! 🙂
And just for fun, a video of her counting! She does something to amaze me every day.
xoxo
Gina