Hi friends 🙂 Congrats to those of you who have been killing it with Summer Shape Up so far. I can't believe week 1 is almost over! I'll be posting some of your awesome check-ins, along with the Stitch Fix giveaway winner tomorrow morning. If you're subscribed to my newsletter (just leave a comment below and click the box to sign up if you haven't already), you'll also get your email with the Week 2 password. Just a head's up about the SF giveaway: only 4 people have submitted video entries so far. There are 4 winners for the video portion… just sayin' 😉
Before we get to today's workout video, I to share an amazing breakfast I've been enjoying lately: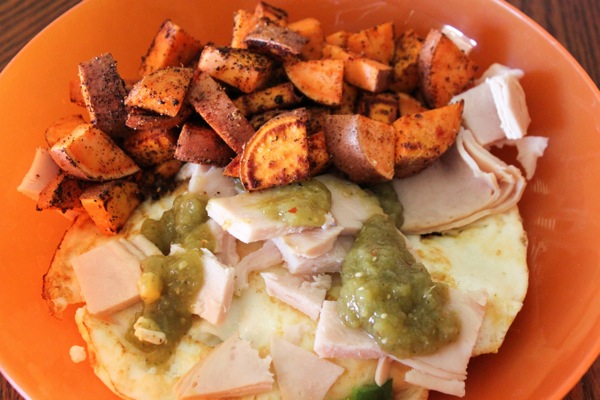 2-egg omelet with sautéed jalapeño, turkey, crumbled goat cheese, salsa verde and sweet potato hash. For the hash, I boiled a chopped sweet potato, and then sautéed it in a skillet with some butter, smoked paprika, chili powder, cayenne, cumin, salt and pepper. It was one of those simple recipes that fell off the radar– I'm glad to have to back.
Thank you so much to those of you who have recently subscribed to our new YouTube channel. We'll be posting weekly dance fitness videos (Bellydance, Zumba, jazz, hip hop…) in addition to bodyweight strength workouts you can do anywhere.
Here's one that Sasha and I recently made:
Sasha's teaching this one: a short barre burner, emphasizing core and leg strength. My flip ran out of camera space halfway through, so we got to film the left side twice– my legs were screaming! Of course, there's the necessary blooper at the end.
A text version: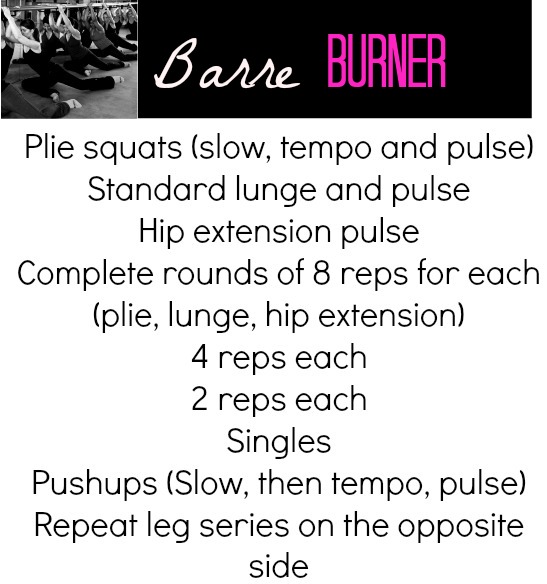 If you're doing Summer Shape Up, I'd recommend adding this quick video in at the end of tomorrow's workout and enjoying today as a well-deserved rest day. If you're not following the Shape Up and want a quick, intense leg burner, check it! Please let us know what you think and what you'd like to see in the future 🙂
Have a great day!
xoxo
Gina