Can someone please tell me how it's already December 17th? I keep telling myself "Oh, you have time" as far as getting things ready goes, but derp. The time hath passed. Did the holidays sneak up on us this year, or what? Usually I wait until the very last minute (aka Christmas Eve) to finish holiday shopping, but it's my goal to be finished before then. I'd rather enjoy Christmas eve with the fam, all of it, instead of fighting harried shoppers at the mall. The good news is that Liv's gifts are finished, most of our out-of-town relatives are finished, cards are out, but I still have a ton to do. Also , my goal of wrapping everything as it arrives? We have some Amazon boxes under the tree for now 😉
Something that I really love picking out for others: stocking stuffers. It's fun to find a mix of tiny trinkets, and it's amazing what you can put in a stocking. I figured I'd share some of my last-minute stocking stuffer ideas, as well as some inexpensive DIY gifts to make this holiday season. DIY gifts are the best ones to receive -like when Meg made us this wreath– so I'm trying to venture out of the proverbial Amazon box as far as gift-giving goes.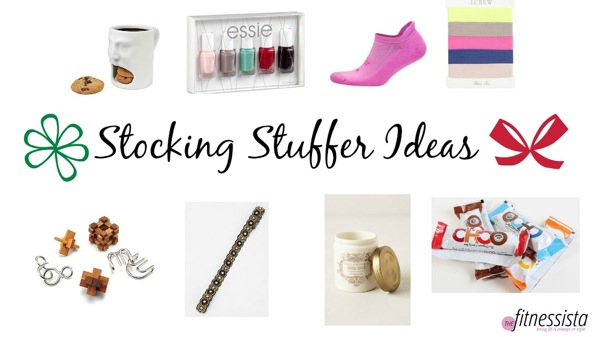 Some stocking stuffer ideas:
-Beauty products that come in a pack to split up. There are awesome holiday packs of body scrubs, lip glosses and nail polishes this time of year. Target had an awesome package full of Essie nail polishes! Love.
-Socks. If you're shopping for a runner, Balega socks are INCREDIBLE
-Non-candy snacks. Trail mix, bars, packs of protein power, Shot bloks, Gu, gum, mints, change it up!
–Ocho bars. I'm obsessed with these. So they're still candy bars, but made with real ingredients. The coconut one is fantastic.
-Underwear. You can be cheeky and get some funny holiday prints, too 😉
-Bath bombs. Pick some up or make your own.
-Costume jewelry, like necklaces, cocktail rings or earrings.
–Candles. Small votives make a prefect little stocking stuffer. 
-Gift cards. These are always fun, especially if you get a few in small amounts (One for $5 to Starbucks, $5 to Jamba Juice, etc)
-A face mug.
Some DIY gift ideas:
DIY refreshing rose facial spray
Still last-minute shopping (like me)? Here are some past gift guides for the Fitness-loving Friend, Gift Guide for the Dudes, for the Kiddos and for the Mamas. 
Any fun stocking stuffer ideas?
Are you making any gifts this year? What are you making?? 
Are there any fun "experience gifts" that you're doing? 
xox
Gina