After lots of takeout and incredible baby meals (we have one left tonight),
someone is back in grilling action….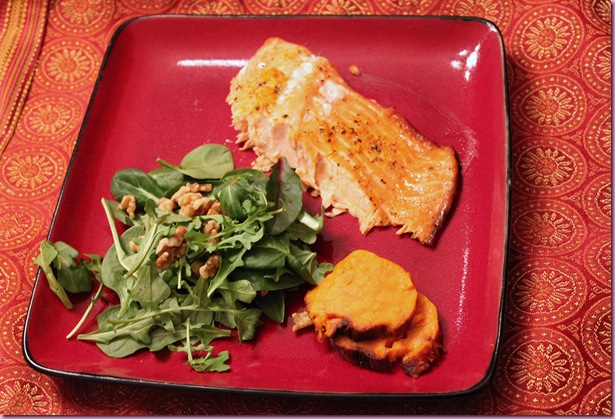 (definitely not me- the Pilot)
Last night Kyle, Meg and Ash came over and the Pilot grilled up an enormous filet of salmon, seasoned with orange juice and zest, sea salt, pepper, maple syrup and bourbon.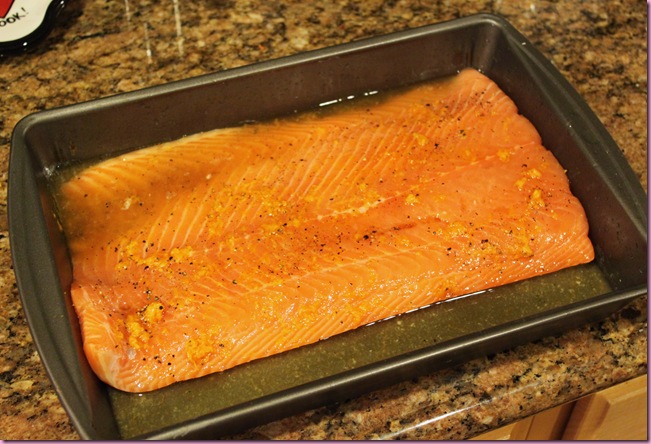 Split 4 ways 🙂
We snacked on chips and salsa while he was cooking away, and enjoyed a delicious feast of salmon, salad with Goddess dressing and walnuts, and sweet potato rounds.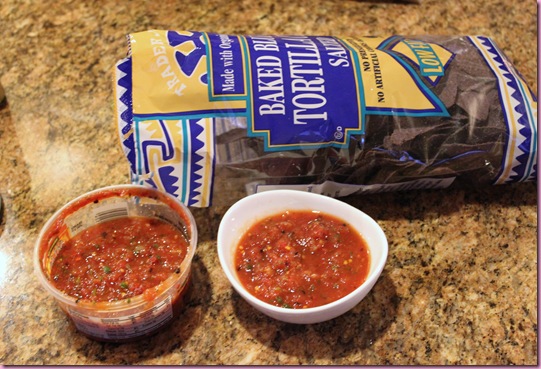 Now we're back to the Monday grind, and I'm actually pretty excited about this week. I was kind of bummed last week because the Pilot went back to work, but I think I've got life figured out a little bit and have lots of exciting things to look forward to.
I'm also stoked about this week's Winter Shape Up workout, because I have a little challenge for you guys.
First, here's what's going on this week:
This week's workout focuses on supersets, quickly moving back and forth between exercises working opposing muscle groups (no rest in between exercises). For example, for superset 1, you'll do 12-15 bicep curls, 12-15 tricep dips, 12-15 bicep curls, 12-15 tricep dips, 12-15 bicep curls, and 12-15 tricep dips before moving to the cardio blast (lunges and jumping lunges).
This exercise can be done on non-consecutive days, with steady state cardio, flexibility training or rest in between. As always, check with a doc before making any fitness changes and honor your body and injuries.
[print_this]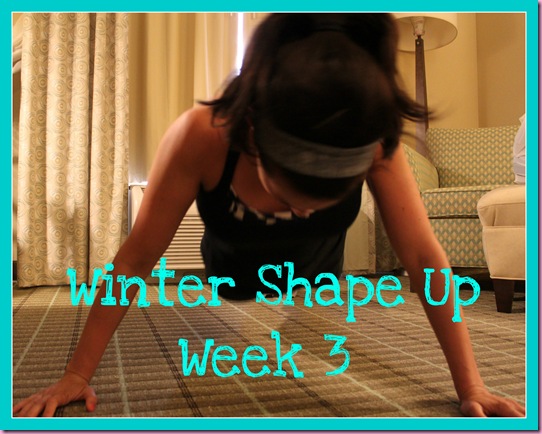 | | | |
| --- | --- | --- |
| 1. Warm-up | Cardio of choice | 5-7 minutes (moderate intensity) |
| 2. Superset 1: | Bicep curls and bench tricep dips (3 sets total of 12-15 each) | Challenging weight (8-15 lbs)/ bodyweight (if you need more, put a weight plate on your lap) |
| 3. Cardio blast | Lunge right (30 seconds), lunge left (30 seconds), jumping lunges 1 minute | Bodyweight |
| 4. Superset 2: | Bent-over wide row and bench pushups (3 sets total of 12-15 each) | Challenging weight (8-15 lbs each)/ bodyweight (if you need more, walk out so the bench is closer to your ankles) |
| 5. Cardio blast | Squat (30 seconds), jump squats (30 seconds), burpees (1 minute) | Bodyweight |
| 6. Superset 3: | Frog crunch and superman (3 sets total or 12-15 each) | Bodyweight |
| 7. Cardio (optional) | Schweaty August workout |   |
| Cool down and stretch |   |   |
[/print_this]
In the spirit of Show Me Your Fit, I thought it would be fun to post some pics of you guys rocking out the Winter Shape Up. Pick your favorite exercise from this week, snap a pic, and send it my way (fitnessista at gmail dot com, subject: Show Me Your Shape Up). I'll be posting the pics on Friday- can't wait to see them!
Thank you to all of you for your amazing feedback so far on the workouts. Keep up the amazing work, and as always, please let me know what you think!
Happy training <3
Be back later with a Family post.
xoxo
Gina
What's one workout you're looking forward to this week?