Hi everyone! Hope you're having a wonderful day. As you know, I received a package from the lovely people at Celestial Seasonings last week.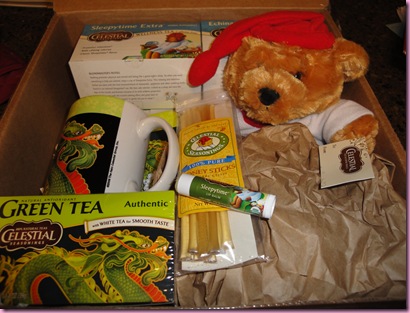 They sent me a plethora of teas and goodies, a mug and this book: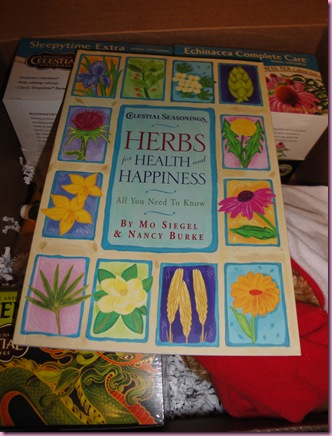 I'm especially excited about this because I try to use natural remedies whenever possible and avoid taking medication when I'm sick. I'd much rather feast on fresh organic produce, drink lots of tea and juice.
Tea is especially effective at preventing and aiding with common sicknesses. Check out this info from their website. It includes common symptoms, a tea remedy and suggested food to get you feeling better.
I have a sore, dry or scratchy throat.

Soothing chamomile
Licorice root and slippery elm bark to coat the throat and help alleviate discomfort
Ginger and lemongrass to rejuvenate the body

Sleepytime Throat Tamer ™


Ice cold orange juice, honey, lemon juice, salt water (for gargling)

I am beginning to feel sick; my immune system needs a boost.

Echinacea to support the immune system and the body's ability to defend itself*
Vitamin C for its antioxidant properties
Zinc, an essential mineral that provides immune system support during cold season*
Aromas and flavors like eucalyptus and peppermint that make you feel better fast!

Echinacea Complete care®


Walnuts, garlic, berries, citrus fruits

My stomach hurts and/or I'm feeling bloated.

Revitalizing fennel to quickly but gently calm your stomach
Soothing herbs like peppermint and chamomile that naturally assist digestion

Tummy Mint®


Yogurt with active cultures, whole grains, water

I'm feeling run down.

Whole eleuthero root and Asian and American ginseng to sustain healthy levels of energy and stamina
Vitamins B6 and B12, which are essential for helping you cope with stress
Revitalizing and refreshing flavors like orange peel and spearmint

Ginseng Energy®


Oatmeal, berries, citrus fruit

I need to cleanse my body after over-indulging in fatty foods, alcohol or caffeine.

Milk thistle to cleanse and detoxify the body and promote healthy liver function*
Immune system-supporting Echinacea*
Cleansing botanicals like dandelion root, sarsaparilla root and red clover

Detox AM®


Green leafy vegetables, water

I can't sleep.

Tilia flower to quiet the mind and relax the body
Valerian, a trusted natural sleep aid
Calming herbs like chamomile and spearmint

Sleepytime Extra®


Dairy products, nuts, carbohydrate-rich foods

I am feeling healthy and want to stay that way.

Powerful polyphenols and potent flavonoid antioxidants to counter the harmful effects of free radicals
Vitamins A, C and E to maintain your body's good health

A delicious health supporting Green Tea, such as Antioxidant Supplement Green Tea


Fresh fruits and vegetables
So this giveaway is for an under-the-weather Fitnessista who will receive a Natural Wellness Kit from Celestial Seasonings.
· Four wellness teas to ease symptoms associated with the cold and flu – Sleepytime Extra, Echinacea Complete Care, Tummy Mint – we can add other teas based on your readers symptoms.
· Two green teas to support a healthy immune system year round – Authentic Green Tea and Honey Lemon Ginseng Green Tea
· Mug, soothing lip balm, honey sticks and Celestial Seasonings Sleepytime Bear
· The book "Herbs for Health and Happiness" by Celestial Seasonings founder Mo Siegel and Nancy Burke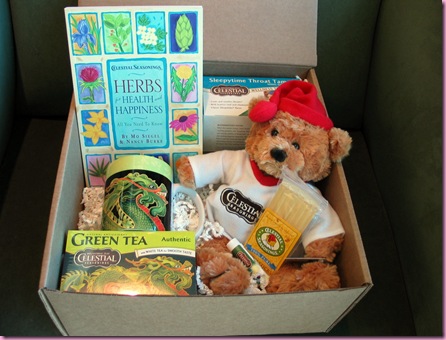 All you have to do is:
Leave a comment with your symptoms (feel free to use any of the above if they apply to you!)
The winner will be chosen tonight at midnight, and the kit will be sent via overnight mail to get you feeling better much faster!
The winner will also be asked to test out the tea(s) that apply to their symptoms, snap a pic and send them to me so I can post them under the review section of the bloggy.
Sounds fun, huh?
Ready…. set…. GO!