Chickpea curry salad (easy make-ahead vegan lunch idea)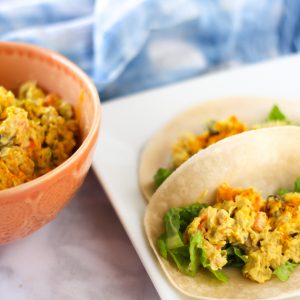 This curry chickpea salad makes a delicious and versatile vegan lunch option. I got the recipe inspiration from my latest favorite How To Not Die cookbook, and since then, I've made it weekly. This curry chickpea salad is awesome in wraps, on a sandwich, on top of veggies and greens, or scooped up with some plantain chips.
Scale
Ingredients
1 can chickpeas, drained
1 1/2 t curry powder
1/2 t turmeric
1/4 t miso paste (or salt to taste)
Juice of half a lemon
1 heaping tablespoon vegan mayo (or avocado oil mayo)
1/3 cup raisins
1/3 cup chopped cashews
1 scallion, chopped
1 large carrot, chopped
1 rib of celery, chopped
In a food processor, add 1/2 the can of chickpeas, the miso, lemon juice, mayo, curry powder, and turmeric, and process until smooth.
Pulse in the remaining chickpeas, scallions, carrots, cashews, and raisins to combine.
Serve immediately or store covered in the fridge.
Keywords: Chickpea curry salad, how to not die cookbook, vegan lunch idea, gluten-free lunch, vegan curry salad, how to make chickpea salad