Print
Crispy Shrimp and Rice Bowls with Soy-Ginger Glaze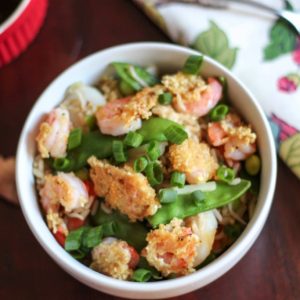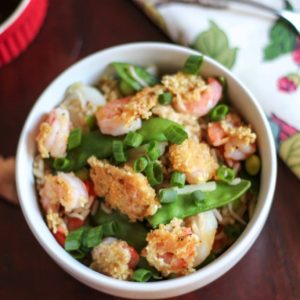 1

lb shrimp, cleaned, deveined and tails removed (I used medium shrimp, but think that large would have been even better)
For the coating
2 1/2 cups

rice Chex, ground in the food processor

1/4 teaspoon

garlic powder
Salt and pepper
For frying
1

egg
Coconut oil (a heaping tablespoon)
For the veggies and rice
16 oz

stir fry veggies

2 cups

cooked brown rice
Tamari or soy sauce
For the sauce
1 teaspoon

sesame oil

1/4 cup

olive oil

2 teaspoons

soy sauce or Tamari

1 teaspoon

rice vinegar

1

clove of minced garlic

1

-inch piece of fresh ginger, grated

1 teaspoon

honey
Salt and pepper to taste
Process the Chex until almost a flour, but still with a little bit of texture.
Season well with the garlic powder, salt and pepper.
Pour into a bowl.
Rinse the shrimp, pat dry, and season with salt and pepper.
Whisk the egg in a small bowl.
Dip the shrimp into the egg, then into the Chex mixture and press to make sure it's fully coated. Since my shrimp were smaller, I did this in batches and just made sure to really press the Chex crumbs onto the shrimp.
Place the breaded shrimp on a large plate and heat the coconut oil in a large skillet on medium to medium-high.
Cook the shrimp in the coconut oil for 1-2 minutes per side, until cooked through and golden brown.
Transfer to a plate lined with paper towels.
While the shrimp is cooking, make the veggies and rice.
In a large wok or skillet, heat the veggies on medium-high heat with a little coconut oil and season well with salt and pepper.
Stir frequently.
After 5 minutes, add in the rice, a splash of Tamari and remove from heat.
Next, make the sauce.
Whisk all of the sauce ingredients in a small bowl.
Taste and adjust seasonings as needed.
In each serving bowl, add the rice and veggie mixture with some shrimp on top.
Garnish with sesame seeds and or chopped scallions, and serve with the sauce on the side. Before feasting, pour a little of the sauce on top and enjoy!