Print
Roasted Root Vegetable Salad with Maple-Dijon Dressing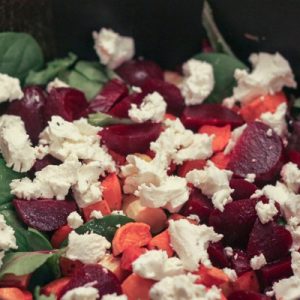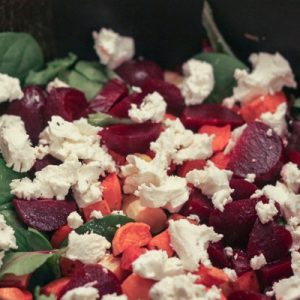 Prep Time:

60

Cook Time:

45

Total Time:

60
Scale
Ingredients
For the roasted vegetables
2

sweet potatoes, peeled and diced

3

parsnips, peeled and chopped

4

carrots, peeled and chopped
Salt, pepper and olive oil
Optional: 3 beets, peeled and chopped
For the dressing
4 oz

apple cider vinegar

6 oz

olive oil

2 oz

pure maple syrup

1 teaspoon

Dijon mustard

1/2 teaspoon

dried oregano

1/4 teaspoon

dried basil

2

cloves garlic, minced
Salt and pepper to taste
To serve
12 oz

greens of choice (I like spinach or a mix of spinach, arugula and baby kale)

4 oz

goat cheese, crumbled
1. Preheat the oven to 400 and spray a cookie sheet with nonstick spray or olive oil. Add the sweet potatoes, carrots, parsnips, and optional beets to the cookie sheet, drizzle with olive oil and season well with salt and pepper. Roast for 40-50 minutes, flipping and re-seasoning halfway through.
2. While the veggies are roasting, make the dressing. Combine the oil, apple cider vinegar, maple syrup, Dijon, oregano, basil and garlic in a large bowl and whisk well. Season according to taste with salt and pepper. Store in the fridge until serving.
3. To serve: drizzle some of the dressing on the bottom of the salad bowl. Place the greens on top, then the goat cheese and roasted veggies. Toss to coat before serving.