Print
Green Beans with Goat Cheese, Cranberries and Almond Slivers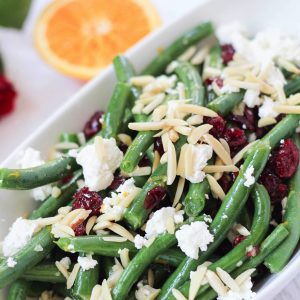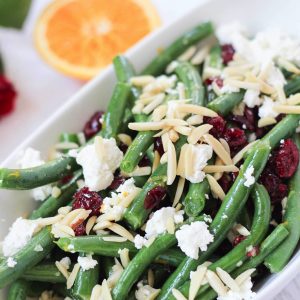 16oz

green beans

3

cloves garlic, minced
Juice of

1/2

orange

1 teaspoon

orange zest

1/2 cup

dried cranberries

2 oz

creamy goat cheese

1 oz

slivered almonds
Bring a large pot of salted water to a boil while you prep the green beans. Rinse the green beans in water, and then snap off the ends.
When the water is boiling, add the green beans, and boil for 3 minutes. Strain in a colander and rinse immediately with cold water. This will help keep the color bright.
In the same pan, bring the heat to medium and add a drizzle of avocado oil or butter to the pan. Add the garlic cloves and cook for 30 seconds until fragrant, stirring frequently. Stir in the green beans and season well with salt and pepper. Add the orange juice, the cranberries, and remove from heat. Stir in the orange zest.
Transfer the green beans to a serving bowl, and top with crumbled goat cheese and the slivered almonds.