Massaged Kale Salad Mountain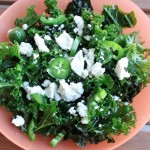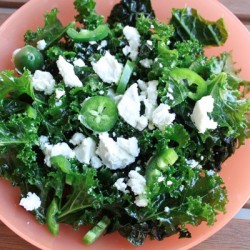 Scale
Ingredients
1

bunch kale

1/2

lemon

1

clove garlic, minced
olive oil
salt
pepper
jalapeno
goat cheese, crumbled
Wash kale and rip bite-sized pieces off the tough stem.
Squeeze lemon juice, drizzle on olive oil, sprinkle on sea salt, pepper and garlic to taste.
Using your hands, massage the dressing into the kale, squeezing the leaves thoroughly to wilt the kale and distribute the dressing evenly.
Top with crumbled goat cheese and slice jalapeños.
Notes
This makes a salad mountain for one or a side salad for two!