Hi friends. I'm glad you liked the Whole Foods pics! It was such a fantastic event with so much fun (I had no idea we'd be feasting the night away and was pleasantly surprised), music, wine/beer and they sent us home with killer swag bags. From bars to natural cleaning supplies, almond butter and a coffee mug, I have lots of fun new goodies to try out. I also grabbed some kale to make the best massaged kale salad.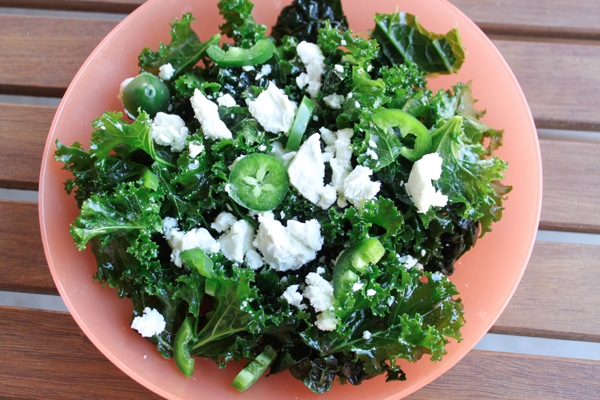 I've always had a deep love for kale salads, but it's intensified ever since I had a similar version to the above salad at brunch on Sunday. I love having salad with breakfast and Ventana always has a fabulous variety set up.
Something about this salad makes me imagine myself hiking to the top of kale mountain, wearing lederhosen and yodeling.
You?
No?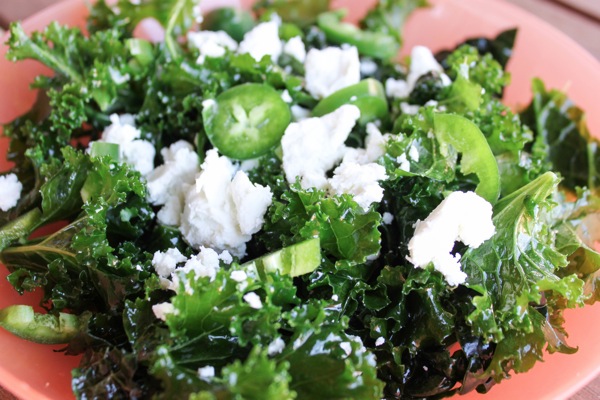 Nevermind.
Either way, I just had to share this awesome combo with ya.
Massaged Kale Salad Mountain
First, you start with washed kale, then tear the leaves of the ribs into large bite-sized pieces: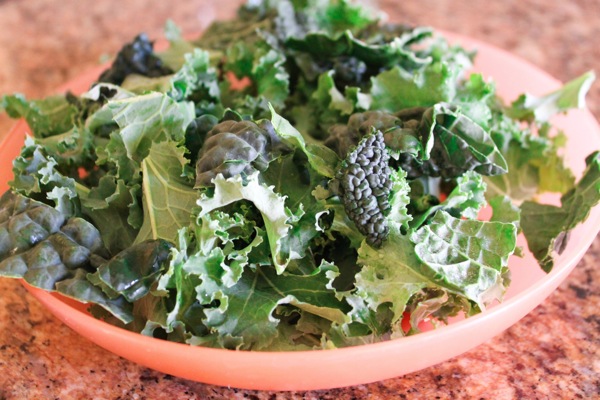 (Use more than you think you'll want because it's really that delicious, and the kale will also wilt up and shrink a little.)
Squeeze with a hefty amount of lemon juice, drizzle with olive oil, and top with sea salt, garlic and pepper.
Next, using your hands, massage the mixture onto the kale, making sure to squeeze the leaves and thoroughly distribute the dressing and spices.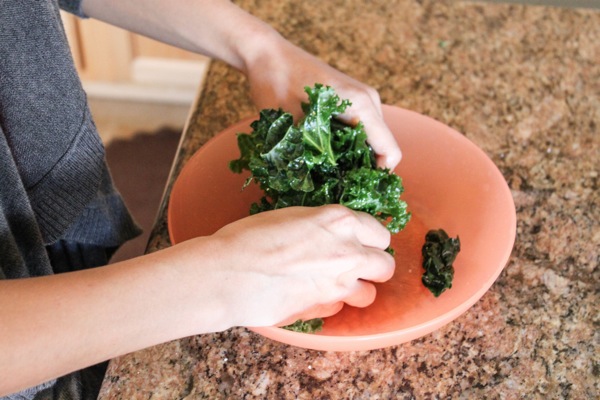 Top with crumbled goat cheese and sliced fresh jalapeño.
Massaged Kale Salad Mountain
1

bunch kale

1/2

lemon

1

clove garlic, minced
olive oil
salt
pepper
jalapeno
goat cheese, crumbled
Instructions
Wash kale and rip bite-sized pieces off the tough stem.
Squeeze lemon juice, drizzle on olive oil, sprinkle on sea salt, pepper and garlic to taste.
Using your hands, massage the dressing into the kale, squeezing the leaves thoroughly to wilt the kale and distribute the dressing evenly.
Top with crumbled goat cheese and slice jalapeños.
Notes
This makes a salad mountain for one or a side salad for two!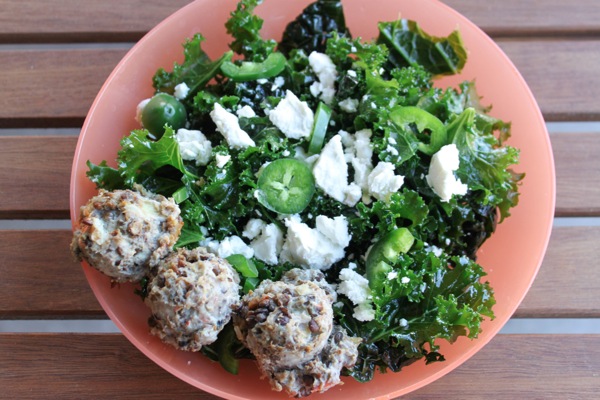 I enjoyed mine with a few turkey lentil muffins for lunch- it was a perfectly satisfying and spicy combo. Hope you love it!
xoxo
Gina
Something to think: