Print
Pumpkin Pie Brownies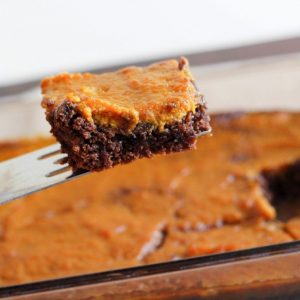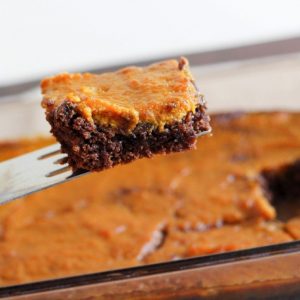 Prep Time:

15

Total Time:

60
For the brownie layer
1 cup

almond butter

1/2 cup

maple syrup

2 tablespoons

coconut oil

1

egg

1 teaspoon

vanilla

1/3 cup

cocoa powder

1/2 teaspoon

baking soda
Pinch of sea salt

1/3 cup

mini chocolate chips
For the pumpkin pie layer
1 1/2 cups

pure pumpkin puree

1

egg

1/4 cup

honey

1 teaspoon

vanilla

1/2 teaspoon

pumpkin pie spice
Pinch of sea salt

1 tablespoon

of almond meal

1 tablespoon

coconut sugar
1. Preheat the oven to 325, and grease a 6×10 inch glass baking dish with coconut or olive oil.
2. In a large bowl, prepare the brownie layer batter. Fluff the almond butter with a fork until smooth and creamy, and then thoroughly mix in the remaining ingredients until smooth and well-combined.
3. Pour the brownie layer into the dish, and bake for 12 minutes.
4. While the brownie layer is baking, prepare the pie layer. Mix all ingredients in a large bowl until smooth.
5. After removing the brownies from the oven, allow to cool slightly (5 minutes or so), before *gently* smoothing the pumpkin pie layer on top.
6. Place back into the oven to back for 35-40 minutes, until the pumpkin layer is firm and slightly browned around the edges.
Notes
This is the tough part: these taste even better if brought to room temperature and stored in the fridge overnight (covered). This is the perfect make-ahead dessert recipe for any holiday parties coming up, too!