Pumpkin Pie Brownies (grain-free, dairy-free)
I've created a monster.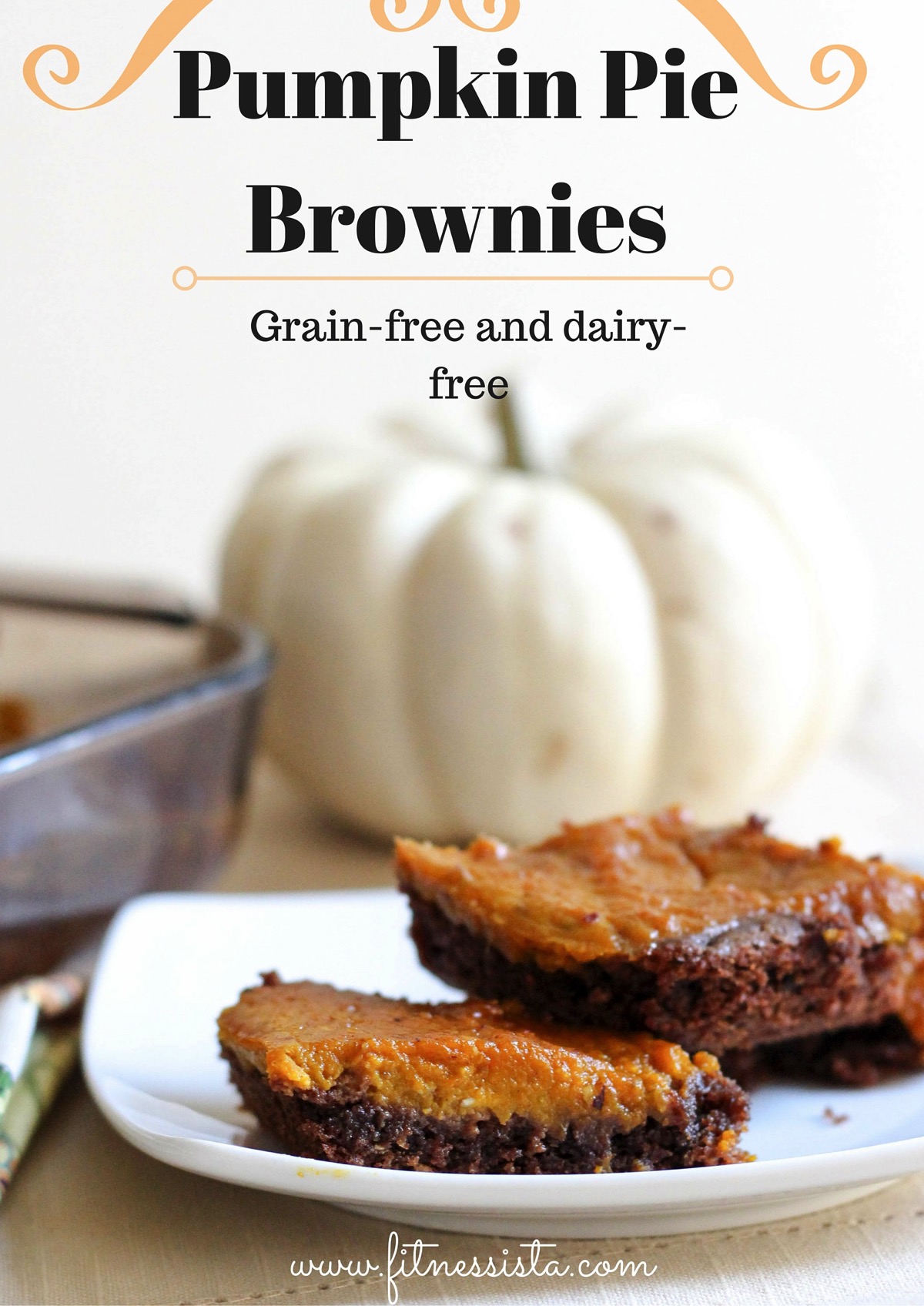 Quite a few of you have told me that you've made these pumpkin bars multiple times already. (Thank you for letting me know if you've made them; I love getting your feedback on recipes and anything that's on the blog!) I'm right there with you. I think we've demolished 4 batches already? Well this is a little something if you're looking to switch up the rotation a bit.
It still has chocolate, and still has pumpkin, so don't worry. It's not too much of a walk on the wild side.
Pumpkin Pie Brownies Breakdown
brownies on the bottom,
pie on top,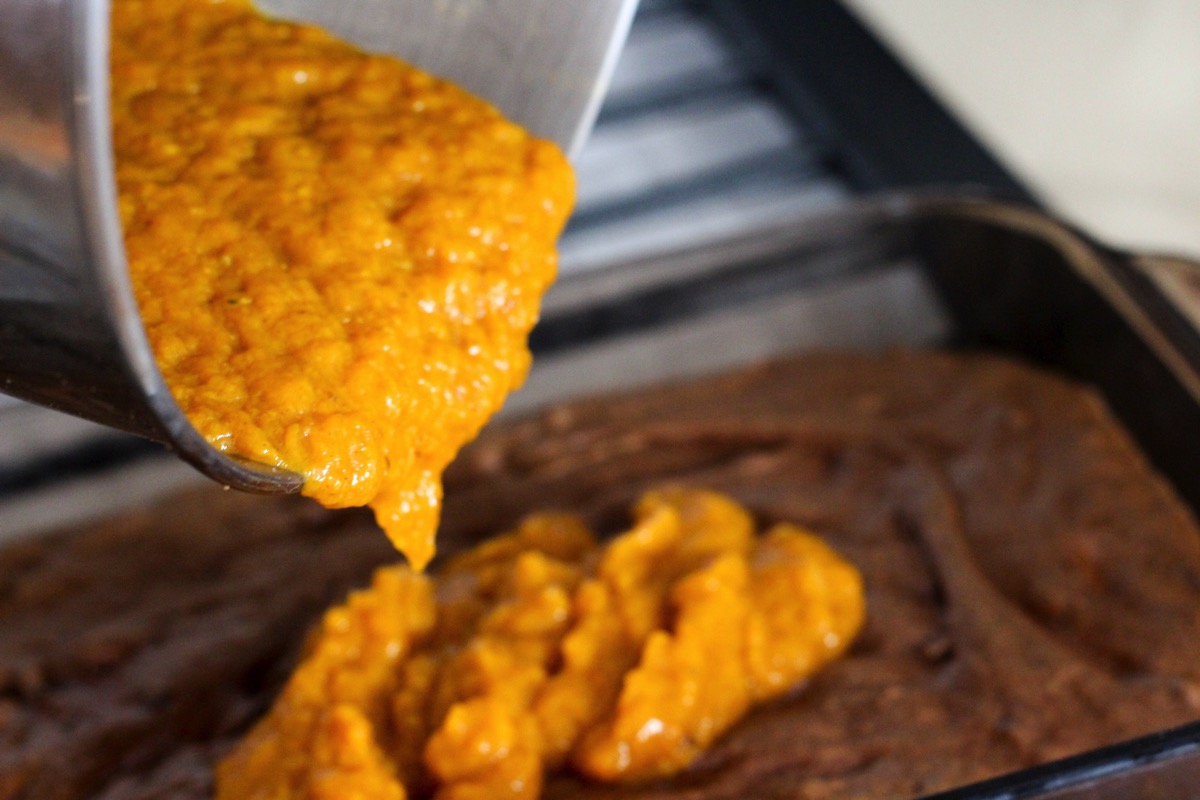 and any sound of dessert satisfaction you would like to make.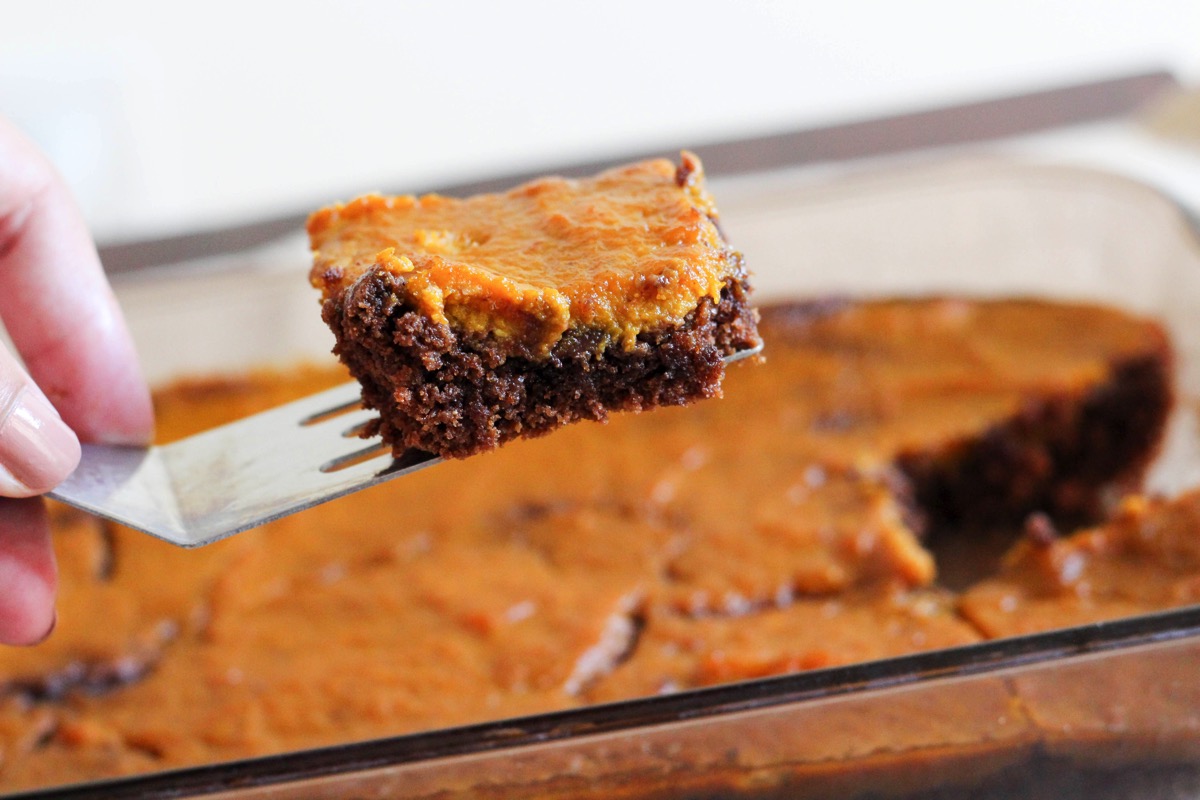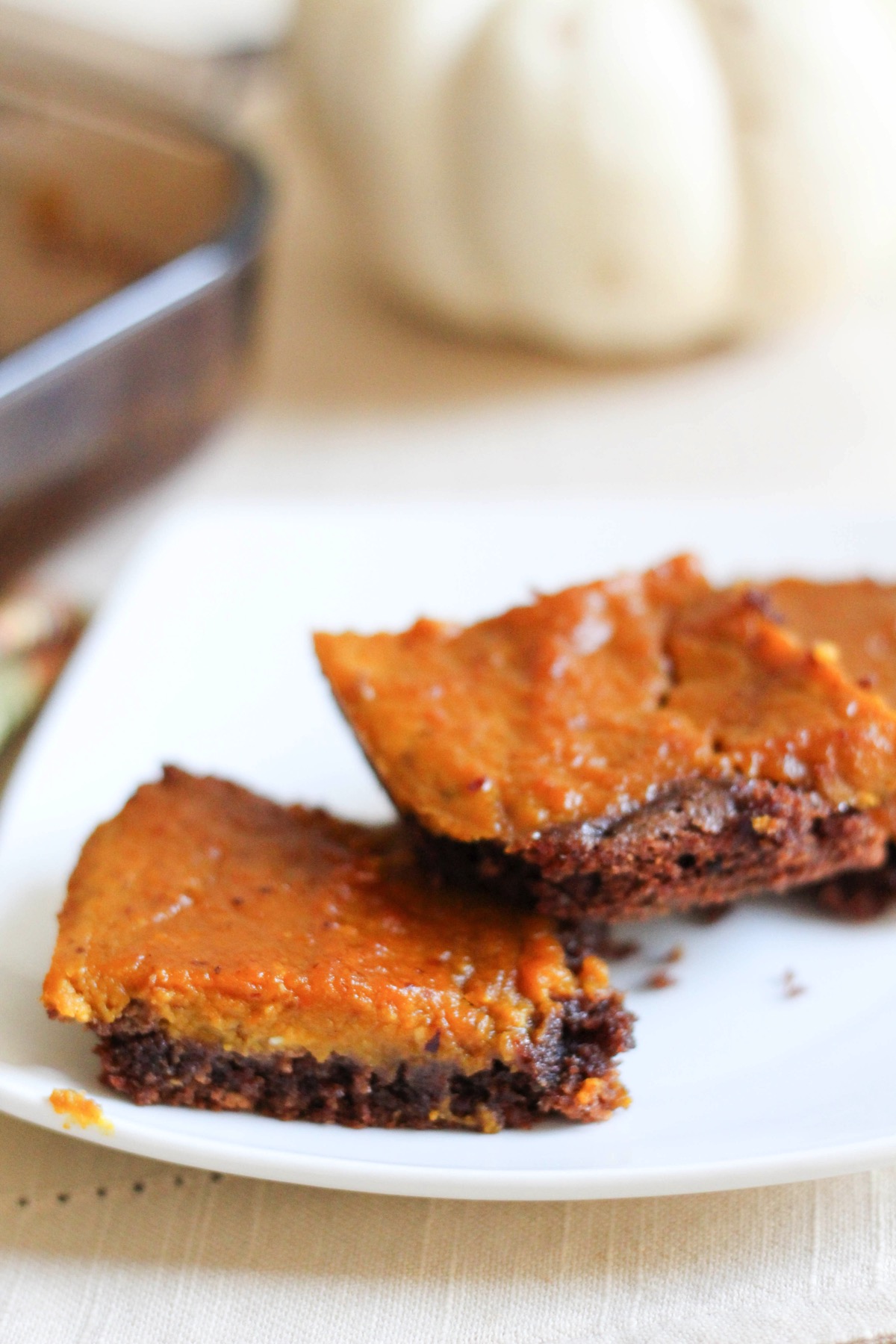 I've been going through a bit of a dessert identity crisis lately. I used to be ALL about the brownies, cakes and cookies, and for the past few months, I've been a cobbler and pie kind of girl. I don't even know who I am. Well, desserts like this prove that you don't have to choose; just combine them all. (It totally reminds me of this hahah.)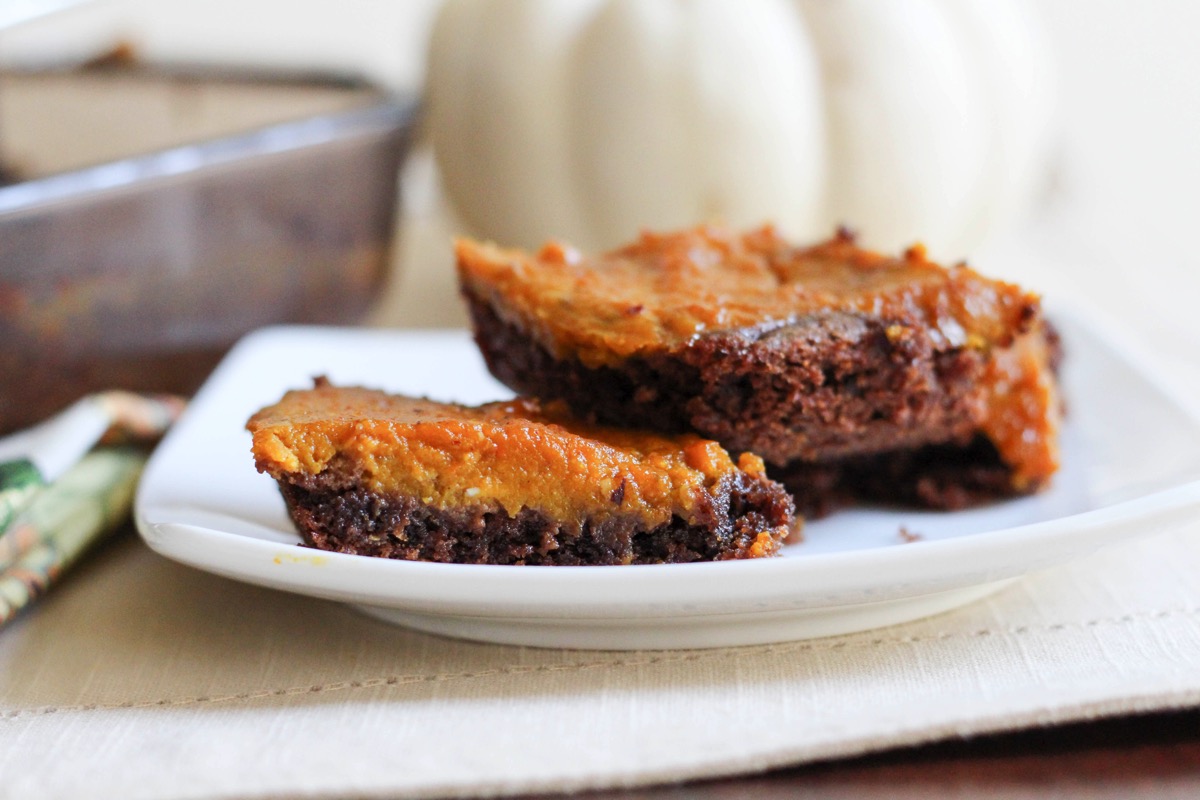 And the best part? You're still getting in whole foods, healthy fats, a bit of protein, and there's NO refined sugar, dairy or grains.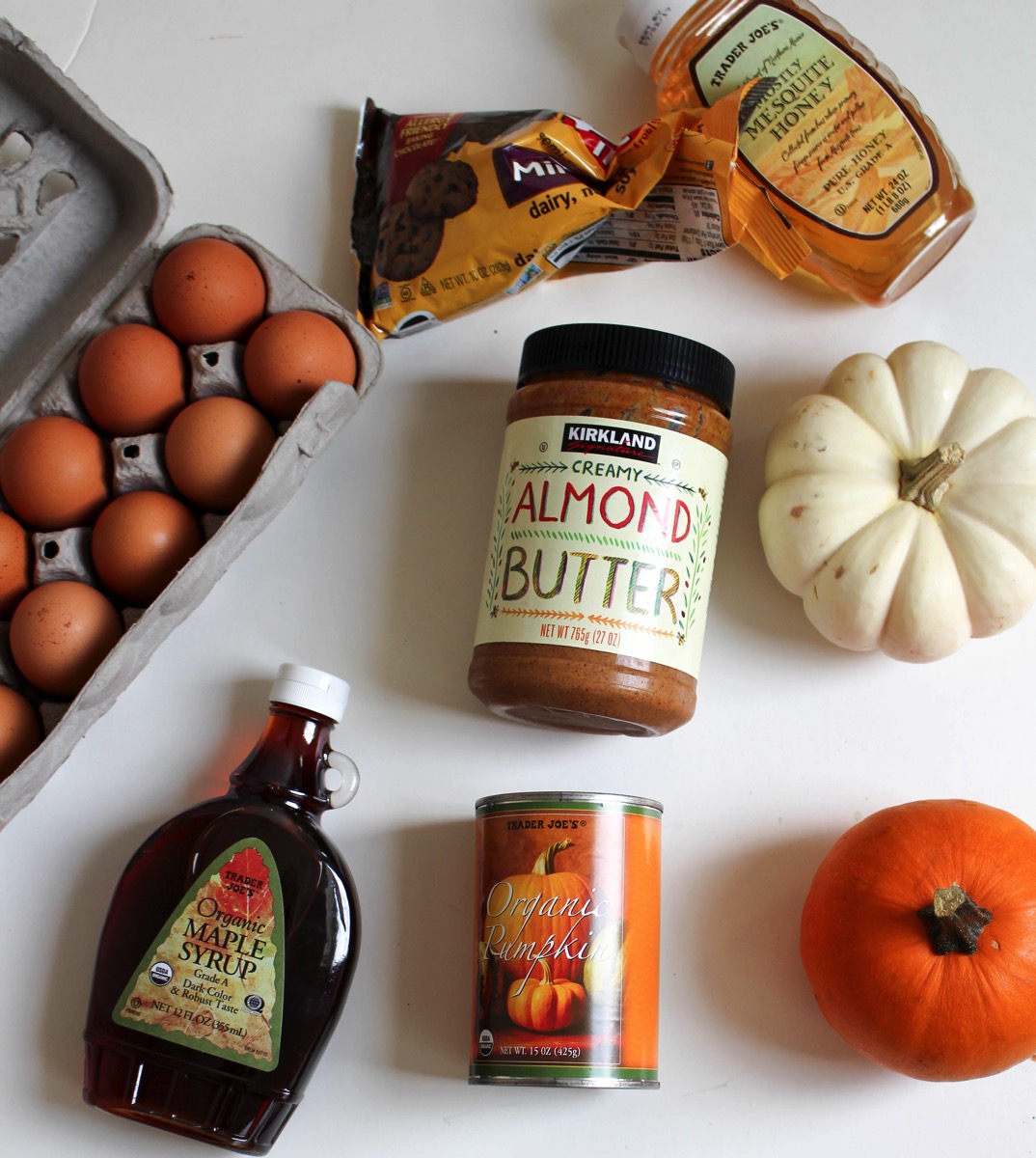 This is where I run around high-fiving everyone with chocolate-covered hands.
Here's the recipe if you'd like to give it a try!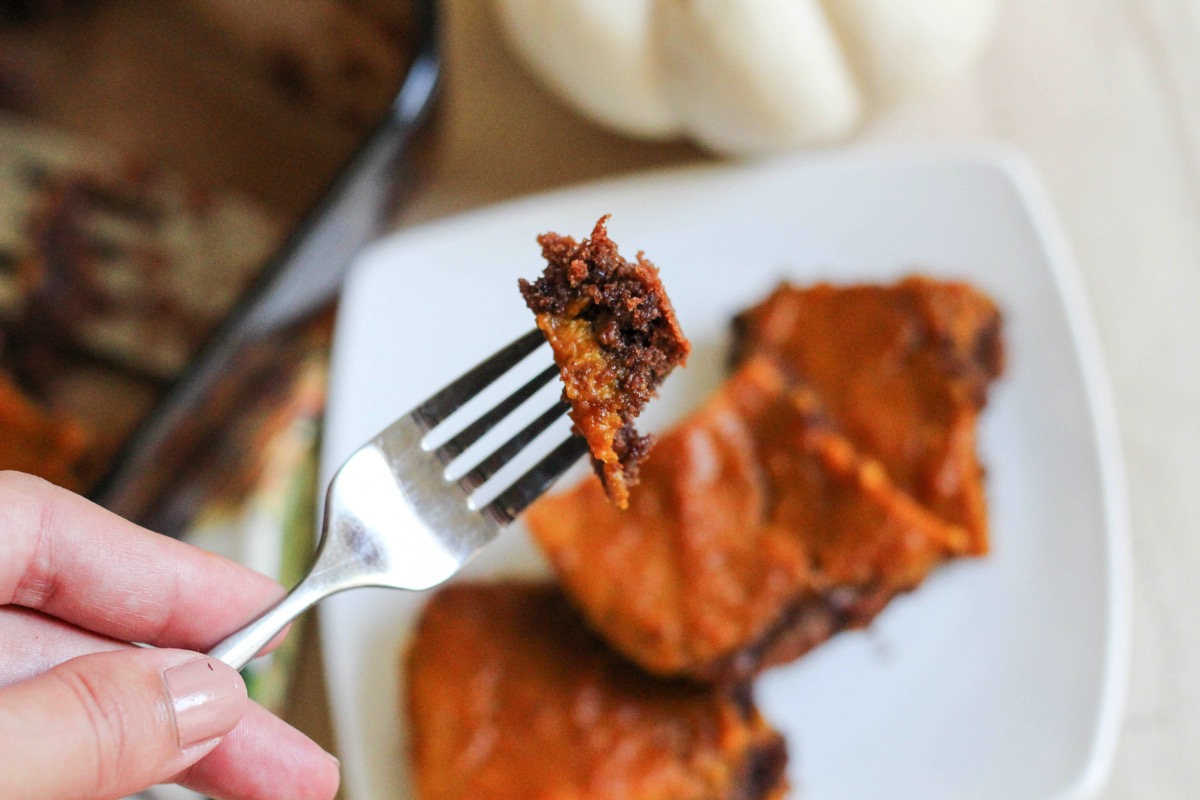 Pumpkin Pie Brownies
A grain-free and dairy free version of this festive fall dessert. No refined sugar!
Prep Time:

15

Total Time:

60
For the brownie layer
1 cup

almond butter

1/2 cup

maple syrup

2 tablespoons

coconut oil

1

egg

1 teaspoon

vanilla

1/3 cup

cocoa powder

1/2 teaspoon

baking soda
Pinch of sea salt

1/3 cup

mini chocolate chips
For the pumpkin pie layer
1 1/2 cups

pure pumpkin puree

1

egg

1/4 cup

honey

1 teaspoon

vanilla

1/2 teaspoon

pumpkin pie spice
Pinch of sea salt

1 tablespoon

of almond meal

1 tablespoon

coconut sugar
Instructions
1. Preheat the oven to 325, and grease a 6×10 inch glass baking dish with coconut or olive oil.
2. In a large bowl, prepare the brownie layer batter. Fluff the almond butter with a fork until smooth and creamy, and then thoroughly mix in the remaining ingredients until smooth and well-combined.
3. Pour the brownie layer into the dish, and bake for 12 minutes.
4. While the brownie layer is baking, prepare the pie layer. Mix all ingredients in a large bowl until smooth.
5. After removing the brownies from the oven, allow to cool slightly (5 minutes or so), before *gently* smoothing the pumpkin pie layer on top.
6. Place back into the oven to back for 35-40 minutes, until the pumpkin layer is firm and slightly browned around the edges.
Notes
This is the tough part: these taste even better if brought to room temperature and stored in the fridge overnight (covered). This is the perfect make-ahead dessert recipe for any holiday parties coming up, too!
xoxo
Gina
HUGE congratulations to our White Plum giveaway winner: Tracy P. (Winner has been emailed!)
Latest on the Family page here! New post going up later today with weeks 37-39 recap. Maybe (hopefully?) the last one?