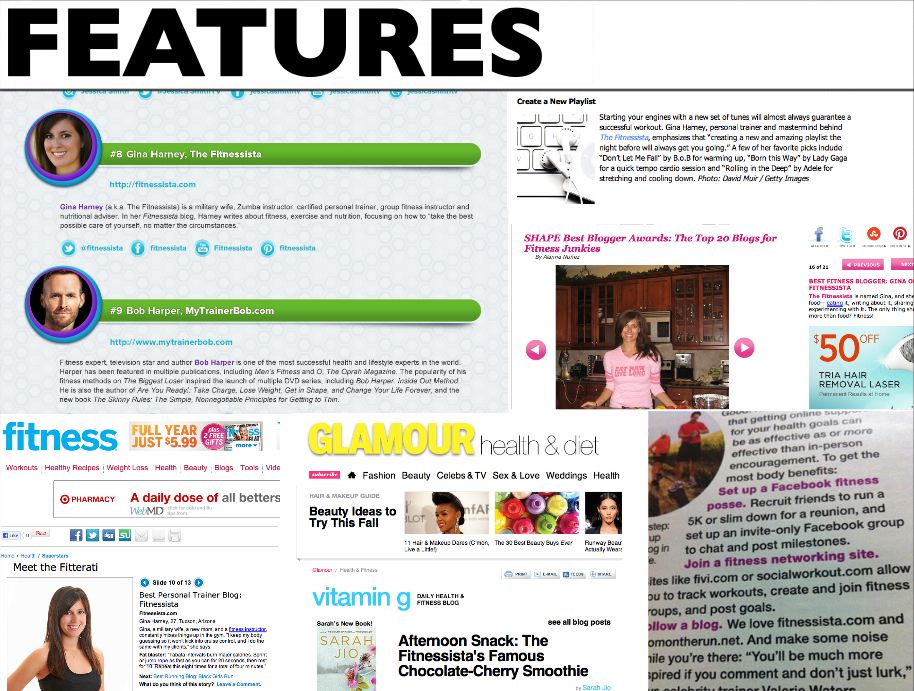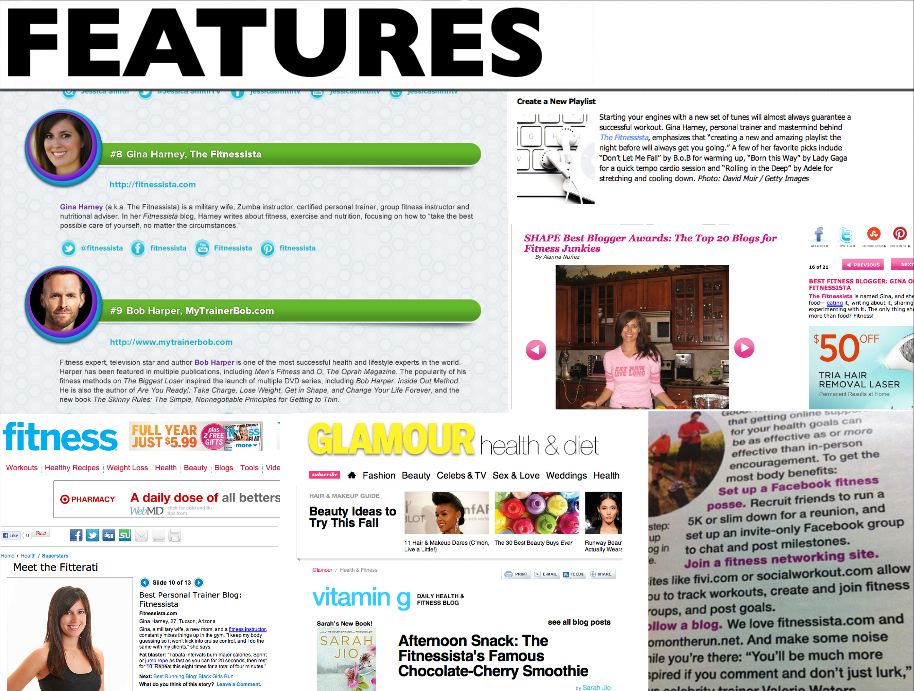 Press
Healthline's 18 Best Weight Loss Blogs of 2014, May 2014.
Fitness Magazine "Exercising During Pregnancy," May 2014.
Ladies' Home Journal "Flat-Ab Secrets from Health Bloggers", March 2014.
All Women Stalk "Fabulous Fit Blogs to Follow", January 2014
zulily's 10 Favorite Health and Fitness Bloggers", January 2014.
50 Bloggers Making a Difference in Fitness, Health and Happiness, November 2013
Diet-to-Go's "The 100 Most Inspirational Weight Loss Bloggers of 2013," May 2013
The Chalkboard's "Best Fitness Blogs to Follow Now," November 2012
"11 Easy Lunches to Lose Weight," Colleen Moody, Fitness Magazine online, October 2, 2012
Sharecare Now Top 10 Online Fitness Influencer, June 2012 (#8 on the list. Celebrity trainer Bob Harper is ranked #9 and Jillian Michaels is #1)
Blisstree's "10 Best Fitness Blogs for Women," June 2012.
Fitness Magazine Best Personal Training Blog, March 2012
Shape Magazine Best Fitness Blogger Award, February 2012
Greatist's "60 Must-Read Health and Fitness Blogs", January 2012
Frequent links on FitSugar.com and Womenshealthmag.com
"10 Morning Motivators", Olivia Putnal, Woman's Day online, 2011
"9 Healthy Treats from Food Bloggers" Mandy Major, Woman's Day online, April 12, 2010
"13 Easy Ways to Save 200 Calories a Day" Cheryl Brody, Glamour magazine online, August 13, 2009
"Breakfast At Your Desk: The Breakfast Cookie that May Change Your Life" Sarah Jio, Glamour Vitamin G blog, September 3, 2009
"Health Bloggers Top 4 Tips for losing weight – and keeping it off" Tina Haupert, October 27, 2009
"Holiday Eating Tricks from Diet Bloggers" Erin Quinn, SELF Magazine. November 2009
"Move of the Day: The Lunge and Lift" Sarah Jio, Glamour Vitamin G blog, December 30, 2009
Pumpkin Pie Oatmeal recipe, Oxygen magazine, December 2008
Company partnerships:
Reebok Ambassador, October 2012- present
Les Mills Ambassador, September 2013- present
IDEA Fitness Inspired Advisor, 2012-present