September Sweatfest Workout Calendar
Happy September! Here's our September Sweatfest workout calendar. It includes an effective mix of total body training, upper/lower splits, HIIT, steady state and rest. I hope you enjoy it and see some awesome results 🙂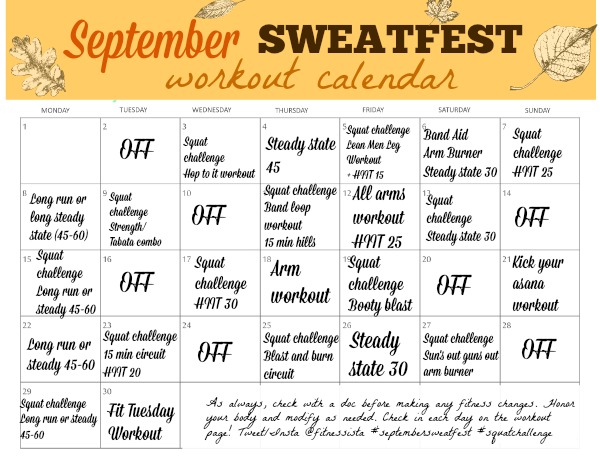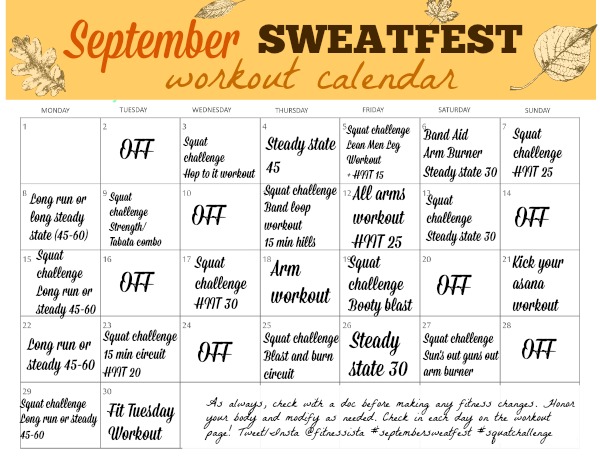 Workouts:
Lean Mean Leg Workout + 15 min HIIT (30 seconds on, 30 off x 15 rounds)
HIIT 25: Alternate 1 minute HARD and 1 minute easy
Resistance band loop leg workout; 15 min hills: increase the incline every 30 seconds until you can't take it any more. Hold it here for 1 minute before decreasing the resistance and repeating
All arms workout; HIIT 25: 30 seconds hard, 30 seconds easy x 25 rounds
HIIT 30: .5 mile hard, .5 mile easy. Alternate until you hit 30 minutes
15 minute circuit; HIIT 20: 45 seconds HARD, 15 seconds easy x 20 rounds
Sun's out, guns out arm burner
Here is your September Squat Challenge!
This is meant to be performed on non-consecutive days. Please be mindful of any knee/hip/joint considerations and as always, check with a doc before making any fitness changes. Each time you complete the squat challenge, tag me on Instagram (@fitnessista #squatchallenge) or leave a comment below! Excited to join in this one with you… Extra strength, power, and booty perkiness are always welcome. 😉
**********The first number in each row corresponds to the date you'll complete the following moves. For example on September 1st, you'll do 3 sets of 20 air squats. September 3, you'll do 3 sets of 15 plie squats, and so on.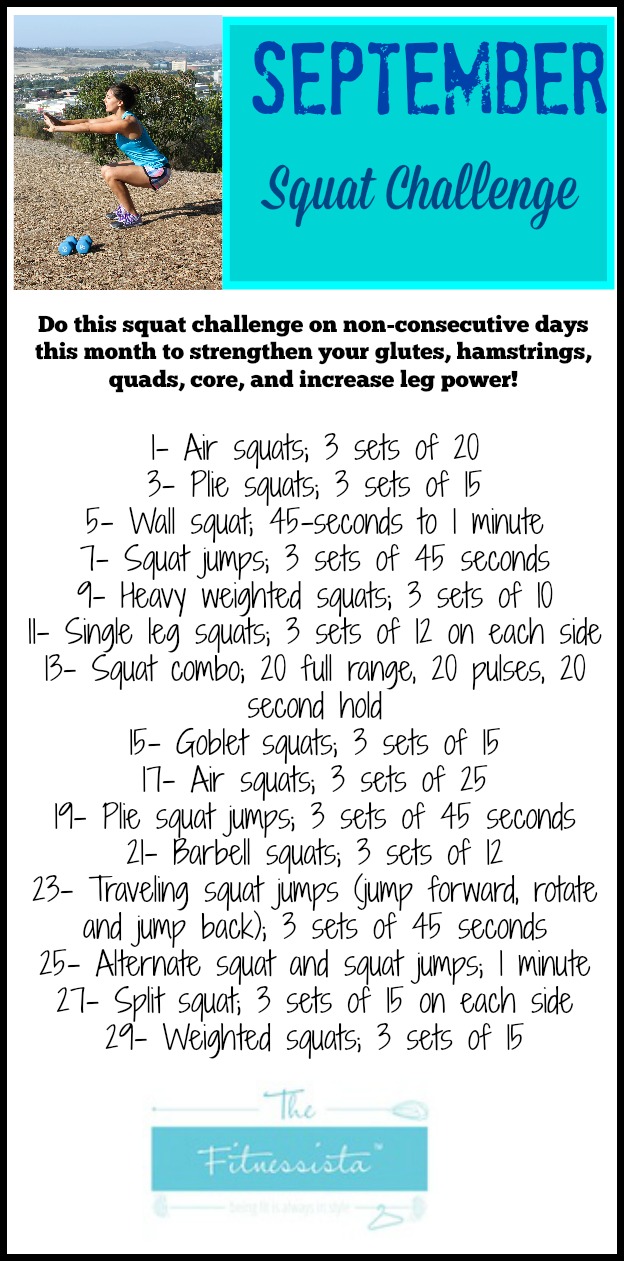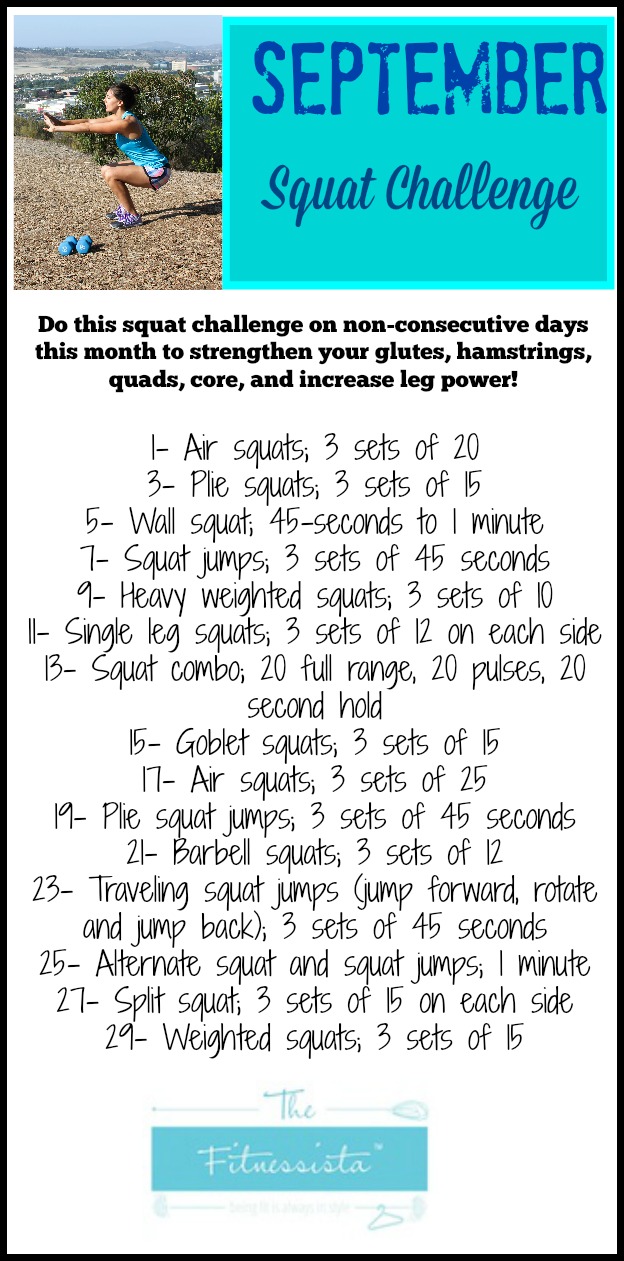 Squat variations:
Air squats: your classic bodyweight squat. Keeps at least hip distance apart, chest lifted, core tight, and sit your hips down and back. like you're trying to tap a chair behind you. Go as low as your flexibility allows, aiming to get your thighs parallel to the ground with your squat.
Plie squats: feet are wide (at least shoulder width apart). Squat so your knees go towards your toes, but not PAST them. If this happens, you need a wider stance. Keep your chest lifted and try to get your thighs parallel to the ground.
Wall squat: stand with your back against a wall and walk your feet out in front of you. Slide your hips down so it looks like you're sitting in an invisible chair, with your legs at a 90 degree angle (and knees stacked directly above your ankles). Hold it here and for extra fun, hold a flat weight on your chest.
Squat jumps: Start in a low squat and spring up to jump, reaching both arms towards the ceiling. Land softly with knees slightly bent.
Heavy weighted squats: hold a pair of heavy dumbbells and be sure to keep your chest lifted.
Single leg squats: place one foot in front of you, either resting on a stability ball or balancing above the ground and perform your squat with one leg. If this is too much, use a stability ball and try a baby squats to build your strength before attempting to go all the way down.
Goblet squats: hold a kettlebell or dumbbell at your chest with the weight perpendicular to the floor.
Plie squat jumps: same as a squat jump, but starting in a wide plie squat position.
Barbell squats: with a barbell on your back (behind your neck on the meaty part). Keep your chest lifted.
Split squats: place one let on a bench about 3 feet behind you (depending on your leg length). Sink down and watch your front knee to make sure it doesn't extend past your front toes.
Are you joining in the fun?! Pin this page, or bookmark it so you have it in a safe spot!
Leave a comment below each time you complete a squat challenge or September Sweatfest workout 🙂
Ready… set.. go!