SSU 2013 Week 1 Workout and Meal Ideas
So excited you're here! I hope you're PUMPED to kill it next week. Make sure to print out your weekly calendar (in the newsletter) and stay tuned for the Summer Shape Up intro page (posted Sunday) with all of the details.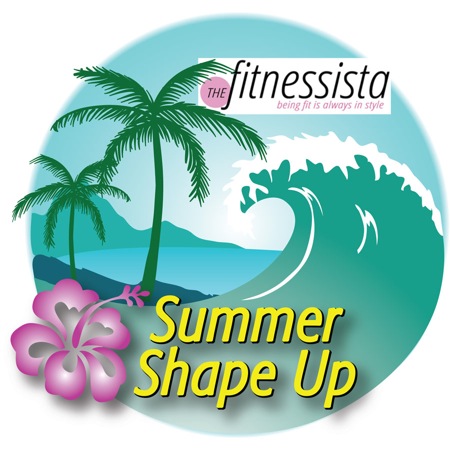 In the meantime, I wanted to give you the week 1 meal ideas and workout in advance so that you can plan for the upcoming week.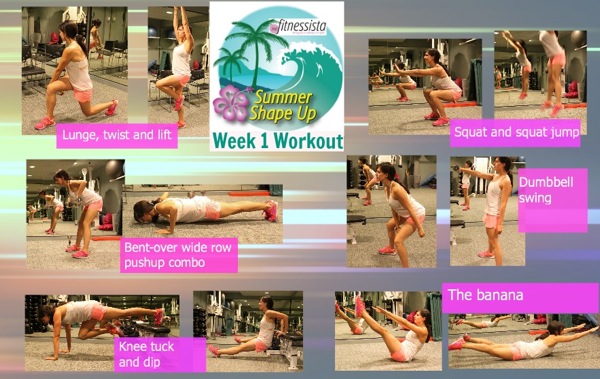 The week 1 workout consists of mostly supersets of the above moves.
Here's what you'll do:
(Optional dynamic stretch and foam roll)
Warm up for 5 minutes, cardio of choice
Complete the following workout:
1) Walking lunge with a twist a knee lift. Holding a moderate dumbbell, 15 on each leg.
2) Superset 1: weighted squats and squat jumps (3 sets, 15 each). You'll do 15 weighted squats immediately into squat jumps (15). Squat, squat jump, squat, squat jump.
3) Superset 2: bent-over wide row and pushups (3 sets, 12 each). Alternate between your 12 bent-over wide rows and 12 pushups, modifying (on your knees) as needed. Try to avoid resting in between exercises.
4) Dumbbell swing. This is an awesome glute and core workout! Check out the tutorial on this site. Do 2 sets: of 15-20 on each side.
4) Superset 3: knee tuck and tricep dips (3 sets, 10 each). Come into a plank position with your feet raised on a sturdy bench or chair. Use your core to bring one knee in towards your chest then back to start position. Complete 10 on each side before going into your triceps dips. For the dips, bent knees will be easier than straight legs, and if you're looking for a challenge, lift up one leg)
5) The banana (20 total): Come into a V-up (exhale on the way up), then roll onto your stomach and lift up into a back extension. Roll back up into your V-up, back to the superman.
*Follow with cardio as indicated in the calendar.
Cool down and stretch.
Some meal ideas for week 1:
(*= can be made on Sunday and stored in the fridge or freezer for the week)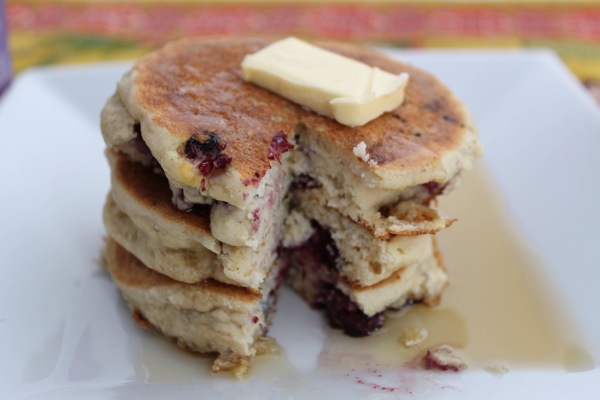 Breakfasts:
Smashed avocado and one egg on top of toast
*Chia pancakes + one egg
Egg burrito with fajita veggies, cheese and salsa
Nut butter on one slice of toast and a small smoothie
Eggs, bacon (turkey or tempeh bacon is great, too!), small bowl of chia pudding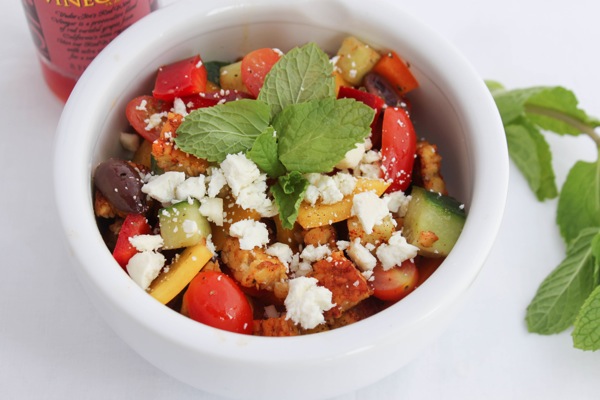 Lunches/dinners:
*Crustless quiche with salad
*Tempeh tacos with black beans and sautéed zucchini
*Carrot/beet/bean burger on whole-grain bread with salad
*Grilled/baked protein with sweet potato and veggies
Chicken or veggie coconut curry and quinoa
Snacks (2 snacks each day)
*Amazeballs (2)
*Veggies and hummus
Fresh veggie/fruit juice with a *quinoa muffin (savory or sweet)
*Chicken crust pizza with lots of veggies and/or cheese
Fresh fruit and some cheese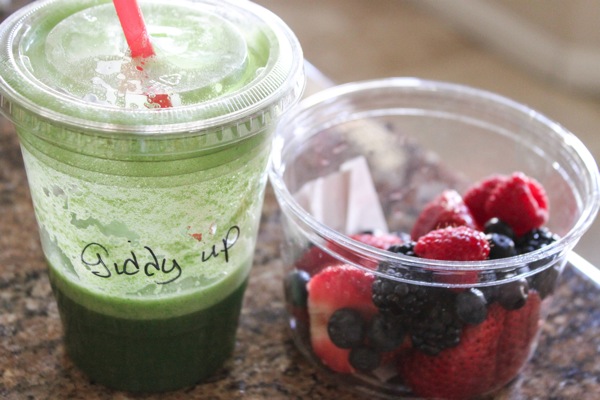 Dessert:
Glass of wine or small cocktail
Dark chocolate
Baked apple with a drizzle of almond butter
Anything you love that you don't want to kick out of your life. Since we're working on fitness gains, I would just recommend keeping portion control in mind. At the same time, don't make anything off limits; it will just make you want it more.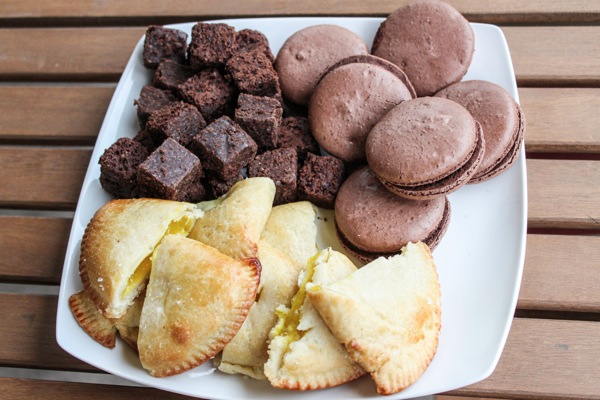 What are you planning and prepping for the upcoming week? Leave a comment with your meal plan and this Sunday, start to make it happen!!
xo