Summer Shape Up 2012: Week 3 Workout
Hey guys! Welcome to Week 3 of the Summer Shape Up!
Just now joining in the fun? Check out the intro post for all the details.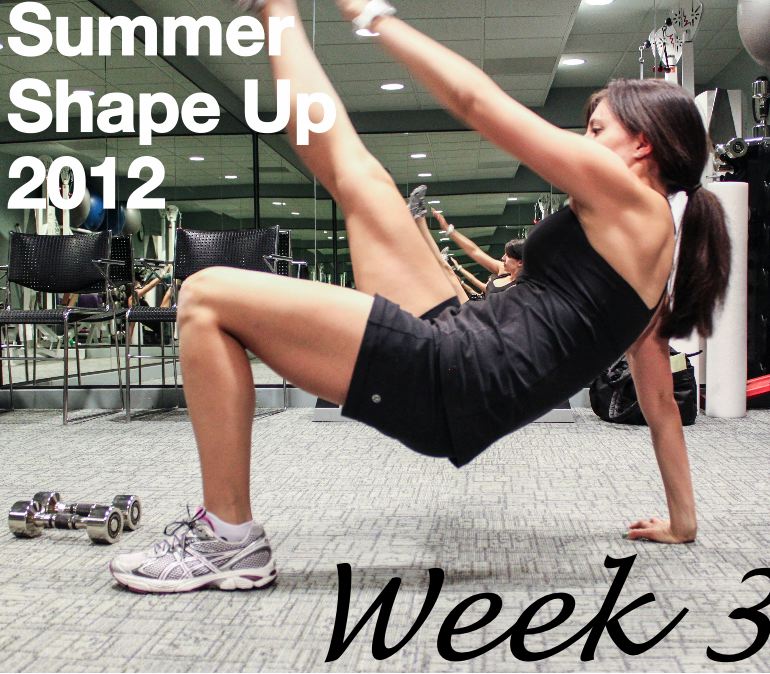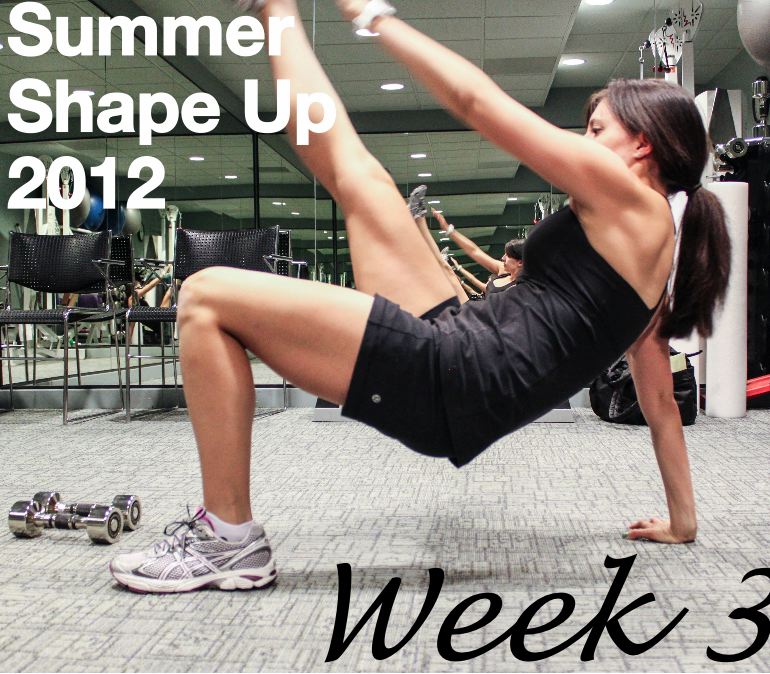 Congratulations to everyone who has been keeping up with the healthy eats and workouts this entire. I hope you're already seeing amazing results from your hard work! We're MORE THAN HALFWAY there!! Make these last two weeks the best ones yet 🙂
Here's the Week 3 workout: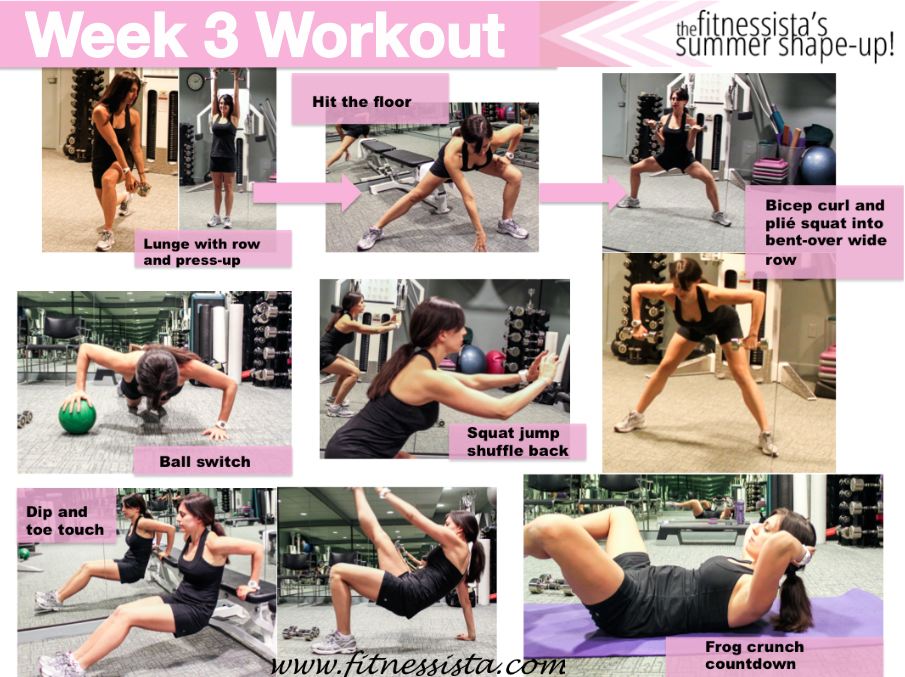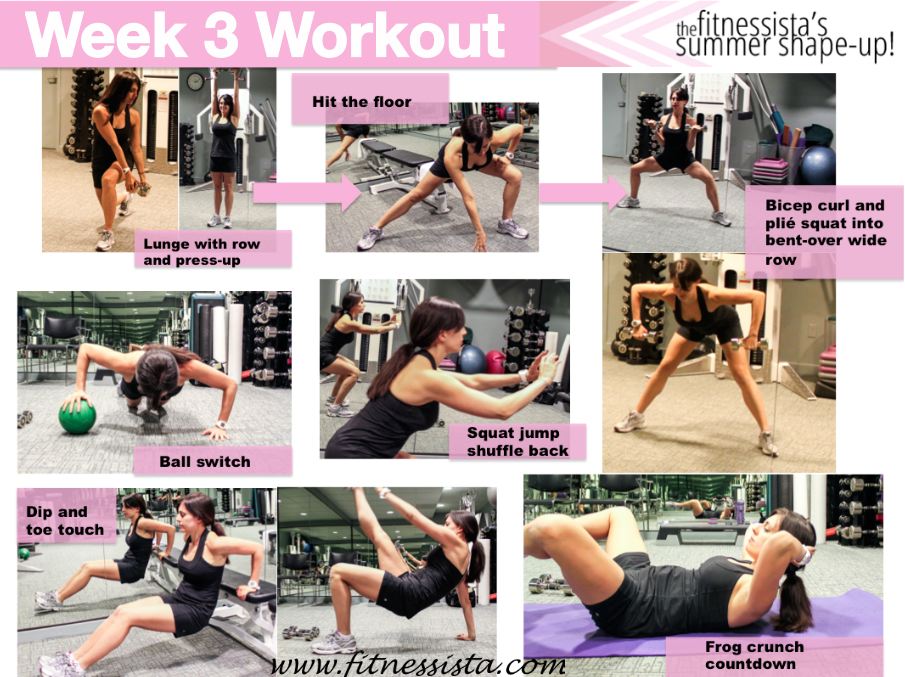 (to print, just click the print icon at the end of this post, then click to remove any parts you wouldn't like printed)
Form cues and tips:
-Always check with a doc before making any fitness or nutrition changes. Honor your body and your injuries- if it hurts, skip it, and find another option!
-Be sure to warm-up for 5-7 minutes with any cardio you'd like, moderate intensity
-This workout is intended to be completed circuit style, so you'll go through each exercise of combo movement with little to no rest in between, then repeat the entire circuit 1-2 more times for a total of 2-3 times.
-Finish with any cardio you like, or the indicated cardio in the June calendar
1) Hold a dumbbell or kettlebell in your hands and step forward into a lunge. Whatever foot is in front, you'll do a row motion to that side, making sure to exhale and engage your obliques. Step back together and raise the weight or dumbbell overhead. Repeat on the other side. 10-12 total reps on each side.
2) Hit the floor!  1 minute. This will spike your heart rate up. You'll do a slight side lunge movement, tap the floor and jump together with both arms up. If this is too much for you, check out the video for a low impact modification
3) Bring your legs wide, toes turned out, and as you come into the plie squat, perform a bicep curl at the same time. With a flat back, bring your body down (1st half of a deadlift), come into a wide row, bring the weights down and deadlift back up. Be sure to keep your abs tight, back flat (no rounding!) and challenge yourself with a higher weight. 10-12 reps total.
4) For the ball switch, you'll bring a medicine ball into one hand, come into a pushup (baby pushups are ok!), roll the ball to the other hand and repeat. I have to do this one on my knees, but if you're super strong, you can do it on your toes. For shoulder and wrist considerations, ditch the ball. Just step one arm out into a pushup, back together, other arm out and pushup, back up together.
5) Squat jump shuffle back. 1 minute. Jump forward into a squat (land with your knees bent!) and stay in the squat position, shuffle back to where you started. Each time, try to jump HIGHER and FARTHER than the last time.
6) Dips and toe touch combo- 10 of each. If you're doing the dips on the bench, complete 3 sets of 10 before moving on to the toe touches. If you're doing the dips on the floor, 10 dips, then 10 toe touches. For the dips, remember to keep your elbows bending back and fingertips pointing forward. If your wrists are weak, keep your knees bent and only do a baby movement. Bent legs is easier, straight a little harder, most advanced: one leg up. For the toe touches, be sure to lift your hips up as high as you can as you reach to touch your toes, and switch to the opposite side.
7) Frog crunch countdown. 10 frog crunches, 9, 8, 7, 6, 5, 4, 3, 2… and then 10! You can do it. You only have to do this once, instead of repeating the rest of the circuit.
A little video of the moves in action:

I hope you enjoy <3
Be sure to check in on each morning's post with your workouts and eats for the day! I can't wait to hear your feedback on this one.
Keep up the great work!
xoxo