Summer Shape Up 2014 Week 2 Workout
Happy Week 2! Hope you're all enjoying the Shape Up so far! By now, you should feel a little pep in your step and extra energy from the new routine. Keep up the amazing work, and keep the awesome check-ins rolling in (#summershapeup @fitnessista @fannetasticfood).
Here's what to expect for Week 2:
(As always, check with a doc before making any fitness changes. Shuffle the schedule to accommodate your unique needs and preferences and feel free to skip or modify any of the suggested exercises.)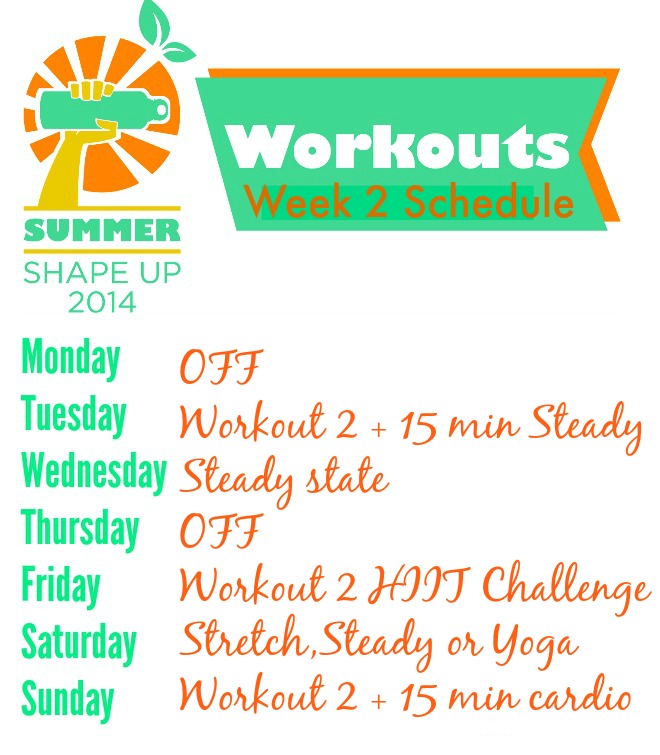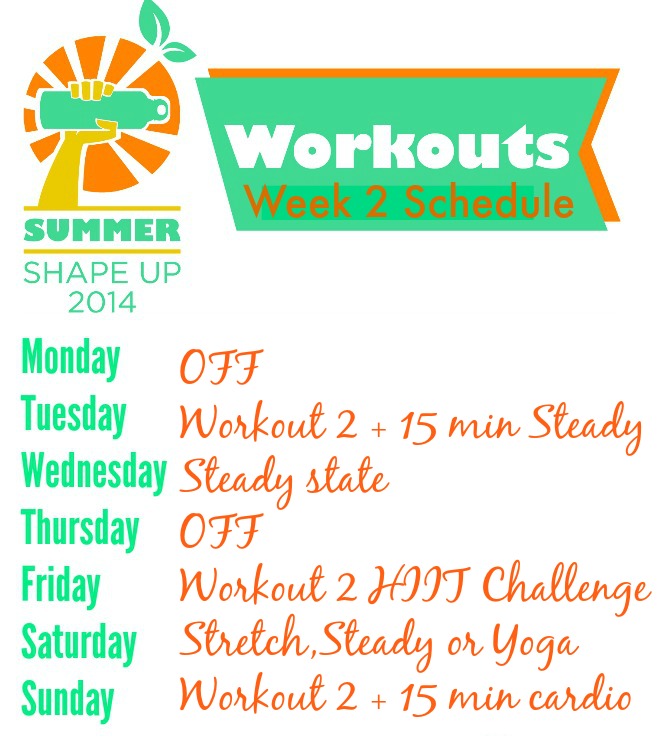 Cardio:
15 minute steady state: maintain a quick pace for 15 minutes steady state. This can be any cardio of choice (Stairmill, running, walking, jump roping, rowing, elliptical…) but if you're looking for an extra challenge, here's the kicker: increase the incline 2% over what you're used to.
Steady state: take a cardio class, go for a run or long walk. Aim for 30-45 minutes.
HIIT challenge: 20 minutes of 45 seconds HARD, 45 seconds easy. You can do this sprinting, or choose a variety of the following exercises: burpees (modify by stepping back into plank and stepping forward), jump squats (or fast squats), jump rope, high knees, mountain climbers, pushups (modify on knees or pushups with hands on a wall), side to side hops or jumping jacks (modify by doing one leg at a time)
Stretch, steady or yoga: take a yoga or Pilates class, enjoy a nice stretch or date with the foam roller
15 minute cardio: your choice (steady state, hills, HIIT or tempo). If you choose to do HIIT, try 30 seconds HARD, 30 seconds easy.
Here is the week 2 workout. Like last week, this is intended to be completed circuit-style with a max of 3 rounds through the circuit. Form cues and modifications are below; please let me know if you have any questions! Be sure to warm up for 5-7 minutes and follow with cardio either on your own or according to the schedule above. Cool down and stretch after each workout. Hope you love it!
This is the post where you'll be entering this week's giveaway! Leave a comment below with your workout (how you feel, what you did!) and I'll pick the lucky winner next Sunday night (6/29).
Courtesy of the Cherry Marketing Institute,


one winner will receive the following prizes:
Fitness bag (in red)
Headbands (in white/black)
Water bottle (in Chili Red)
Jawbone Up (in red)
Week 2, we're coming after you!