Welcome to Workout #1 of this year's Winter Shape Up! I'm really excited about this week's workouts, and hope you love them. Be sure to check in each time you do a workout for that particular week, and tag Anne and myself in your sweaty workout pics! (@fitnessista @fannetasticfood #WinterShapeUp)
For this workout, you have a combo of sculpting strength exercises and metabolism-boosting Tabata. It is a SUPER sweaty workout circuit that can be completed up to 3 times total. A disclaimer for Tabata: this is a very advanced and intense form of interval training. If you are just building up your cardio base (working up to 30 minutes of moderate intensity most days of the week), still complete the strength portion and skip the Tabata portion; do 4 minutes of steady state cardio (quickly walking, jogging, Starmaster or rowing) instead. This will still increase your heart rate for the strength segments to strengthen your heart and burn wicked calories.
Here's a pinnable/printable guide:

list of exercises: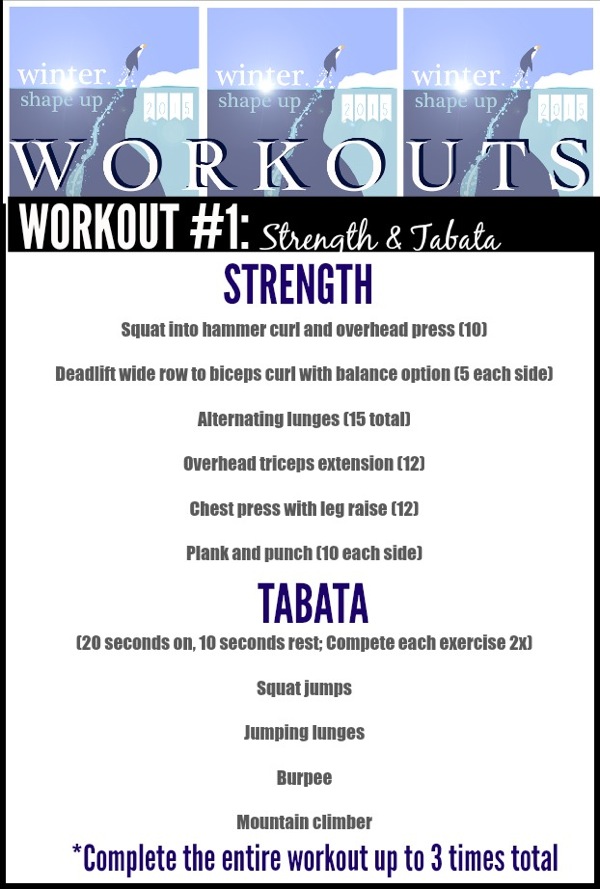 and video! (Thank you again to Sara for joining in the fun with me, to Black Belt 4 Life for letting me rent their beautiful studio, and to Grant Hunker for his mad filming/editing skills.)
For tips on proper form and alignment, check out the video!
Be sure to check in on the appropriate page for the week of the challenge you're completing to enter the giveaways! For example, if you're in week 1 and you do this workout, leave a comment on the week 1 post. 
Thank you again to our wonderful sponsors!


Wild Blueberries / Cabot / Sabra / Sizzlefish / About Time / Fitfluential
Can't wait to see you rock out this workout!
xoxo
Gina