1/14: Thoughts from the week
My induction was scheduled for yesterday. Watching it pop up on the iPhone calendar blew my mind because I'm a mom already –that still sounds so weird to say/think- to such a sweet baby, who is already almost a week old.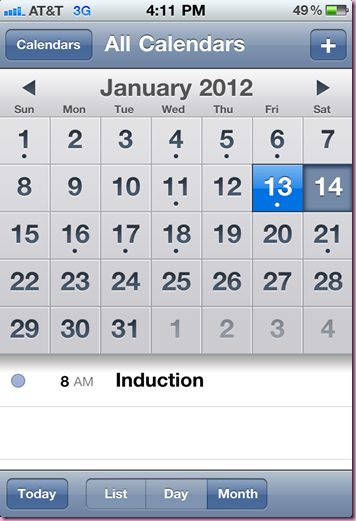 Breastfeeding is no joke. I have transformed into a 24-hour all-you-can-eat buffet –my friend Ashley calls it the Breasterant- and I better service on time, or I have a red-faced angry elf shrieking at me. The hospital offered visits from lactation consultants, who came to see us twice in the hospital, but I was delirious and too happy to just have the baby in my arms instead of worrying about latching techniques. Definitely paid the price for that one. Things are on the mend, and a specialist came to the house to help us out after a few rough nights. Now we're getting the hang of it. Livi and I make a good team, and we're doing everything we can to make sure she eats like crazy, even though she gets tempted to snooze on the job. My milk took a little while to fully come in –it goes through a transition phase from the colostrum to mature milk- so addition to feeding, I've also been pumping, which we'll syringe feed to her after her nightly meals just to make double-sure she's getting enough. During the day, she eats anywhere from every 2-3 hours, or every 30 minutes.
When people say to sleep as much as you can while you're pregnant, they're serious. If you're expecting, go take a nap ASAP. On the other hand, your body really does get used to less sleep. From Monday through Wednesday, I was going on about 3 hours total, and was definitely tired, but ok. I hear it gets better as the baby gets older, and for now, I'm focusing on savoring the time when she'll sleep on my chest so peacefully.
Being pregnant gave me a new appreciation for moms, and giving birth has taken it to an entirely different level. When I see women with their children, I want to high-five them.
It feels good to zip things up again.
Tom and I are having fun hanging out with each other as we try to figure out the baby's needs and cues, and are still up to our goofy antics despite how very challenging this week has been. In the pediatrician's office yesterday, Tom was bouncing her in his arms as she cried –she doesn't like to just be in her diaper- and we sang her a chant/song about jaundice that we made up on the spot. Also, last night's lullaby was "Toot it and boot it" sang by yours truly. She liked it.
We also went to see the midwives yesterday for a checkup appointment, and I loved taking Livi with us to see the women who have been listening and taking care of her this entire time. The midwife who delivered her had the chance to hold her, and she just stopped and looked in her eyes. I told her that she was there the day she was born, and it looked like she knew exactly how it was.
Today her umbilical stump fell off and we had no idea. Ashley and Meg were over and we were looking at her belly as we changed her, and I noticed it was no longer there. This freaked me out because we had no idea where it was… and were wondering if Bella had found herself a little snack. Thank goodness it was at our feet on the floor.
There is nothing more amazing than feeling a tiny baby breathe on your neck while they're fast asleep. She smells like heaven, and my favorite feature is the tiny black peach fuzz covering her entire body. Babies always have a little fur when they come out, and hers is darker and lightly covers her back, forehead, and even her teeny ears. I told Tom I wish it would stay like that, because I think it's so cute, and he said he wasn't sure how it would affect her social life.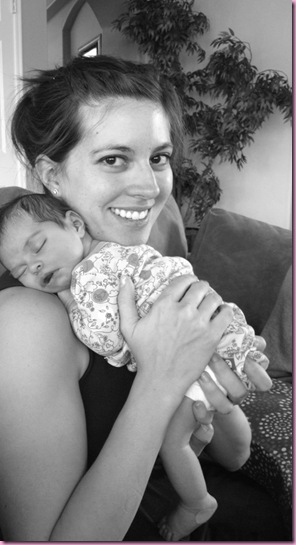 This has been the hardest week, and the best week, of my entire life <3