2014 Holiday Gift Guide for the Gym Rat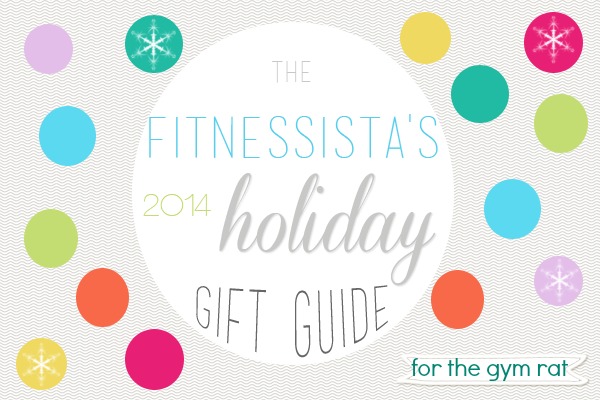 Hi! Hope you're having a lovely day. It's time for annual gift guides! If you're like me, you're always looking for new and fun ideas as gifts for those you love. (Ok. and maybe yourself, too.) As usual, I've split them up into categories to make them easy to navigate. I hope you find some new ideas, and as always, please share any ideas in the comments section! Please keep in mind that these posts are not sponsored in any way, and companies are not able to sponsor a spot on my gift guides. They're all things I chose myself and think would make an awesome gift for this holiday season. Some affiliate links are included, which don't have any impact on purchase price, but I do earn a small commission from clicks. Thank you so much for your support! <3
Here are some ideas for your fellow fitness-loving friends: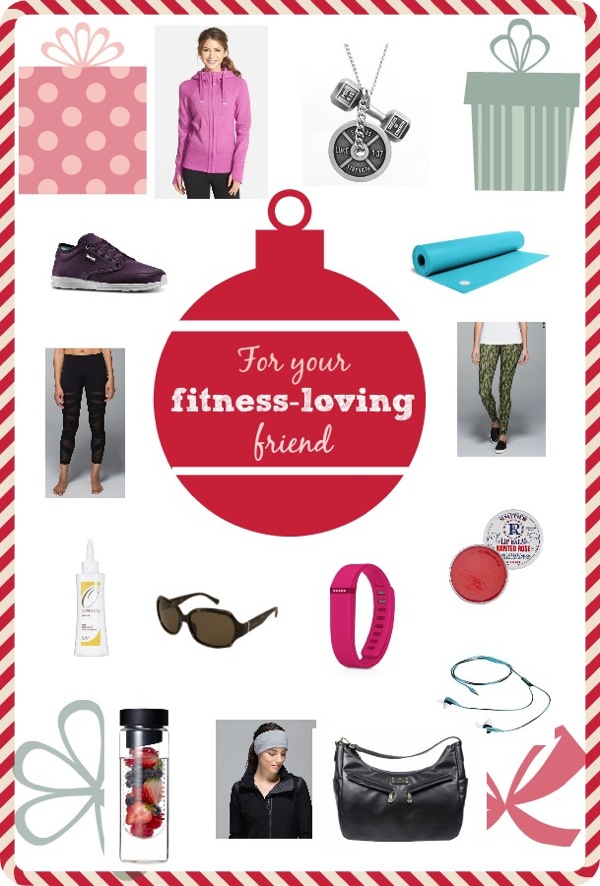 Gym bag stuffers (gym socks, dry shampoo, facial cleansing cloths, lip gloss, Argan oil, hair ties and hair care goodies). Healthier holiday treats are always fun, too, like jerky, dark chocolate, protein powder, superfoods (mini bags of hemp seeds, chia, goji berries, etc), nut butters and Ocho bars!
New yoga mat. I've had my Manduka mat for almost 6 years, and it's still going strong!
Weight plate necklace. These are so fun, and the ones I linked to include Biblical verses. If you'd like them without, Etsy has some cute ones too!
Reebok Skyscapes. I feel like these are the perfect "everything" shoe for a gym-loving friend. I can wear mine traveling, running errands, or lifting weights. They're super lightweight and extremely comfortable.
Lightweight hoodie. Love lightweight hoodies for layering pieces to and from the gym!
Running ear warmer. These are a lifesaver for running on chilly mornings.
Printed or mesh leggings. You can never have too many. 😉
Long-sleeved athletic top. Same! Long sleeved tops are perfecting for layering over a tank top as you warm up.
Sport sunglasses. These make a great gift, since many people seem to have regular sunglasses but none of the sporty variety. I like that these are a mid prize range, and are polarized.
Fitbit Flex or Polar Loop. To decide between the two, I would determine if you just want encouragement to be more activity with a streamlined designed (Fitbit) or heart rate monitor capability for workouts (Loop).
Six pack bag. These bags are AWESOME. The company sent me one a year ago to test out, and I've used it so many times. You can portion out healthy meals and snacks for on the go or traveling, and easily store and keep cool in a sleek bag.
Infuser water bottle. This is great motivation to drink more water! You can add fresh fruit and/or herbs to infuse flavor into regular H2O.
New earbuds. I've tried so many different types, and always come back to these. They stay put, have crystal clear sound, and are durable.
Home workout gear. Some simple tools and a DVD or two make working out at home a lot more fun and a feasible option.
"HIIT It!" <— shameless book plug. If you have a fitness-loving friend, this book is packed with new workouts, full schedules and Registered Dietitian-approved eating plans (with vegan, Paleo and gluten-free options). Plus, if you preorder now, you get a free eBook. All the details are here.
Gift card to a local studio. If you and your friend have been talking about trying a new class or studio, surprise them with a gift card! Many studios are running holiday membership deals right now, too.
Race entry fee. Sign up for a race or event to enjoy together!
Have any ideas for your fitness-loving friends? What's on your personal fitness wish list this year??
xoxo
Gina