Everyday we're shufflin'.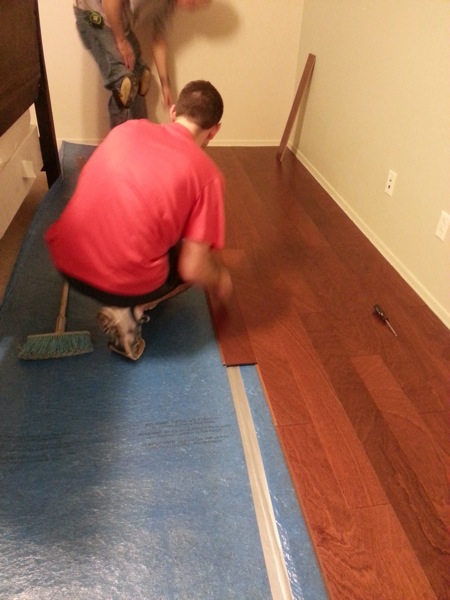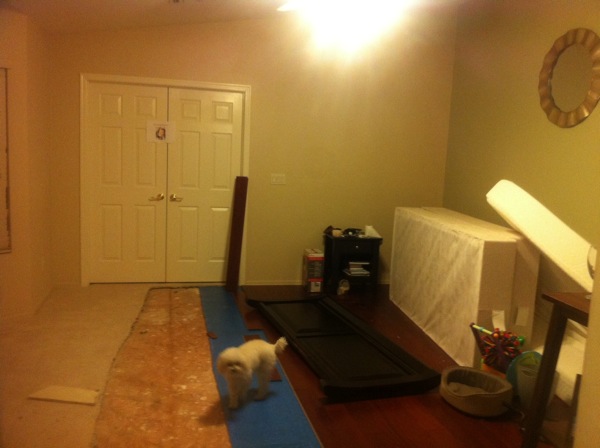 As I mentioned before, our house has been a bit of a giant construction mess for a few weeks. Totally worth it.
My dad came over and helped the Pilot install wood floors in the master bedroom,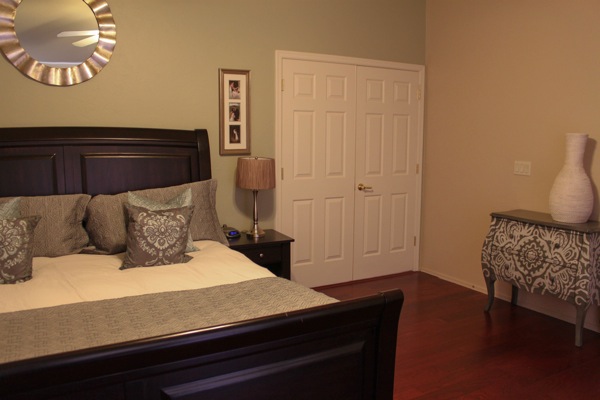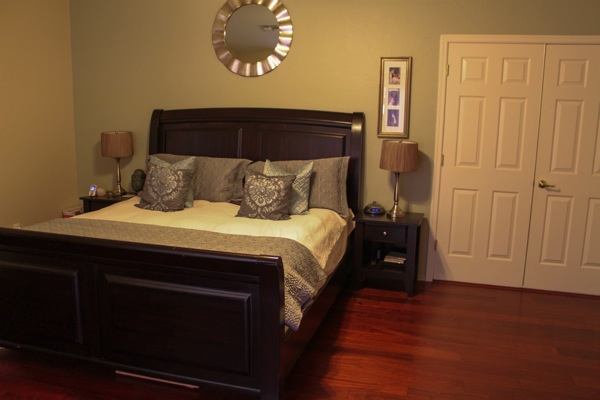 closet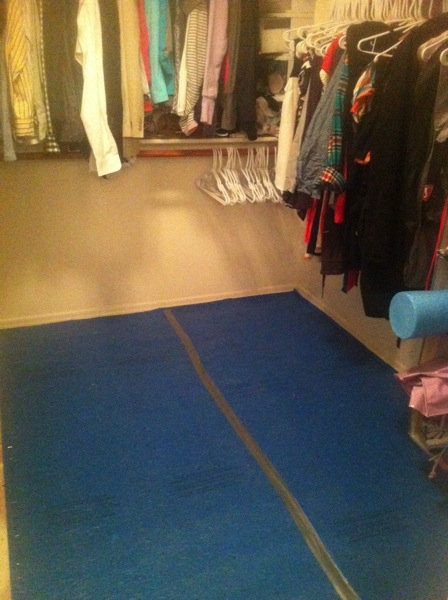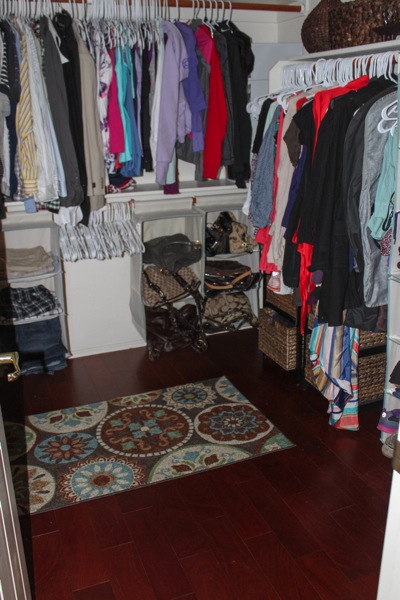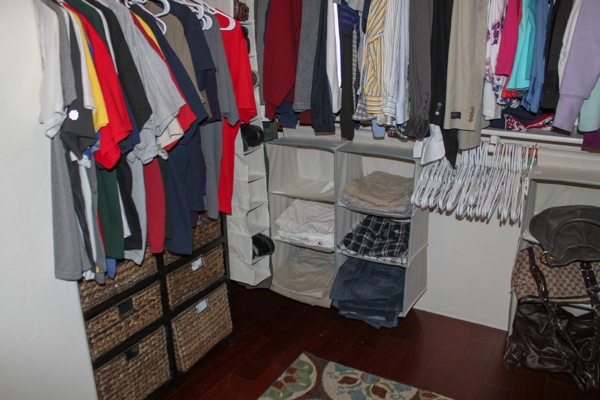 and loft.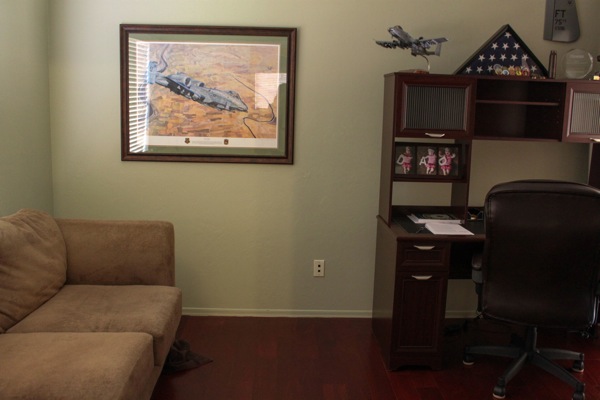 Eventually we would love to do the entire upstairs -5 families have lived here before us and the carpet is gnarly- but wanted to start with one large area, see how time consuming and costly it was, and roll from there. After this experience, we're hoping to finish all of upstairs this summer, making the house carpet-free. Carpet has always kind of skeeved me out -you vacuum and clean it, but it never feels really clean- and our once-white carpet was already grey when we moved in. We've wanted to do wood floors for quite a while and finally decided to go for it.
We ordered the wood from Lowe's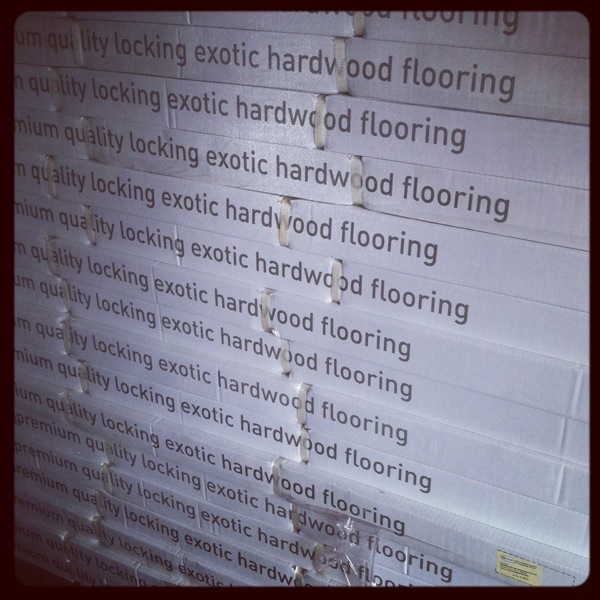 my dad came over with all of his tools and equipment, and the boys got to work.
My dad is a ninja at anything house-related (he designs and builds custom houses here in Tucson), so they were able to crank it out fairly quickly. We're so happy with how beautifully they turned out, and so thankful that he came over to help us. Now that the Pilot knows how to do it, the rest of upstairs shouldn't be too terrible to finish later on.
As soon as the floors were finished, we shuffled the rooms around: Liv moved out of the loft to her big girl room, the guest room went into the office, and the office was moved to the loft.
We're still working on finishing Liv's room and the other guest room, but here's the new office. I love how open and bright it is: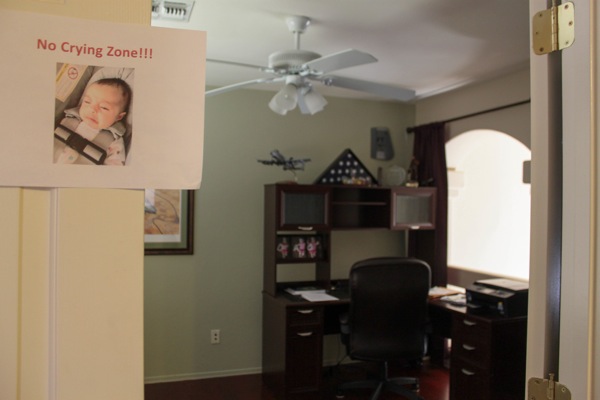 Moving her into her big girl room was pretty sentimental for me. We'd had her in the loft -attached to our room- since she was itty bitty, and for quite a few months before that, she slept in the basinet next to our bed. When she moved to her big girl room, I worried that there might be a transition phase or she wouldn't sleep well, but nope. She sleeps SO much better in an enclosed room… she's on hour 3 of her nap as I write this post. Of course, I think it would have been easier to just start her out in that room instead of the loft, as it's not the most conducive for baby sleep, but I'm glad we did it the way we did. We loved having her close to us and it was especially convenient during the era of frequent nighttime wake-ups and feedings. I'll post a pic of her big girl room when the last piece of it arrives later this week- I love the way it's coming together!
While our wood floors make the spaces seem much bigger, it also made us realize how empty it still it. As a military family, it's pretty daunting to make investments for home remodels and decor. You never know how long you'll be somewhere, and for all you know, you could spend your next assignment in a small apartment while most of your belongings and cars are in storage (which is usually the case in Korea). I've gotten over it and decided to do as much as we can to make this house our own, and do tiny things we love, even though we might only be here another year.
At least if we move, our house will be more rent-worthy with some shiny wood floors….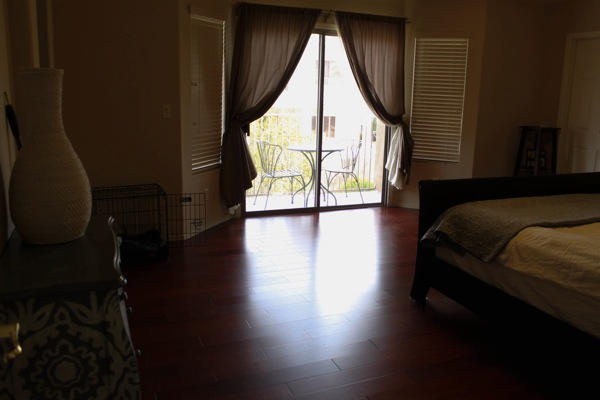 To clean them, I've been vacuuming using the brush attachment with our Shark vacuum to get the Caro hairs, + a duster mop, Bona spray with a towel mop: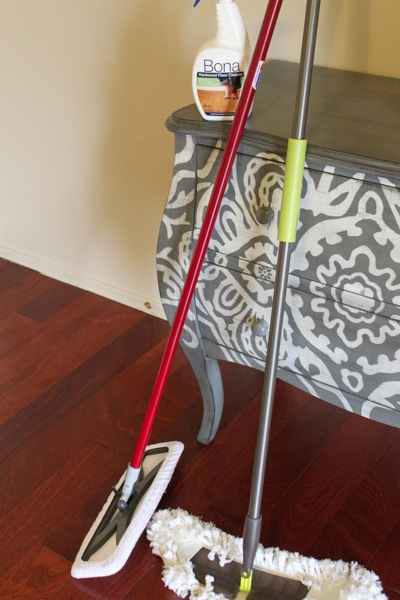 To protect the floors from Caro marking her territory, we've been crating her since the first night they were installed. At first I felt really guilty about it- she spent so much of her life in a tiny crate at the puppy mill- it changed my mind when I saw how comfy and happy she is in there at night. We give her a treat and tell her what a good girl she is, and she walks right into the crate.
Have you done any remodels or decor changes lately? Anything you'd love to upgrade in your abode? Every time I see the shiny gold hardware in our house, I shudder a little.
Hope you're all enjoying your day so far <3
xoxo
Gina