Every time Liv tries a new food, I feel silly excited about it. When she first had pizza and Indian food, it was really strange to think about the fact that while I hadn't enjoyed these things in a long time, she hadn't tried them EVER.
As exciting as all of the firsts are, this article still makes me try to remember the lasts, too. It makes me sad while I was wondering when she'd transform to an official walker -she was thisclose since November- I couldn't tell you when the last time was that she crawled. Definite food for thought.
Oliv officially wants to eat everything that I'm eating. Usually this is a good thing -green juice that's actually brown because I added carrots? Bottoms up, little friend- and sometimes it's not so good. Like at 6:30pm, holding the freezer door open, keeping one eye on her and one on the carton of dark chocolate coconut milk ice cream I was digging into with a spoon. [She's had a little chocolate, but I avoid it at night.. she has plenty of energy without it.] She's fast, too. She'll be up under my ankles saying, "bite? bite?" in the blink of an eye.
Even though I share all of my food with her, there are special things I like to make just for her.
Like these little French toast sticks: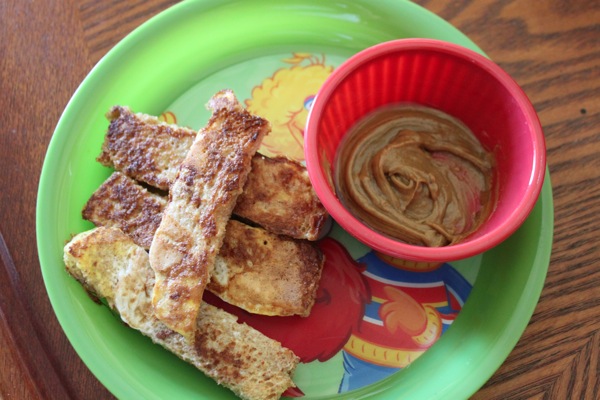 They're a simple version of the classic breakfast fave, and a perfect size for tiny hands to grab. Another bonus is that I can make them quickly and they're ready by the time she's finished with some fruit.
(As always, check with your doc before introducing new foods to your baby. Use your best judgment as far as sizes go, too. It took us a while to graduate to the sticks- before, I would just cut into bite-sized pieces for her)
Baby French toast sticks
-Bread of choice, 1 slice (we use the Trader Joe's organic wheat)
-1 egg (under 1 year, I just used the yolk)
-splash of milk
-sprinkle of cinnamon
-some vanilla bean (or alcohol-free vanilla extract)
-Dipper: I'll use jam, pure maple syrup, or like today's mix: equal parts sunflower seed butter and maple syrup)
1. Heat a small pan over medium low while you cut the crust off the slice of bread and cut into strips.
2. In a small bowl, combine the egg, milk, cinnamon and vanilla. Whisk well with a fork. Put a little butter or coconut oil onto the pan.
3. Dunk each bread stick into the egg mixture, and cook over medium-low for 2-3 minutes on each side. 
4. Serve with a dipper of choice + fruit, yogurt, whatever your little one loves.
Hope you and your family enjoy <3
xoxo