I read that pregnancy can heighten every single sense (done and done… I can smell you and most likely guess your perfume from a mile away) and that dreams can become more vivid. This was actually one of the first things I experienced, even when I didn't know there was a gluten-free bun in the oven. First trimester, I had some crazy@$$ dreams.
I have this weird thing about dreams… yes, some of them are entirely random, but I do believe that they can hint at what the future will bring. There have been way too many times that I've had a dream something has happened, only to experience it years later.
Two dreams that stuck out to me during the first trimester both included a baby girl.
This trimester has been more mellow –mostly because I haven't been sleeping well- up until this past week.
One night involved a rendezvous with Edward Cullen (we'll just stop there)
and last night, it was cookies.
I dreamt I was eating copious amounts of chocolate chip cookies.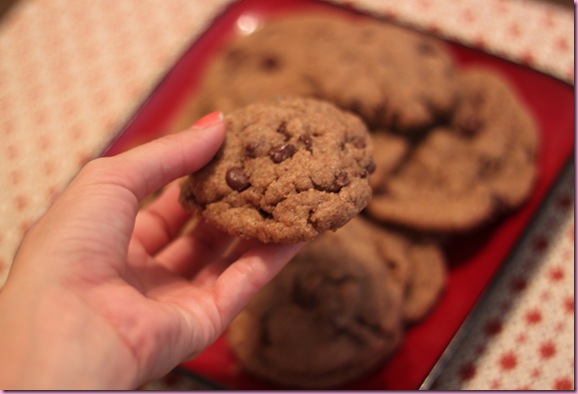 This was extra random to me because I always seem to dream about people or experiences, almost never about food. And it was so detailed:
Barnes and Noble started serving serving fall and holiday-related lattes: pumpkin spice, gingerbread, etc. so they had a party to celebrate their "release." All customers could have a free latte, so I went with my nana to go get one. We walked in, and they had banquet tables filled with enormous cookies. Covered in glass, kind of like the top of a cake plate. My nana got her latte and was shopping around, and a sales associate approached me to ask which flavor latte I'd like.
"No, thank you, but I keep looking at those cookies over there."
"You want one? Here ya go"
and proceeds to hand me a cookie the size of my face. Chocolate chip (my fave) and still warm. I eat it + 2 more.
And then wake up.
I think this is telling me I need to make some cookies, right? 😉
Any crazy@$$ dreams lately? Do you brush off dreams, or think they can hint at the future?