A note to the fellow preg ladies out there: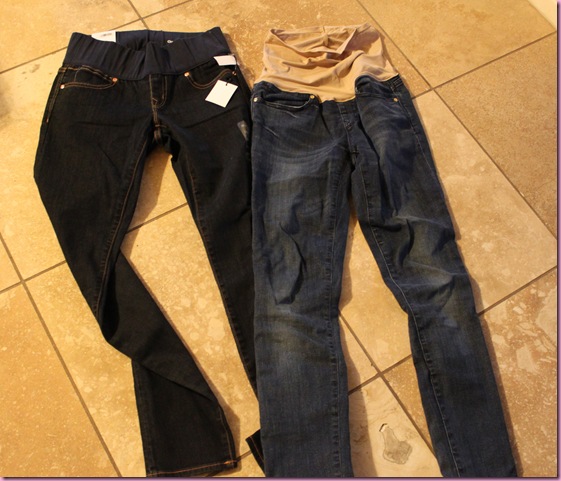 waiting until you're 8 months pregnant to buy maternity jeans isn't the best idea ever.
Embrace the panel!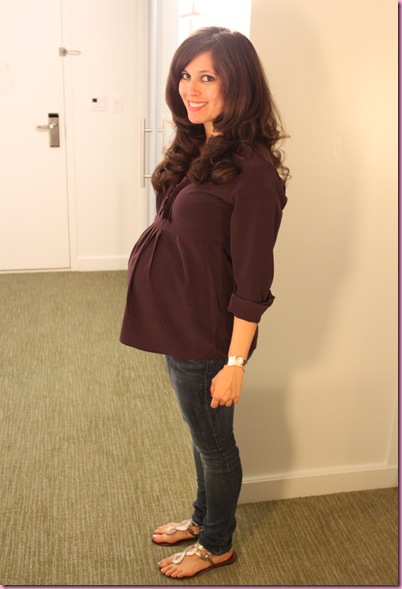 Going on a little babymoon, however, was one of the best ideas we've had in a long time. It really gave us a chance to enjoy each other's company and have a leisurely vacay before the little one arrives. The whole time we were there, we would talk about how much fun it's going to be to take her with us, though. I can't wait for family vacays and roadtrips!
So the babymoon gave me so extra time to hang out with my love, extra downtime, and before the trip, I was wondering how I would hold up. It was a LOT of walking (hours each day), and I surprised myself that I was able to go with the flow and there were only a couple of times that I needed to rest (I found a comfy rock at the San Diego Zoo) or got swollen elephant ankles (on the drive up there, even though we stopped to stretch often and I drank a lot of water). Another thing I was wondering about was how to camouflage my attire to that of a normal person. With the help of actual maternity clothes (instead of my beloved lululemon), I was able to wear the same types of things I'd usually wear out and about, with extra room for the belly 😉
I have to give a major shout out to H&M maternity and the Gap. Both have fantastic maternity selections and the prices are really reasonable. [The Tucson Gap stores don't have maternity, so I hit up the one in San Diego, and only one of our H&Ms has maternity, so it's a good idea to call beforehand]
At H&M, the night before we left, I picked up a couple of tees, a maxi dress
and two sweater dresses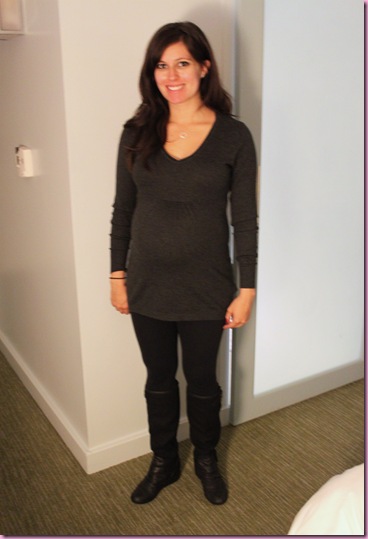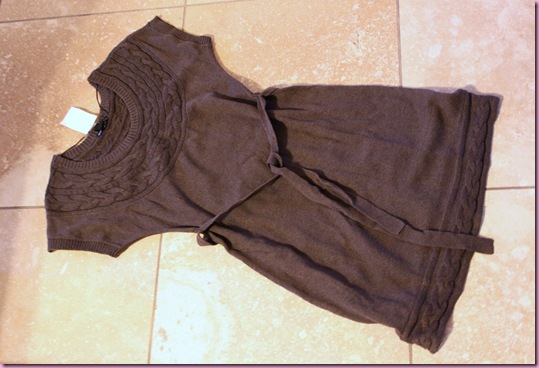 for $93 (!)
and at the Gap, I got the two above pairs of maternity jeans and burgundy top for $200 <—what I'd usually pay for one pair of jeans
I fought maternity jeans for so long because my normal jeans still fit me with the Bellyband (until a week ago), and I was having a hard time thinking I'd spend a ton of money on something I wouldn't be able to wear for very long. Gap and H&M totally proved me wrong, and I have to say that maternity jeans are the comfiest things ever, even with the weird panel- the panel feels soooooooo nice. They even make me feel like a normal person again, instead of an awkward fashion nightmare 😉 Clothes that fit make all the difference in the world.
While we were walking around the mall, there was no mistaking the fact that Christmas is almost here, especially since decorations have been up since Halloween. On the ride back, we got to talking about Santa Claus and what we would tell our little girl. We feel like it's dishonest (I was so mad when I found out the real story), but we don't want her to miss out on the magical feel of waiting for Santa to arrive (or the fantastic bribing potential: "Be good, or Santa is going to bring you a lump of coal," haha). With the many winter holidays that are celebrated, I know this isn't applicable to everyone, but what do you think about the Santa Claus thing? When did you find out the real story, or did you just know all along?