Gift guide for new moms and mamas-to-be
Hi! How's your day going so far? <3 I'm kind of stoked for tomorrow's festivities. Since the dessert party is at our house, I'm going to spend tonight getting some things ready. I'm planning on some pecan pie bars, pumpkin pie (Costco makes the best), pumpkin cheesecake, mulled wine, and slow cooker hot chocolate. I've already made a huge batch of white chocolate cranberry cookies. All the makings of a perfect sugar buzz before our late-night Black Friday shopping blitz.
For today's gift guide, I thought I'd share some ideas for new moms and mamas-to-be. Since you can't really wrap a shower or nap -how awesome would that be?- here are some other ideas that can be topped with a bow 😉
Just a heads up: I'm not affiliated with any of the companies below– just picked these products because I thought they were cool. There may be some Amazon or ShopSense links, which have no impact on purchase price, but I earn a very small commission. Thank you for supporting this little blog <3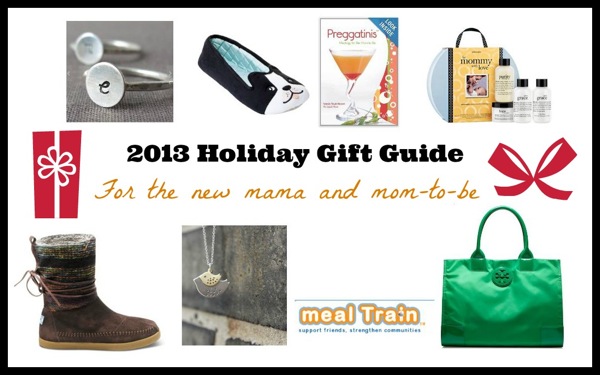 1. Spa treatment. Ok, so these are an awesome gift for anyone, but especially for mamas and caretakers who spend so much time focusing on others.
2. Philosophy set. This is a great idea for someone that you may not be super close with, but still want to send a little "congratulations."
3. A reading tablet
. While finding time to read anything can be interesting, it's a special treat and so much more convenient with all of your books in one spot. Also, during the early breastfeeding days, it's nice to be able to read a little while you spend a lot of time sitting.
4. Mama bird + baby bird necklace. My friend Jenna got me a gorgeous mama and baby necklace when I first found out I was pregnant with Liv, and now I think it's a perfect gift for all of my pregnant friends.
5. Comfy boots. These TOMs boots are pretty and look like they'd be dreamy to wear around the house, or out and about.
6. Chic flowy top or draped sweater. A gorgeous loose-fitting top is a fabulous option when the pre-body clothes may not fit yet.
7. Homemade: oaties and a "helper" card. Make a cute card offering to babysit for date night, run errands, make a homemade meal or grab takeout, etc. The gift of help from others is really the best gift of all when you're in newborn mode and trying to figure everything out. I will never forget the delicious meals we received when we just had Liv; you could taste the love in the meal <3
8. Preggatinis book
+ cute mocktail glasses. You could even use the book to throw a mocktail and movie party with some friends.
9. An Otterbox case. Because, let's be real, the iPhone will be dropped or thrown by a small child at one point or another 😉
10. Set up a meal train. Like I said, meals are really wonderful gifts when cooking is low on the priority totem pole.
11. Breastfeeding bag with snacks, magazines, movies and coconut water.
12. Cute slippers. I especially love these Boston Terrier ones!
13. Luxurious hair care and body balm. Some LUSH goodies are always a great idea, or you could get her some awesome hair products and lotion.
14. Tote bag (Tory Burch on sale for $97, just sayin' haha). Totes make awesome diaper bag doubles– just make sure it's a wipeable nylon or smooth material that can be easily cleaned 😉
15. Initial ring. I have a ring I picked out from Etsy with the letter "O,"– it's one of my favorite pieces of jewelry, and I'll be able to stack it with the initials of our other kiddo(s).
Preg friends: what's on your wish list? What are you gifting friends who have small children or newborns?
I'd love to hear any ideas you may have!
xoxo
Gina