Hi! How's your day been? I'm so glad you've been enjoying the gift guides, especially because they've been so much fun to put together. I'm sure many of you can relate, but I feel like husbands are simultaneously hard and easy to shop for. He pretty much always likes what I get him -or pretends to, haha- but I just have a harder time picking out gifts for the men in the family. Here are some ideas I put together, and I'd love to hear any you may have, too!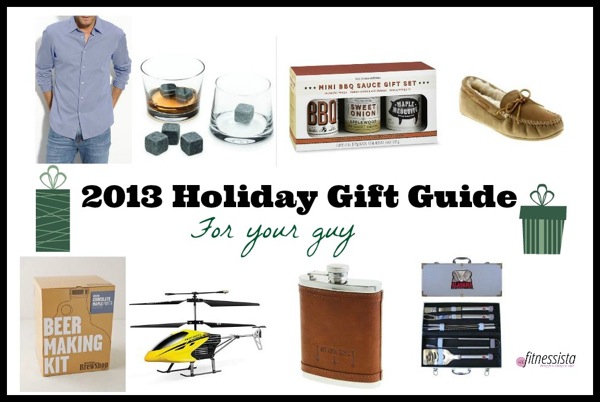 Just a heads up: I'm not affiliated with any of the companies below– just picked these products because I thought they were cool. There may be some Amazon or ShopSense links, which have no impact on purchase price, but I earn a very small commission. Thank you for supporting this little blog <3
1. Remote control helicopter. I got the Pilot one of these last year, and it was hours of fun for everyone. Except for Bella… she did not appreciate the fact that she could not fly and catch the helicopter.
2. Fancy flask. It just seems like a cool dude thing to have? 
3. Chef knives set. This is one of those nice gifts you may not think to buy for yourself, and the Pilot is constantly commenting on the dull status of our knives.. especially when I'm chopping fruit with a steak knife 😉
4. Sneaks. We <3 Nanos. Even though Reebok gifted us each a pair, they're our favorite sneaks for everything. 
5. Bose headphones. These headphones are INCREDIBLE. I bought a pair for the Pilot since I loved mine so much, and he's equally obsessed.
6. Beer making kit. (OR a kombucha making kit! I'm so glad the Pilot is finally on board the kombucha train.)
7. Fed by Threads T-shirt. A super soft shirt to support an amazing cause.
8. Tickets to a sporting event, concert or comedian he loves. Experiences always make amazing gifts! Last year, I got the Pilot tickets for us to see Brian Regan live. It was an awesome date night 🙂
9. PS4 or Xbox One. Extra girlfriend or wife points if you get the new Call of Duty to go with it. 
10. Sports team grill set and mini BBQ sauces. I know the Pilot has his eye on the Alabama set, and I thought these mini BBQ sauces would be cool to try out.
11. Running jacket. A cozy and weatherproof jacket!
12. Cool whiskey glasses. Love these ones.
13. Button down shirt. You can never have too many 😉
14. Craft beer club. A great gift for the beer-loving dude who has everything. Something fun to look forward to each month!
15. Stocking stuffer: bacon chocolate. No description necessary.
16.  Mocassin slippers. Another thing he may not pick for himself, but will love wearing around the house.
So what are you gifting your guy this holiday season? Any awesome ideas to share?? I can't wait to hear!
xoxo
Gina