Guest Post: Foodie Stays Fit
Sup bloggies 😀 How was your Sunday?
Ours was pretty bueno- the beach, breakfast
FROYO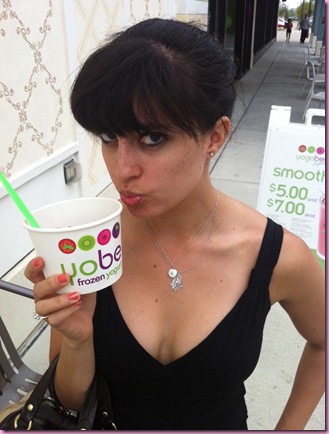 (I rolled with dairy-free raspberry + berries and chocolate chips)
Shopping
and a last-minute stop at Whole Paycheck.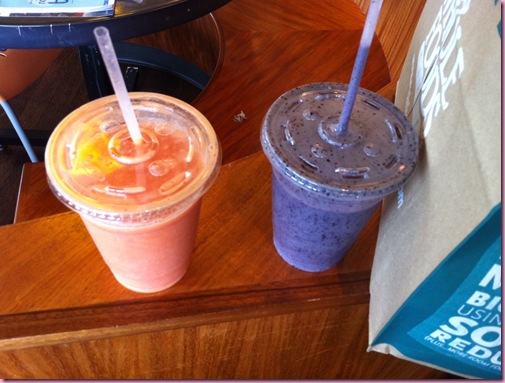 We grabbed smoothies (almond milk, banana, blueberries and Vega Smoothie Infusion for me), snacks for the plane back to Tucson, HOT BAR for din din 🙂
I drank this water that was in the Pilot's backpack: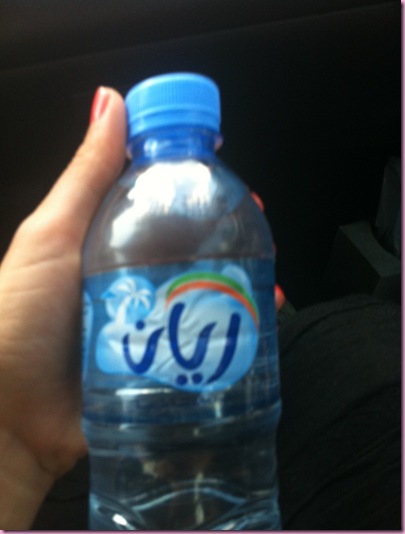 We're actually driving back to Valdosta right now, but wanted to put up this awesome guest post from Teri before we hit the road 😀 It's about healthy travel tips, always come in handy– sticking to your at-home techniques can be a little tricky when you're on the go. Also, if workouts and healthy eats go to the back burner for a legendary vacay, it's totally worth it. You can always get back in the swing of things at home :)  (Says the girl who totally hit the snooze to sleep in with the Pilot instead of yoga. Worth it)
Have a lovely night and I'll see ya in the morning!!
soso
Gina
Hi Fitnessista readers! I'm Teri from A Foodie Stays Fit. I'm so excited to be filling in for Gina today. Her blog holds a special place in my heart as it was one of the very first health blogs I started reading; I credit her for getting me hooked on this wonderful health blogger world.

[I should probably tell you that I don't have blonde hair right now. But that's another story.]
I'm a bit of a travel junkie and having recently returned from a trip to Charleston, South Carolina, staying healthy while travelling is fresh on my mind.
Today I'm sharing 5 tips to stay healthy while travelling without holing yourself up in the hotel gym.
1. Book a condo instead of a hotel. When my husband and I travel, 99% of the time we rent a condo instead of booking a hotel. VRBO.com is one of our favorite sites to book condos (they have them listed worldwide) and we've used it to find great places in Hawaii, the North Carolina coast, Charleston, California, and even Moab, Utah. We've always had good experiences and usually get something much nicer and cheaper than a hotel. (We got a condo right on the water in Hawaii for less than $100 a night! Literally, the waves splashed through our window at high tide.) But aside from saving money and getting nicer digs, a condo comes with a kitchen. With a kitchen,  you don't have to eat out for all of your meals and can keep your healthy cooking habits even while travelling.

This was the view from our condo in Hawaii! We ate salad and whole-grain spaghetti for dinner after long days at the beach.
2. Eat in for breakfast. This is especially easy if you book a condo, but even if you are in a hotel, you can still eat in for breakfast. Store milk in your mini fridge (or swipe it from the continental breakfast) and tote along some high-fiber, high-protein cereal or bring your own muesli. Or make one of my favorite breakfast treats, the Breakfast Cookie – you can toss a baggie of protein powder and peanut butter in your suitcase or just pick up small packs at a local grocery store. If I start my day with a healthy breakfast, I'm much more likely to make better food choices throughout the day.

3. Travel by foot. Skip the subway, skip the taxi, park your rental car and hoof it. You'll see a whole new side of the city by walking through it and will likely stumble upon a few gems along the way.  A small artisan bakery, a clothing boutique, a charming local…who knows? And along the way, you'll burn some calories to let you indulge in a cupcake from Magnolia's (but actually, if you're in NYC, Two Little Red Hens is better). And even shopping or strolling through a museum is probably more activity than you get 8-5, M-F.

4. Splurge on local goodies, not items you can find at home. When I was in Paris a few years ago, I ignored tip #2 because I was following tip #4. Everyday in Paris for breakfast, I got a fresh croissant. I can't get croissants like that at home…so I was taking advantage of it while I could. I also ate crepes for dessert and split fresh baguettes with my husband for an afternoon snack. The point is, I ate the things that were special to that city. But passed up on things that were available at home, like soda or ice cream from the Haagen Dazs scoop shop on the Champs-Élysées.

5. Go running! Yep, I'm telling you to do some actual exercise. But instead of hitting the treadmill, get out into the city. It's a great way to sight-see; I saw more of Charleston in a 45 minute run than I did by walking through the city for 2 days.  Since I went relatively early, around 8 AM, not many  other tourists were out and I had the run (ha!) of the place. One thing I love about early runs on vacation is that cities have a totally different feel in the morning – try it, you'll see.  And like tip #3, you'll probably stumble upon some things you'll miss otherwise. Last week in Charleston, I ran by a charming cafe and a bakery. I wouldn't have known about them otherwise, but we went back to them later in the trip and loved them both.

But most importantly, if you can't sweat, don't sweat it! You might not have time to get in a "real" workout. Or you might only have time to do 20 minutes instead of your typical 40. You might indulge in dessert every day. Maybe twice a day, if you're anything like me. And you know what, that's OK! It's vacation! The 5 pounds you might put on from hitting every gelatoria in Rome will totally be worth it. Same goes for the 5 lbs you might gain from not moving from your beach chair for a week straight. Totally worth it. Once you get back to your usual habits at home, you won't remember any temporary weight gain. But you will remember how amazing your trip was.

How do you stay healthy while travelling?