Livi has been able to roll over from her back to her stomach for a few weeks. At first, it was just an awesome sign of development, and now it's starting to give us anxiety because she's doing it in her sleep. When we put her into her bed on her back, she'll roll over onto her side almost immediately, and by the time we get downstairs, she looks like this: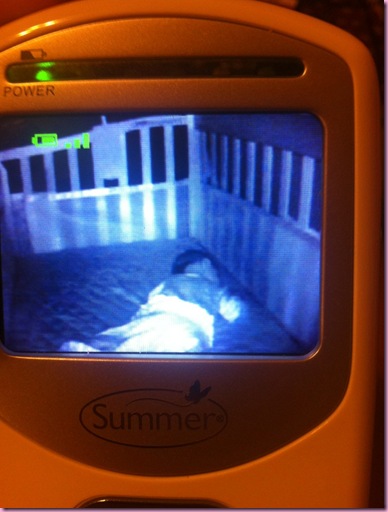 I watch the monitor like a hawk to make sure her head is to one side, and had to sprint up the stairs last night. She was faceplanted, breathing into the mattress with her elbows out- exactly how I like to sleep 🙂
I figure that if she can get herself into that position, that's how she wants to sleep and as long as her head is to one side and she can breathe, all is bueno. When I see her face down, it freaks me out and I run upstairs to move her. Tom doesn't like her sleeping on her stomach at all- he gets pretty alarmed. He got up quite a few times last night to flip her onto her back.
We're going to call the pediatrician tomorrow and see what the nurse says. I think we'd be less worried about it if she could flip from her stomach to her back, but it only happens rarely, and other times she gets stuck and cries out for help. Poor nugget. She's a mover and a shaker, for sure.
While Tom was at the fair with the fam last night, he won Livi's first pet: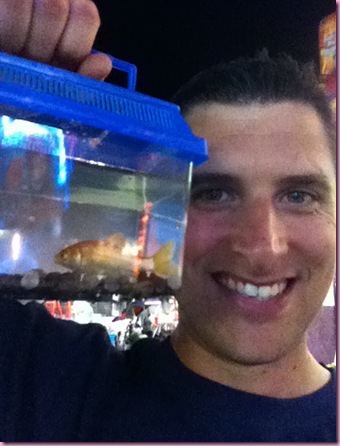 Meet Fred the goldfish.
He was just moved from his murky shanty into a Las Vegas club.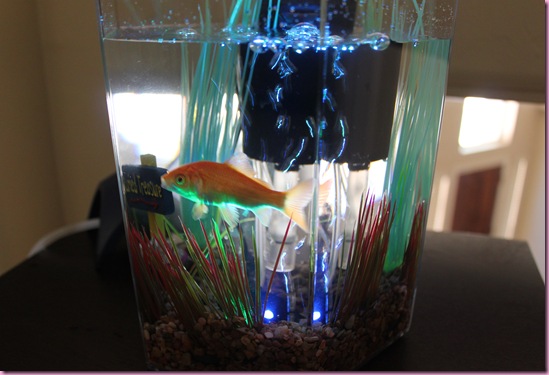 He could like for 3 days, or 8 years, like my childhood goldfish, Fiona. She defied the laws of nature for a long time, and it was a sad day when we came home from vacation to see her floating at the top of her tank.
Who was your childhood pet?
I had Buddy the schnauzer. We found him in a parking lot one day and he had no tags and we couldn't find the owners, so we kept him. He used to chase me around my nana's backyard while I'd sing "We're Off To See the Wizard" 😉